Here's why Kanye West compared his WLM sweatshirt controversy to Tonya Harding's 1991 Olympics feat LOS ANGELES, CALIFORNIA: Kanye west's latest controversy surrounding 'White Lives Matter' at Paris Fashion Week was based on a "feeling" and "gut" says the rapper. Kanye has compared his stunt of wearing a 'White Lives Matter' T-shirt at the Yeezy fashion show to Tonya Harding's instinctively landing the first triple axel jump at the 1991 US Figure Skating Championships in Minneapolis, Minnesota.
Kanye, 45, who has returned to Los Angeles did not waste a minute as he made his first stop at the Fox News station, where he addressed to the host Tucker Carlson the ideology behind introducing 'White Lives Matter' shirts while revealing the backlash he has faced over the new line of his Yeezy clothing brand after it was widely condemned by fans and the fashion industry luminaries and even led Adidas to put its relationship with him "under review."
READ MORE
Gabriella Karefa-Johnson reveals 'fat phobia jumped out' after being body shamed during Kanye West feud
Kanye West accuses Kim Kardashian of using ex Pete Davidson as a 'PAWN' in their ongoing divorce
The interview aired at 8 pm on October 6 where Kanye explained to Tucker, "I do certain things from a feeling, I just channel the energy it feels right. Hits using a gut instinct, connection with god and just brilliance." Kanye further compared his stunt to Tonya Harding and said, "They asked Tonya Harding how she did the triple flip and she was in so much practice that when it was time for her to skate in a competitive format it just happened. It happened outside of practice that happened in the real format." Kanye further alleged, "That's what's happening. God is preparing us for the real battles. We are in a battle with the media."
The rapper who has changed his name officially to Ye, took to Instagram to express that he stood by 'White Lives Matter' slogan at the surprise Yeezy fashion show on October 3, even though his spokesman Jason Lee quit in protest, writing on Instagram that West was "gaslighting black people and empowering white supremacy." Kanye shared the picture of the T-shirt with the 'WLM' slogan and captioned it, "Here's my latest response when people ask me why I made a tee that says white lives matter... THEY DO." Whilst one of the only famous friends to come to the rapper's defense was Sean Diddy Combs, who said the artist is a "free thinker" and say his message was "misconstructed." In an interview on 'The breakfast club' on Wednesday, Diddy said, "My boy is a super, super, super free thinker and a lot of times what he means is, like, misconstrued, you know what I'm saying?"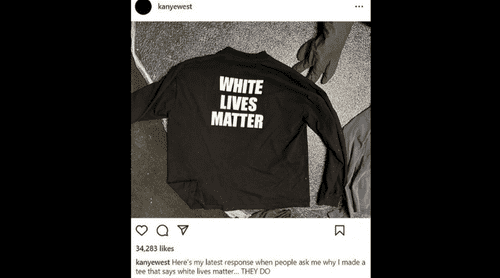 Host Charlamagne, 44, interjected to say, "You gotta stop making excuses for him." Diddy, 52, replied, "No, no, I'm not making excuses, I'm just sayin' if he did it, that's the way he thinks." Selah Marley, the daughter of Lauryn Hill and granddaughter to Bob Marley has also been seen modeling while wearing Kanye's 'WLM' T-shirts. Selah faced immense criticism for supporting Kanye and calling him as one of her role models. Selah later took to Instagram where she messaged Kanye to discuss the matter and posted a screenshot of her message to Kanye. She said, "We can continue to discuss the depth of our decisions to show the purity of our intentions & provide healing to our community." Conservative pundit Candace Owens was also seen supporting Kanye as she posed with Kanye wearing the 'WLM' T-shirts in a picture.