Jennifer Aniston is a picture of busy elegance as she shoots for Season 3 of 'The Morning Show' in LA
Jennifer Aniston was dressed comfortably in a black t-shirt and a black blazer paired with blue ankle-length jeans LOS ANGELES, CALIFORNIA: Jennifer Aniston has been a busy bee over the past few days since the confirmation of season 3 of 'The Morning Show'. The 'Friends' star, 53, was spotted when she arrived on the set of her Apple TV+ series and shot a couple of scenes outside of a home in Los Angeles. Jennifer was dressed smartly in black, and was seen standing at the front of a door as the camera rolled from inside the home.
Apple TV+ announced the new show runner of the 'The Morning Show' in January this year by joining forces with Charlotte Stoudt, who has worked on 'Homeland' and 'House of Cards' and who will be taking over from Kerry Ehrin. 'The Morning Show' is a workplace drama that follows the life of TV host Alex Levy played by Aniston.
READ MORE
'Take us back': Jennifer Aniston flaunts her stunning body in bikini during beach vacay
From Gwyneth Paltrow and Jennifer Aniston to Angelina Jolie: A look at Brad Pitt's star-studded dating history
Jennifer can be seen getting off from a car on the set of 'The Morning Show' dressed comfortably in a black t-shirt and a black blazer paired with a blue ankle-length jeans. The actress's natural blonde hair was let loose while she wore black eyeglasses.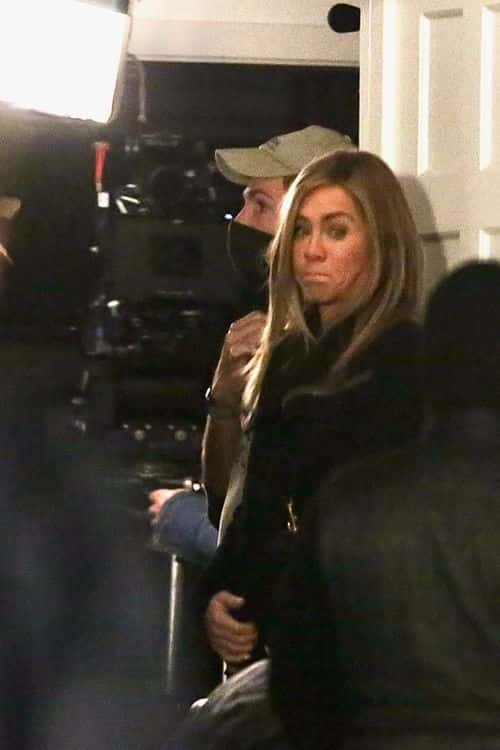 The actress has even expressed her interest in directing an episode for the show in an interview last summer with Harper's Bazaar. "If there's a season 3 of The Morning Show, I want to direct one of our episodes," she said at the time.
Even though the theme of the 'The Morning Show' season 3 is still unknown, Aniston shared her thoughts on her character Alex's personal life. "I think it's time to see Alex find some love and some passion," Jen told Variety. "She could put the controls down and go into the vulnerability of opening up her heart, which I don't think she's ever really quite done," she added.
'The Morning Show', starring Steve Carell, Reese Witherspoon, and Jennifer Aniston, debuted on Apple TV+ on November 1, 2019. It is a workplace drama that follows the lives of Alex Levy (Aniston) and Bradley Jackson (Witherspoon), two morning news anchors who have been dealing with the fallout from claims of sexual misconduct against Mitch (Steve Carell), Alex's former news presenter.
Although 'The Morning Show' Season 3's release date has not yet been determined, it is anticipated sometime next year.
Share this article:
Jennifer Aniston is a picture of busy elegance as she shoots for Season 3 of 'The Morning Show' in LA