Meet the full cast for TLC's I Love A Mama's Boy Season 2 What happens when a woman falls in love with a guy and wants to marry him, but he has a far more important woman in his life? His mom! So, what really happens when you find yourself in a love triangle with your boyfriend's mother? TLC's 'I Love A Mama's Boy' documents the lives of five couples' awkward moments ranging from cringeworthy to catastrophic erupt as the girlfriends try to become the main lady in their man's life and compete with his mother.
Season 2 of 'I Love A Mama's Boy' will feature the return of Emily, Shekeb, and Mom Laila, Kim, Matt, and Mom Kelly, Stephanie, Mike, and Mom Liz, alongside two new overbearing mothers. The new cast members are: Tia, Theous, and mom Carolyn; and Tracy, Bryan, and mom Jayne. Read on to know all about these couples.
RELATED ARTICLES
'I Love A Mama's Boy': Is Matt gay? Fans ask as he chooses his mother over his girlfriend in lingerie
'I Love A Mama's Boy': Is Emily and Shekeb's relationship fake? Fans wonder as they learn he is an actor
Tia, Theous and mom Carolyn
The trio will be making their big debut on the upcoming season of 'I Love A Mama's Boy'. Carolyn expects Theous to be at her beck and call, but Tia needs him to draw some boundaries with his mom before she'll meet him down the aisle. Carolyn's bad knee makes her extra needy of Theous's time, but that doesn't stop her from intruding into every aspect of their lives, including a Vegas vacation.
Tracy, Bryan and mom Jayne
Another new throuple that will be featured on the show is- Tracy, Bryan and his overbearing mother Jayne. Jayne is oblivious to how she interferes in her son's life, wedding, marriage and now honeymoon! Tracy needs to set the record straight and create boundaries they can all live by, but Bryan's loyalty to his mom erases any line Tracy draws. As Jayne makes the honeymoon more about her vacation time than watching the kids, Tracy and Bryan struggle to find any romance and alone time. It's more of a honeymoon from hell!
Emily, Shekeb and mom Laila
Emily and Shekeb immediately clicked the first time they met two years ago. Since their initial interaction, however, there have been many conflicts between Emily and Shekeb's mom, Laila. There are vast religious and cultural differences between the two that Laila cannot seem to get over. On top of this, Emily wants Shekeb to move out of his parent's house so they can start their life together, but he doesn't want to rush to leave his mother or upset her. Season 1 ended with Shekeb and his girlfriend Emily getting into a huge fight over his relationship with his mother Laila after he refused to move out of his parents' house. Will they be able to get on the same page and have Laila agree to their terms? We will have to watch the show to see how things pan out between them.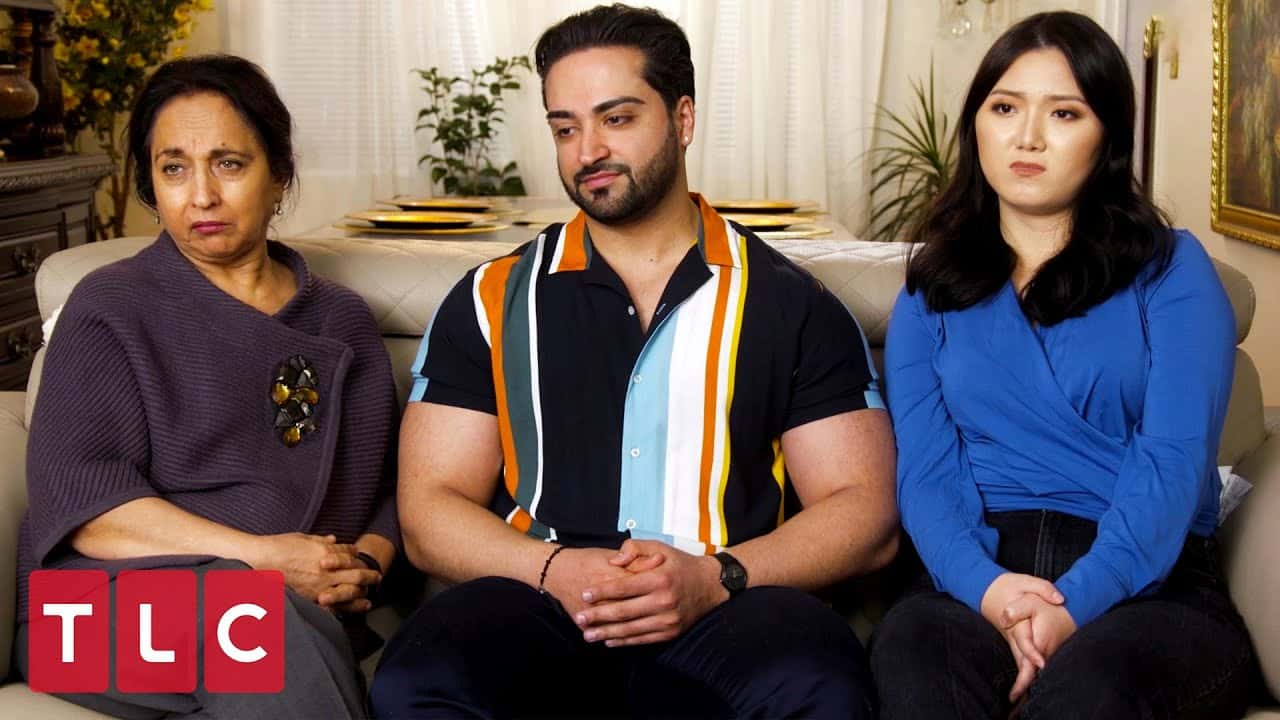 Kim, Matt and mom Kelly
Kim finds herself living with her boyfriend Matt in his mother Kelly's house, to the detriment of their sex life. This pair is ready for the next step and plans on building a home together, but there's a catch! The couple's new home is right behind Matt's parents' home, meaning, Kim will have to share Matt with his mom until the end of time. After rehearsing the proposal with his mother Kelly, Matt finally proposed to Kim. The happy couple are over the moon and excited to plan for their big day! Although Kelly gave her blessings to the couple she is determined to cause chaos as she tries to take over the entire wedding planning. Will this cause friction between Kim and Matt? Only time will tell.
Stephanie, Mike and mom Liz
Stephanie has landed a gig in Los Angeles and wishes Mike would move with her. Stephanie wants to go one way to follow her dreams, while Liz is waving Mike over in the opposite direction to plant roots close to her. Their bond may not be strong enough to survive Liz, as her meddling and bad advice may finally pull these two apart for good.
'I Love A Mama's Boy' Season 2 is slated to premiere on Sunday, August 29 at 10 pm ET/PT on TLC.