'Hospital Playlist' Season 2 Episode 1 shows love and heartbreak for the doctors For fans of 'Hospital Playlist', Season 2 is finally here and with a one-hour thirty-five-minute episode, it looks like a lot has happened to the doctors of Yulje Hospital since Season 1 ended.
Episode 1 sees Lee Ik-jun (Cho Jung-seok), Ahn Jeong-won (Yoo Yeon-seok), Kim Jun-wan (Jung Kyoung-ho), Yeong Seok-hyeon (Kim Dae-myung), and Chae Song-hwa (Jeon Mi-do) trying to navigate through some delicate situations of the heart and no, we don't mean surgery.
RELATED ARTICLES
'Sweet & Sour' Ending Explained: Who will Hyeok end up with between Da-eun and Bo-young?
'Mad for Each Other': Air time, how to live stream, trailer, cast and all you need to know about Netflix's new K-drama series
Episode 1 opens with Christmas celebrations, however, the squad seems to be celebrating it individually. Seok-hyeon, who is on his way out of the hospital receives a text from Chu Min-ha, inviting him out to a steak dinner.
However, he quickly declines her invitation and is ready to head home when he realizes that Yoon Shin-hye, his ex-wife, is at the hospital, seeing her father, Yoon Seon-ju, in the emergency room and has to be under observation for 24 hours. Seok-hyeon offers to help, while Shin-hye mentions that her father's collapse was sudden, seeing that they were on their way to a family dinner.
He suggests that she should get food for her mother and steps out with her to do so. Unfortunately, Min-ha, who is on her way back to the hospital after eating a fancy dinner for two on what was meant to be a date, sees them and is heartbroken.
Meanwhile, Jun-wan struggles to keep his relationship with Sun-young a secret, which proves to be rather hard, since Jeong-won keeps interrupting him. The promise ring he got Sun-young finds its way back to him since she was unable to receive the parcel, but the two are on happier terms, even though their relationship is hush-hush.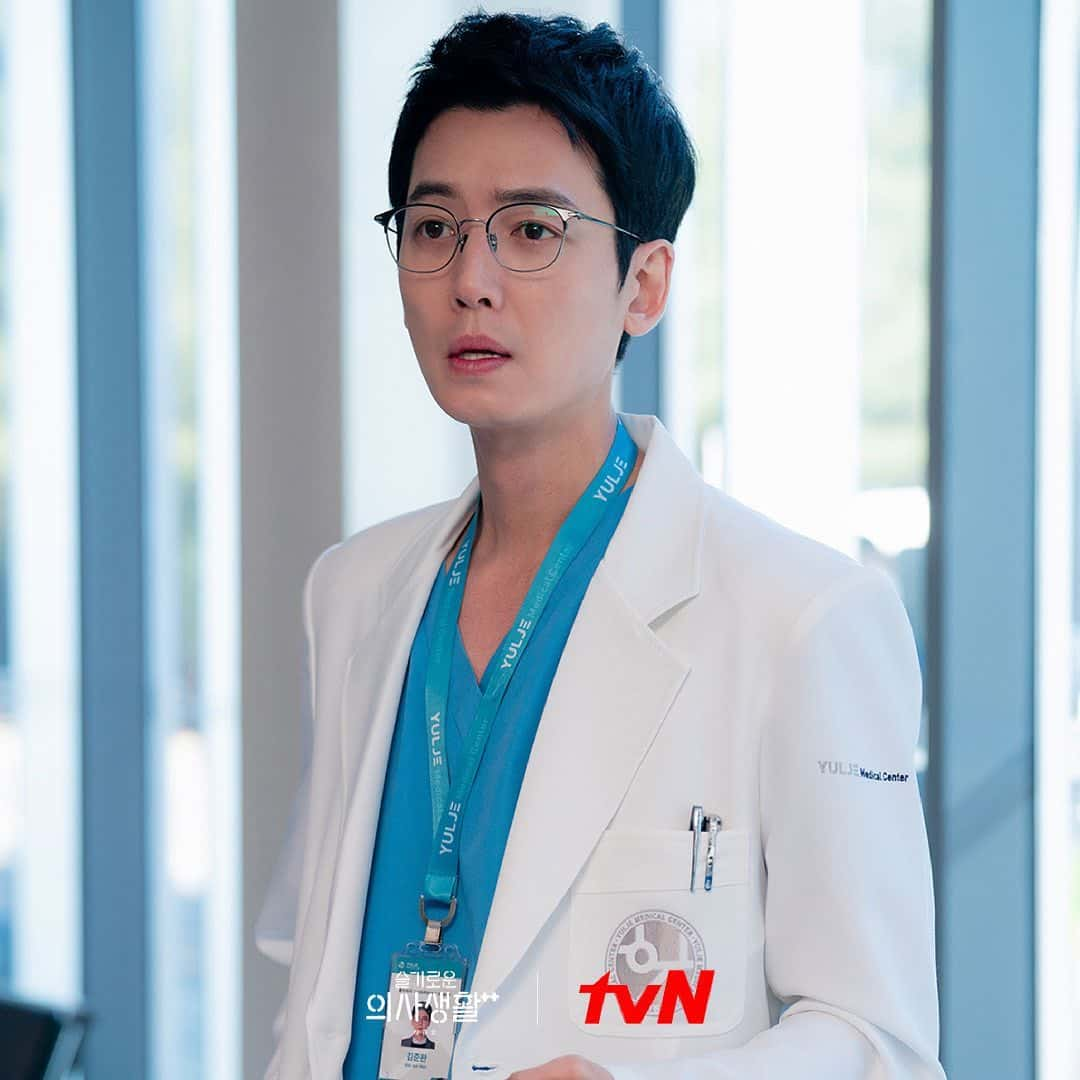 Similarly, for Jeong-won, his relationship with Jang Gyeo-wool continues to blossom. However, the two keep it entirely under wraps, with Jeong-won suggesting that he's okay with whatever she wants.
Gyeo-wool does express her desire to do more couple-like things and even asks if they can go for a movie, to which Jeong-won gladly agrees.
On a more personal front, she also goes to him for advice regarding the mother of a patient, Yeon U, who died when he was three years old. The mother keeps visiting the hospital, even though her child is long gone and Gyeo-wool is not sure how to handle the situation.
Jeong-won explains to her that she comes so often because Yeon-u spent the few short years of his life at the hospital -- it's the only place where people knew him and this was her way of keeping that memory alive. He even suggests that Gyeo-wool should get a coffee with her, to honor the memory of her child that she's so desperately holding on it. Seok-hyeon and Min-ha are also dealing with a distraught mother, a pregnant woman, who is told that at 19 weeks, her baby is going to die, seeing that her water broke and there was no way to save the child.
On the mother's insistence, Seok-hyeon joins the case and assures her that he will try his best to save the baby and her. Min-ha is in awe, seeing that she saw the mother being told that her child was beyond saving to being given hope that the baby would survive in just a day. She questions Seok-hyeon about his decision to help and what would happen if he couldn't save the child. He reminds her that while the future is not in his hands, the present is and in the present, he'd try everything he could to save a life.
Min-ha, who feels a little confident, asks him about the woman she saw him with on Christmas, seeing that there are rumors about this mystery woman being his girlfriend. Seok-hyeon comes clean and tells her that's his ex-wife, much to her silent relief.
But, while romance blossoms for everyone, Ik-jun finally receives a response from Song-hwa regarding his love confession. Although she says it indirectly, she tells him that he should not confess to his "friend", seeing that his "friend" might feel its best to keep their relationship the way it is. Ik-jun seems heartbroken, but fingers crossed, maybe there is a silver lining for these two soon enough.
What do you think? Will Ik-jun and Song-hwa finally get together? Will Seok-hyeon acknowledge Min-ha's feelings? Keep watching to find out!


'Hospital Playlist' Season 2, new episodes can be streamed on Netflix on Thursdays.
Share this article:
Hospital Playlist season 2 episode 1 story recap filled with love and heartbreak Cho Jung-seok