'Hoffman Family Gold' Full Cast: From Jack to Hunter Hoffman, meet the Hoffman Family Todd Hoffman and his family have returned to Discovery in a fresh new show. And they haven't given up on their ambition either. They are off-grid, mining for gold around 80 miles north of Nome, Alaska.
You can't stay away forever when gold rushes through your blood. Discovery's gold mining mania was sparked by Todd Hoffman. Todd has been handed an opportunity too good to pass up and is returning to Alaska for one more try at atonement, four years after he walked away from his difficult mining career to focus on his family. Will the Hoffmans be able to salvage a faltering mine for the ultimate payoff with his father Jack and son Hunter in tow? Or have they taken on too much to handle? 'Hoffman Family Gold' debuts on Discovery on Friday, March 25 at 10 pm ET/PT.
READ MORE
Ethan Peck confirmed as Spock for season 2 of 'Star Trek: Discovery'
Discovery and Science Channel to premiere new series 'Deep Planet'
Todd Hoffman
Todd Hoffman is the Hoffman Crew's leader. Todd was the one who came up with the idea to go mining in Alaska, based on a trip his father had nearly 25 years ago. He and five other men (including his father) travel to Porcupine Creek, Alaska, with the hopes of becoming wealthy. After skipping a lease payment on their initial claim during their second season, the whole group migrated to Quartz Creek, and Fred Hurt took control.
Todd Hoffman was born in Sandy, Oregon, to Jack and Georgia Hoffman on April 12, 1969. Hoffman's father Jack worked as a gold prospector despite the fact that he was raised far from the gold mines and processing factories. Todd Hoffman went to Portland Christian High School in Oregon, where he was imbued with a strong religious conviction and orientation. He has these ideas to this day, and it's not uncommon for him to ask his supporters to pray for him in various undertakings. When Hoffman went to William Jessup University to study theology, he continued this religious subject. Through Multnomah University, he also studied the history of the Middle East, arguably the region with the most divisive theological beliefs.
Hoffman was able to invest $1 million in mining equipment and spent three years studying and honing the craft with the assistance of his father and a small team of people in similar situations. Todd realized that the Hoffman crew's development and the journey would be excellent content for a docuseries as they began to experience incremental success in their mining. Todd Hoffman has an excellent career, having appeared in a number of documentaries and docuseries. He had cameo appearances in 'The Long Road' and 'Do or Die' in 2012, then went on to appear on 'Fox and Friends' (2013), 'Home and Family' (2015), and many 'Gold Rush' series incarnations. Todd Hoffman is married to Shauna Hoffman and has two sons - Hunter and Hudson. According to the sources, Todd Hoffman has a net worth of $8 million as of 2022.
Jack Hoffman
Jack Hoffman worked for gold in Alaska over twenty-five years ago and came dangerously close to losing everything. He failed to realize his gold mining goal, and the experience and the emotion of betraying his family haunted him for the rest of his life. In 2010, Jack was given a second chance to realize his ambition, this time with the help of his son Todd. Jack has witnessed the Hoffman team bring in almost 6000 ounces of gold since then, and he's constantly looking for more. Jack may spend more time in the gold room than on the mine at 72 years old, but he hasn't lost any of his work ethic and is still driven by his ambition to discover gold.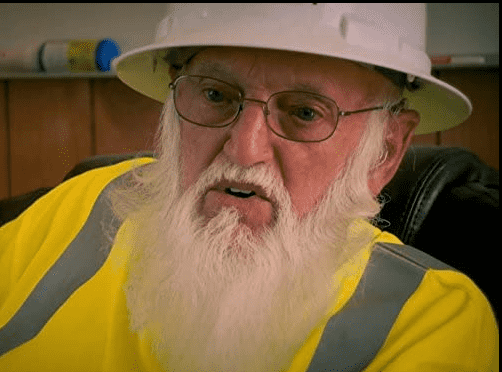 Hunter Hoffman
Hunter Hoffman was born on March 4, 1999, in Sandy, Oregon, to Todd Hoffman and his wife Shauna, and grew up alongside his older brother Hudson. Todd Hoffman's whole family has been involved in the gold mining industry. His grandpa Jack Hoffman founded the mine, which Todd continued and passed on to his children. Surrounded by gold miners, there was no question that young Hunter would follow in his father's footsteps. He decided not to attend college after graduating from high school and instead worked full-time at the family company.