Worst-dressed celebs at Cannes Film Festival: From Irina Shayk's leather look to Brie Larson's mismatch CANNES, FRANCE: The 76th Cannes Film Festival is underway to celebrate this year's best in international cinema and celebrities are putting their best fashion foot forward to upscale the glamor quotient of the prestigious event. Running from May 16 to May 27, the esteemed festival began with the grand premiere of Johnny Depp's 'Jeanne du Barry', and went on to witness many classic premieres including 'Killers of the Flower Moon' and 'May December'.
With their magnificent ventures, the Who's Who of showbiz returned to France in their extravagant ensembles that exude the kind of opulence which is only seen on the Cannes red carpet. While many celebrities took breaths away in their gorgeous gowns and dapper suits, others totally missed the mark with their bizarre and odd looks. From Irina Shayk's leather ensemble to Jennie Kim's no-effort look, here are some of the worst looks from the 2023 Cannes Film Festival.
READ MORE
'He's been getting angrier in recent years': Fans slam 'grumpy' Tom Hanks for scolding staffer on 'Asteroid City' red carpet at Cannes Film Festival
Met Gala 2023: From Lil Nas X to Jared Leto, worst looks from red carpet of fashion event of the year
Brie Larson
As one of this year's jury members, Brie Larson wore a sleeveless printed Chanel spring dress to attend the Kering's Women in Motion Awards during the festival. The Marvel star opted for a minimal look and pulled her locks back in a sleek bun to compliment her attire, which appeared to overshadow her features. The patterns on her dress were least attractive to the eyes, with her sheer black feather-accented cape popping out as yet another disaster.
Frederique Bel
Frederique Bel unquestionably missed the mark when she arrived on the red carpet wearing a sheer dress with only gold and silver panels to hide her modesty. The French actress finished off her ensemble with a pair of matching gold high heels and chunky necklaces, which were unnecessarily blingy for the occasion.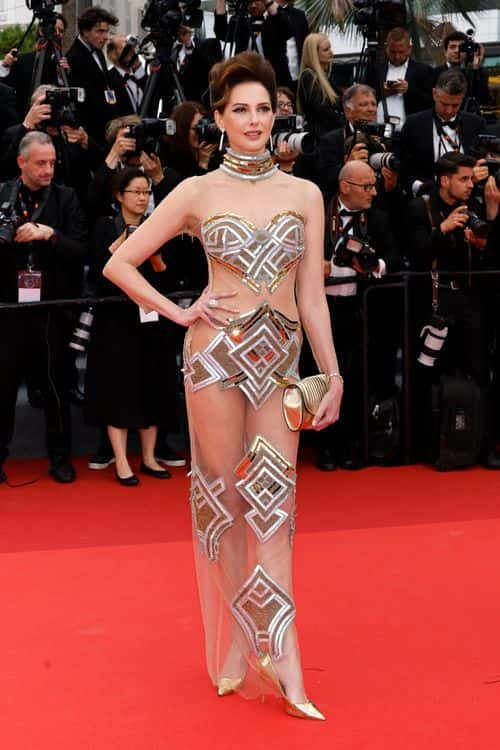 Yseult Onguenet
French singer Yseult Onguenet failed to impress the audience in an overloaded red dress, which was supposed to look like a 3D rose. She surely made a mockery out of her ensemble as it looked extremely confusing with big bulky roses. Besides the flowers, the black leather belt and zip-up pointed shoes were also major failures. It didn't help that she kept her hair and makeup minimal, which brought all the attention to her ensemble.
Irina Shayk
Irina Shayk's leather ensemble may not have been a complete disaster but it surely wasn't a wow look either. The material of the ensemble was classy but it only included a lengthy skirt and two straps in the front to Shayk's washboard abs. The model accessorized the look with a silver necklace, with also looked mismatched with the ensemble.
Troye Sivan
Not a single look of Troye Sivan managed to impress audience at the Cannes. However, there was one of his ensembles that stood out due to many disastrous reasons. The Australian singer stepped out on the red carpet in an all-black blingy look, which made it appear he was trapped in a fishnet. His wet curly hairstyle didn't make things better as it only enhanced his castaway vibe.
Jennie Kim
Blackpink member Jennie Kim, also known as Jennie, seemed not to put much effort into her look for the festival. The K-Pop star, who is a Chanel house ambassador since 2017, wore a white minidress with sheer black caped shoulders to HBO Max's 'Idol' premiere, quickly deemed a flop by the fashion police. The design and the fitting of the dress will surely be a big no for any celeb.
Maya Hawke
Maya Hawke was supposed to channel her inner princess in her olive green gown but her aqua leather gloves and patent white boots pushed this into Scooby Doo territory. With no particular design and an unappealing hairdo, the attire looked extremely displeasing to fashion enthusiasts.
Marion Cotillard
Marion Cotillard looked chic in her ensemble but it was not up to the Cannes glamor mark. Not only did the pink sweater set have a confusing bondage element, but it was also paired with denim shorts distressed with pink. Cotillard's white boots were the only appealing thing about her look but it did not save the day because of its not-so-nice fitting.
Share this article:
Worst-dressed celebs at Cannes Film Festival: From Irina Shayk's leather look to Brie Larson's mismatch