Eugenie Bouchard shows off her stunning figure in leopard print bikini MIAMI, FLORIDA: Canadian tennis star Eugenie Bouchard has had a rough year professionally, what with her dip in form and her fall in rankings. The former Wimbledon finalist is now ranked outside the Top 300 and to add salt to her wounds, she could not get past the qualifying rounds of the Australian Open to get to the main draw. Bouchard had lost to up-and-coming 18-year-old American youngster Ashlyn Krueger, 3-6, 6-1, 4-6 in the first round of the qualifiers.
However, that has not kept Bouchard in low spirits. The Sun reported that the sports beauty was seen in a small leopard skin bikini as she enjoyed a chill low-key day at Miami Beach. The sportswoman had jetted back to the USA shortly after her exit from the first grand slam of the year and was seen smiling and having a gala time in the sun. She is currently ranked 327 in the WTA rankings.
READ MORE
THE WEEK IN ONLYFANS: Sultry tennis stars, a soccer streaker, and a naughty NBA fan
'My sister's journey saved my life': Tennis pro Chris Evert defeats ovarian cancer 1 year after diagnosis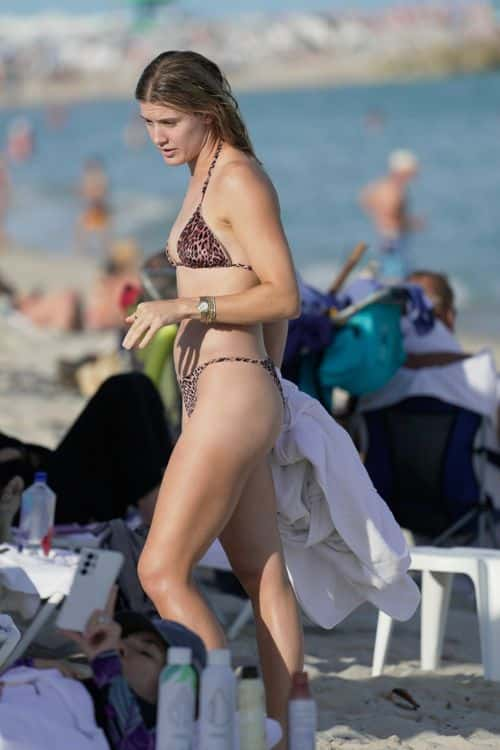 The 28-year-old tennis pro completed her beach ready look with her blonde tresses flowing down naturally, and was photographed with her hair damp from the water. Her claim to fame may be the 2014 Wimbledon finals, but Bouchard had actually won the tournament once before- in the junior girls category in 2012. The year 2014 is regarded as the best year of her career, with Bouchard being a constant fixture in the penultimate rounds of grand slams. She had made the semi-finals of the Australian Open and Roland Garros that year, in the run up to her Wimbledon run.
Bouchard has won one WTA title- the Nuremberg Cup in 2014. She has since gone on to be a runner up in seven other tournaments as well. She has since been plagued by injuries that have seen her career grow dim.
Bouchard had spoken about her return to the tennis fold. "I really didn't want to stop despite going through rehab and PT and you have those thoughts of why am I doing this but it was never a real thought and I always knew I wanted to come back," she said to Ubitennis.
Bouchard had also spoken about maintaining a thick skin against haters and negativity, as many accused her of a lack of focus in the past years. In an interview with The Telegraph, she said, "I think everyone cares what people think about them so saying: 'I don't care about them at all' would be a lie…Obviously I do care just like everybody else would. I also try to take it as a compliment because it means you've done something, stood up for something, created enough emotion for them to engage with you."