'Deadly Class': Beware of villainous deviant Chester 'F**kface' Wilson and not just because he wants to kill Marcus
Wilson actually has a deadly motive to kill Marcus, and he makes his chilly entry by violating a goat and wants to know the whereabouts of the school Marcus Lopez Arguello (Benjamin Wadsworth) may be surviving the deadly King's Dominion and forming friendships along the way, but this once-homeless teen has an even deadlier villain chasing after him - Chester 'F**kface' Wilson (Tom Stevens).
His introduction comes in the episode 'Noise, Noise, Noise,' and we catch him in an act of beastiality, where he is nonchalantly violating a goat. Even when the officer comes and enquires, he is ready to attack at the animal shed. After overpowering the police officer, Wilson, takes out a polaroid picture of Marcus and states he is going to kill him. Little does he know, Marcus is now training to be an assassin in the finest (and the only) assassin school.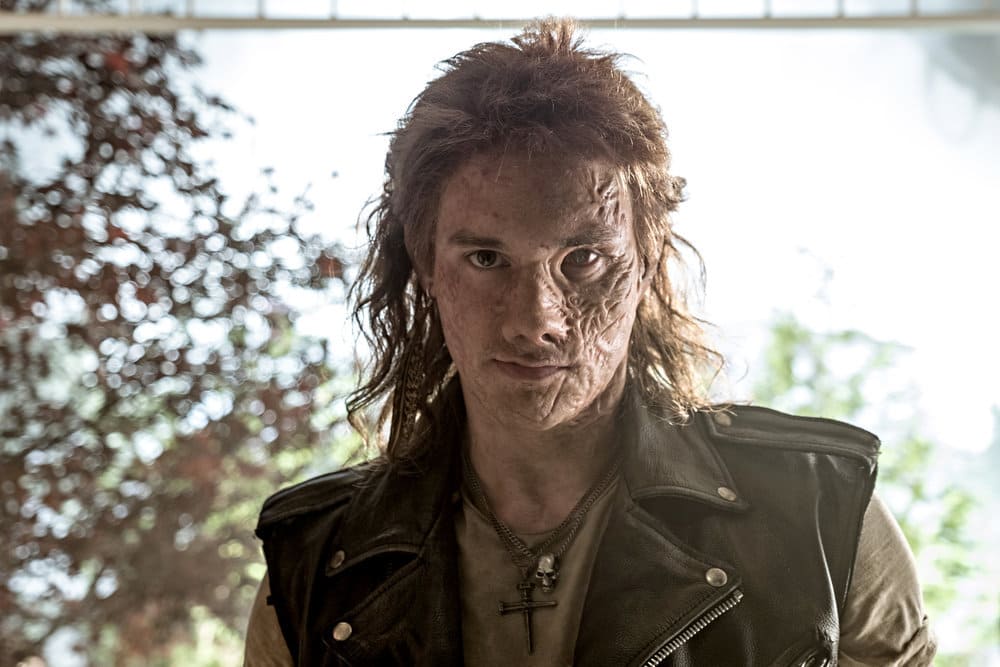 The reason why he wants to track down Marcus and kill him is very apparent at first glance. Marcus is famous/infamous for burning down the boys' home he was in and killing almost 30 orphan boys. Wilson happened to be one of the "burned," but also someone who survived.
The right side of his face is completely scarred and he thirsts to kill Marcus, who was also his former roommate. As Saya (Lana Condor) and Master Lin (Benedict Wong) knows, Marcus wasn't the one to burn down the boys' home. His reputation so far has only been a lie. The question as to who did it is still out there. 
In the latest episode of 'Deadly Class,' we saw the Kurokis attack the school and attempt to kidnap Saya, however, the primary antagonist has remained F**kface in the backdrop. In 'Mirror People,' we saw him knocking on the door of "rock & roll" old guy Shandy (Brian Posehn), who we met at a party in Shabnam's (Isaiah Lehtinen) house. "Brother," is how he addresses Wilson, who comes wearing his signature leather waist-coat. "Your face is f**ked," Shandy states.
As we delve into other storylines, the story of Wilson and Shandy fades, until the last scene where we're taken to Shabnam's parents walking into the after-party-mess at their house and spotting Wilson seated on the couch, holding Shandy by the leash, who, by the way, is completely naked.
From the introduction to the latest episode, we are warned Wilson is one of the prime villains of 'Deadly Class,' because, unlike Chico, who is a bully, and Ronald Reagan, an abstract mention, Wilson actually has a deadly motive to kill Marcus, and he makes his chilly entry by violating a goat and wants to know the whereabouts of the school. 
Set in 1970s San Francisco, we are not sure how Wilson is tracking Marcus, but he very much gets to the protagonist as the trailer of the upcoming episode 'Saudade,' teases. For the comic readers, Wilson is a one-dimensional villain, because he is purely evil and that is how he will remain throughout.
Without giving away spoilers, you can be warned Wilson murders many and paints "f**kface" at the crime scene. Easy as he may sound to track, he is not caught by the police and the death toll he exacts is costly and felt, as we will see. Be warned, he makes 'Deadly Class,' a little deadlier.
Disclaimer : The views expressed in this article belong to the writer and are not necessarily shared by MEAWW.