Dane Cook accused of inviting minors to his home, including a 14-yr-old Emily Alyn Lind, for 'game nights' LOS ANGELES, CALIFORNIA: Comedian Dane Cook regularly invited girls as young as 14 to 'game nights' at his home, internet-sleuthing writer Tracie Egan Morrissey has claimed. She has claimed that his new fiancée Kelsi Taylor appeared at one of them when she was 17. The 50-year-old comedian became engaged to Taylor, 23, recently. He had said earlier that the two of them met at one of the 'game night' parties regularly hosted by him at his Los Angeles home.
Morrissey took to Instagram to point out that Cook posted a picture from his game night party with Taylor in it, suggesting that she was only 17 at the time. Cook has claimed, on the other hand, that he never got into a romance with Taylor until she was 18. Morrissey revealed in an Instagram story that searching for Cook's social media posts would reveal a number of photos of underage girls, one of them said to be 14, suggesting they attended these parties on a regular basis. The parties were also attended by men who were far older.
READ MORE
Amber Heard accused of attending 'satanic-styled' sex parties with billionaires
Did 26-year age gap ruin Rupert Murdoch and Jerry Hall's marriage? Divorce shocks friends
Cook often posted photos of his game night attendees in groups, which Morrissey apparently tracked. She noted that Taylor appeared in a photo with Cook on October 8, 2016, weeks before she turned 18. Morrissey claimed that digging through Cook's Instagram landed her on photos of various underage girls and young women at his parties. She pointed out that actress Saxon Paige Sharbino attended one of the parties when she was 16, and also that there were individual photos of her and Cook when she was 15. Morrissey said that one photo shows actress Emily Alyn Lind at one of his parties when she was only 14. Cook is yet to comment on Morrissey's allegations and MEAWW could not independently verify her claims.
Morrissey claimed that besides underage girls, young women such as 20-year-old actress Amy Forsyth, as well as OnlyFans actress Bella Thorne when she was 18, also attended his parties. The writer also pointed out that none of the underage girls or young women she listed follow Cook on Instagram, and that he does not follow them either.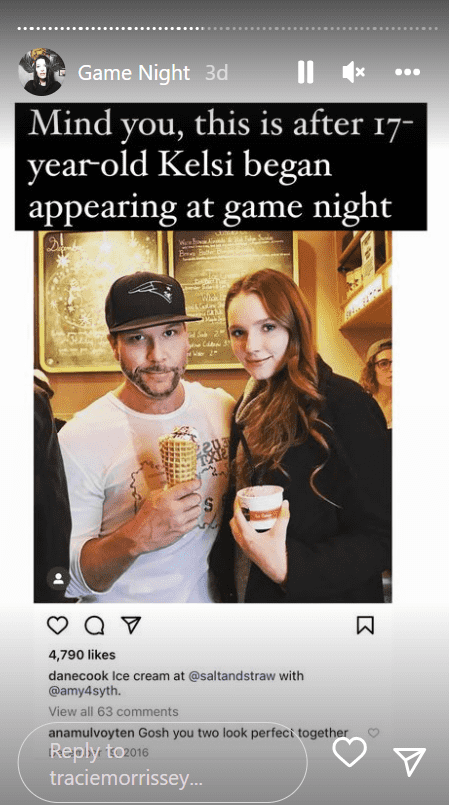 According to Morrissey's website, she is "an award-winning content creator who has written, produced, and developed stuff to read, watch, click on, or listen to." "Currently, she works as a development consultant and content strategist for media organizations. She has recently launched Something Else Media, a podcast studio and production house, and continues to write from her home in Brooklyn, where she lives with her daughter and their dog. Her work has been published in The New York Times, Fortune, Newsweek, Penthouse, Bust, Vice, and Gawker," the website states.