CMA Awards 2019: All the best looks from the red carpet; from Kelsea Ballerini's runway look to Hannah Brown's ball gown The hottest stars in country music attended the 2019 CMA Awards on Wednesday, November 13. Three industry icons are hosting the big event this year including Reba McEntire, Dolly Parton, and Carrie Underwood. And as for the red carpet, there were some noteworthy looks include Hannah Brown in a white ball gown, Brandi Carlile in chic cheetah and Halsey in a romantic floral gown.
1. Danielle Bradbery
Danielle looked like a total diva in this red one-shoulder number. She kept the whole look pretty simple and it worked - this dress doesn't need a buddy. Danielle Bradberry is wearing jewelry by Prakshi.
2. Brandi Carlile
Who would have thought a tux could look so cute? Brandi Carlile's green, brown and cheetah outfit with a pop of pink satin is just what this red carpet needed!
3. Jennifer Nettles
This one didn't come to play. The Sugarland frontwoman wore this white Christian Siriano piece with art by Alice Mizrachi that said "Play our f*@#!g records please & thank you". On the back, the pink cape said "Play our records." Gotta love her.
4. Lauren Lane
Lauren Bushnell Lane wore a gorgeous yellow asymmetrical hem dress and paired it with some strappy heels. She also debuted a newly cropped head of hair.
5. Miranda Lambert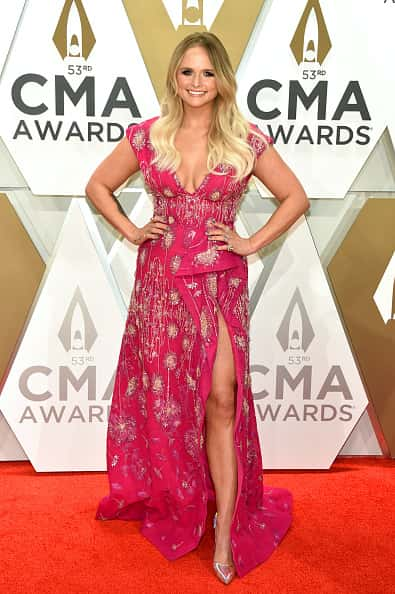 Miranda Lambert showed some sexy cleavage in a plunging pink gown that also featured a thigh-high split on the side. What's not to love?
6. Kelsea Ballerini
This look on Kelsea is right off the runway. She sparkled and stunned in this Raisa Vanessa SS20 Runway look complete with a pair of metallic heels.
7. Carrie Underwood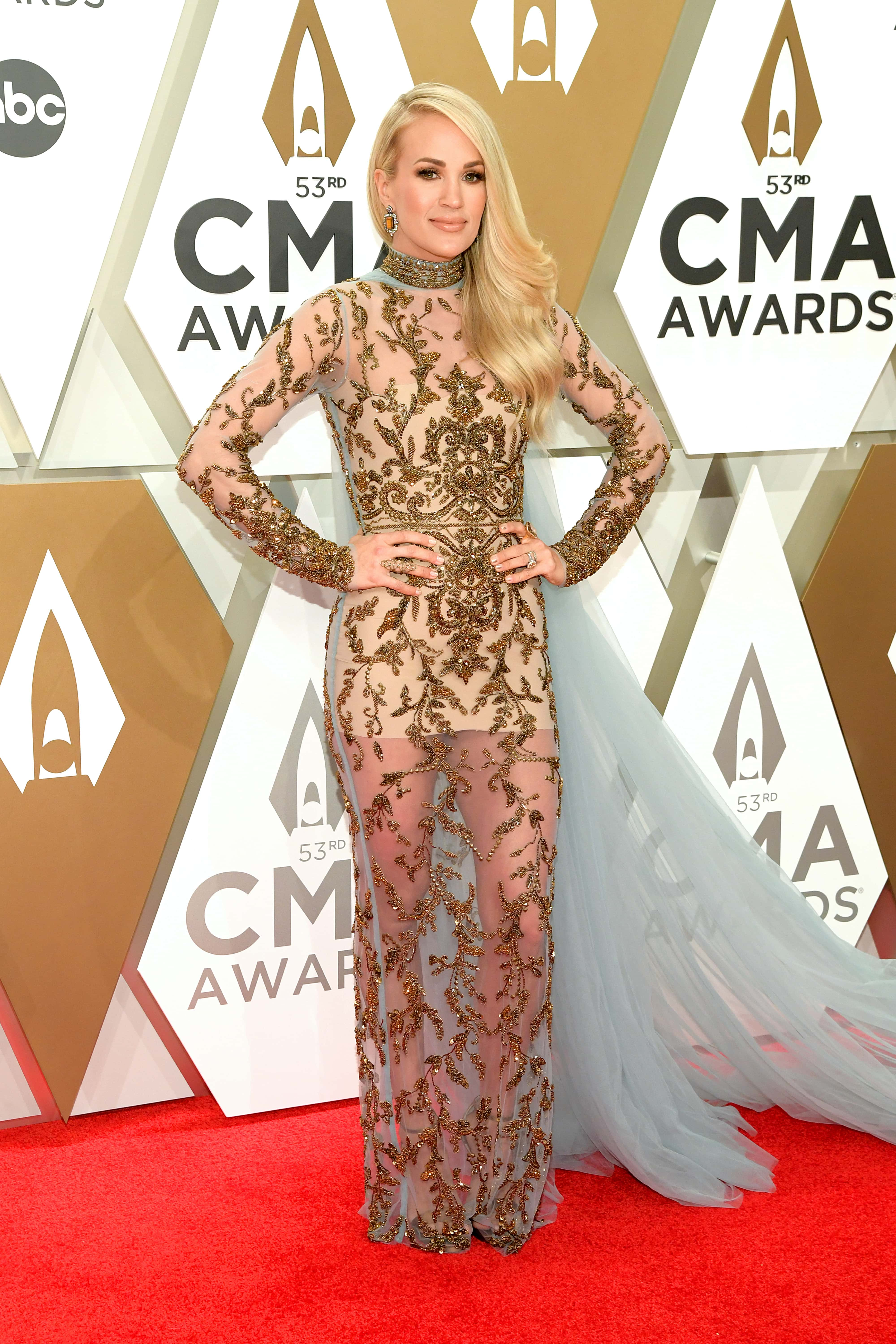 Carrie hardly ever disappoints when it comes to red carpet fashion and here she is in a sheer Elie Madi dress looking like a million bucks. Carrie is wearing jewelry by Loree Rodkin and Jared Lehr.

8. Hannah Brown
Hannah Brown's white number had a chic mock neckline, a flowy silhouette and a fresh young vibe to it. Plus, it looks like it has pockets - just gonna leave that there...
9. Halsey
This look is such that you'll either love it or absolutely hate it. For this old-timey, romantic and a little Victorian gothic look, she wore a floral off-shoulder dress, with lace, roses, and sheer. The Marilyn Munroe-esque hair only adds to the appeal. Halsey is wearing jewelry by Alex Mika.
10. Linsay Ell
Lindsay walked the red carpet in a nude gown, with a plunging neckline and embellishments. It's a pretty simple look, but works for Ell.