To finish off her impressive year in music on a high note, Cardi B released the racy, NSFW music video for her latest single 'Money' on Friday. 
Directed by Jora Frantzis, the clip takes a seemingly mundane trip to the bank and turns into it the most sensual, gratuitous adventure, complete with sexual acrobatics while Cardi herself showcases her gravity-defying skills around the stripper pole, breastfeeds a baby (which Cosmo speculates is her own child Kulture) and flits through a dozen masterful outfits. "Ten different looks and my looks all kill," she aptly raps.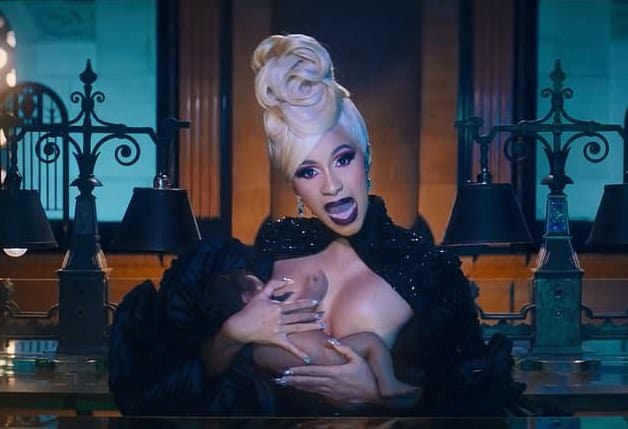 During the interlude, Cardi is seen playing a snow white piano sporting just her birthday suit and a pair of silver heels. Oh, and of course, a pair of white Beats headphones too (shout out to Dre?). The visuals are as over the top as it can get and Cardi's message is loud and clear: She was a stripper. She is a mother. The two are not mutually exclusive, and the former surely doesn't say sh*t about her ability to do the latter.
The timing of the video couldn't be apter, arriving the same week it was announced that the 'Invasion of Privacy' hitmaker is the first female in history to have all of the songs on an album certified gold or platinum by the RIAA. Watch the music video below:
Cardi's also planted a few juicy references into the visuals. She pays tribute to Beyonce as she sports a similar outfit and borrows a few dance formations from Queen Bey's 'Haunted'. The strip show is a not-so-subtle reference to Rihanna's 'Pour It Up'. And of course, there's a slightly more subtle jab at Nicki Minaj, who has been locked in a beef with the Bronx rapper for the better part of the year now.
One of Cardi's outfits includes a headpiece that looks quite similar to one Nicki Minaj wore in her clip for 'Ganja Burn'.
Although neither rapper has commented on the headpiece yet, but it's hard not to see it as a jab at Minaj, as they've been feuding for months. Cardi also squats way low to the floor while sporting the said headgear in a reference to Lil Kim's famous squat. The video is just a feast of hip-hop references, while also celebrating Cardi's empowering journey till now.
Come February, Cardi is up for five Grammy Awards, including Album and Song of the Year. And it looks like she's sailing high on the nominations.