Cardi B reportedly has child services called on her for threatening to 'drop her baby' and fight Nicki Minaj fan
Things got heated after a Nicki Minaj fan allegedly stirred the pot claiming that Cardi and her sister Hennessy would never be as good as Minaj. Cardi B reportedly had child services called on her in Atlanta after a social media spat with a Nicki Minaj fan, where she allegedly threatened to "drop" her baby!
As Hollywood Life reports, things got fired up after a heated exchange on Instagram between the 'Bodak Yellow' rapper and a Nicki Minaj fan who according to Hollywood Life, goes by the Insta handle @iluvari94. The tipping point arrived when the fan told Cardi and her sister Hennessy that they would "never" be on Nicki's level, eliciting a severe response from the Bronx-based rapper. 
"Keeping posing and deleting your and ya sister will never be directed to Nicki," the fan posted in a seemingly unprovoked reply to a comment by Hennessy. "Y'all know where y'yall stand. I like you a lot but if your not gon @ her the stay shut babe," the fan added, reportedly tagging both Cardi and Hennessy in the comment.
In response, Cardi even offered to give up her location, suggesting that the fan come over to a recording studio in Atlanta so they could "fight right now!". That's when she allegedly said she'd "drop" her infant child, daughter Kulture to do the deed. Cardi replied: "F–k a @ I'm dropping my address is I'm in Atlanta in Mean studios wassup? PULL UP you claiming I'm p–y ? I;m giving you a LOCATiON any of ya in ATL? Cause im here and i drop my baby so i can fight RIGHT NOW !!!!"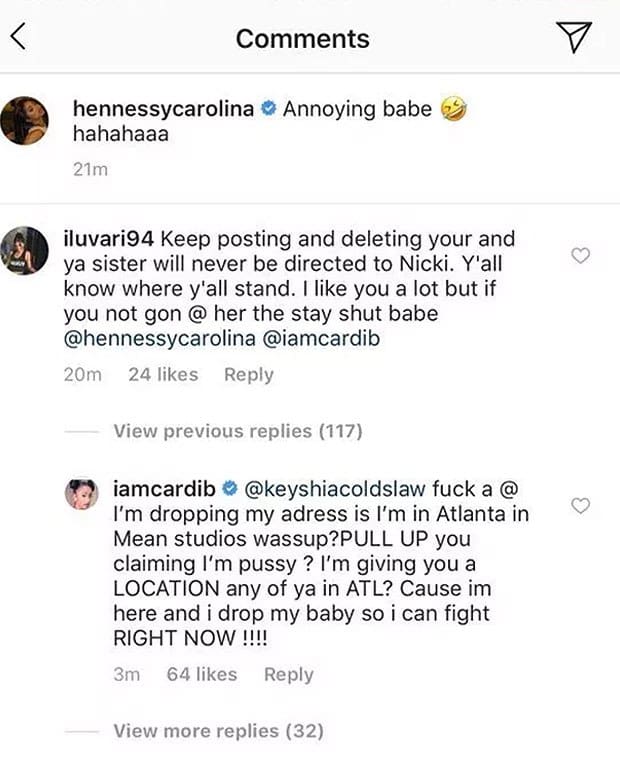 As the report notes, following the social media feud, fans in the comments allegedly claimed they had phoned child services in Atlanta on the new mother.
Cardi has yet to comment on the reported situation, and it's unclear if child services were called or not. Perhaps the 'Invasion of Privacy' star was just suggesting that she would set her baby girl down to free up her fists. Perhaps the whole thing was just an off-handed jab and people were just overreacting by calling child services. Or maybe Cardi actually flew off the handle and wanted to throw it down. As the report notes, it's evident that Cardi's apparent comment has a few typos, and owing to the lack of intonation, the interpretation could go either way.
Cardi B gave birth to her first child with Migos member, and husband Offset, 26, on July 10. This interesting exchange comes just a few days after Nicki Minaj dropped her latest fourth studio LP 'Queen' last Friday. While Cardi and Nicki Minaj have touched upon their previous situation, the rappers have made it clear that there's no real beef there. But as is evident from the report, the fans do love to stir the pot every now and then. 
Disclaimer : This is based on sources and we have been unable to verify this information independently.