Blending in: 'The Voice' judges Blake Shelton and Gwen Stefani go casual for her son's football game LOS ANGELES, CALIFORNIA: Gwen Stefani showed up to support one of her sons at his football game over the weekend with husband Blake Shelton. The couple watched her son's football game alongside Stefani's parents, Dennis and Patti, in a park in Los Angeles.
'The Voice' stars sat in the stands to watch the young athletes play. Stefani is mother to Kingston, 16, Zuma, 14, and nine-year-old Apollo, who she shares with her ex-husband, singer Gavin Rossdale.
RELATED NEWS
Is Blake Shelton getting BOTOX? Gwen Stefani may have transferred obsession to husband, says expert
'You'll be forgotten after the show': 'The Voice' fans slam Brayden Lape for dissing Gwen Stefani
Gwen Stefani and Blake Shelton looked casual
The 'Rich Girl' singer appeared decades younger in knee-high tan boots, a black and green zip-front jacket, and baggy jeans with white stars on them. She had her light blonde hair in a high ponytail. Meanwhile, the 'God's Country' singer looked every bit the casual country boy in jeans, a trucker-style cap and a camouflage button-down shirt.
Shelton's hand was resting on his wife's knee as they watched the game together. Stefani's parents, both dressed in jeans, jackets, and hats, stood on either side of them. He has no children of his own, but he dived headfirst into his role as stepfather to the 'Wind it up' singer's sons. "Every day I've fallen in love with the boys as much as I do with Gwen," he said at the Country Radio Seminar in March 2022, per the Daily Mail.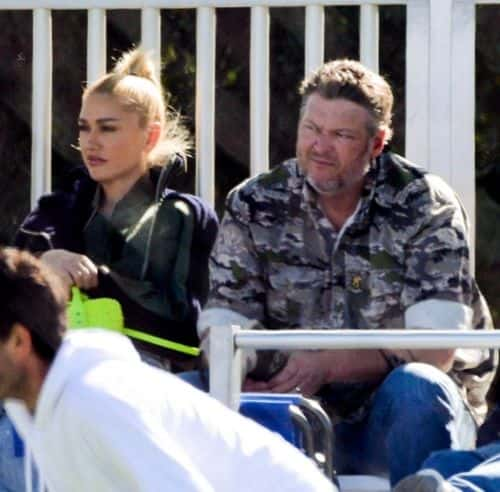 Blake Shelton is a great stepfather
Shelton exposed how completely ignorant the boys were of country life. The boys, who were raised in Los Angeles, were reportedly surprised at the 1,300-acre ranch in Oklahoma owned by their stepfather. "Two of them were like, 'Well, what do we do now?'" Shelton said, adding, "I go, 'Go out that door and don't come back till you're too tired to go any further.' Well, they can't even imagine just going down to the creek with a net or turning over rocks or getting on a buggy and driving around."
However, now that he has taught Stefani's sons how to fish, the ranch was like Disneyland to them. He said that each of them had different preferred activities in the outlying area. "When it comes to burning things and starting fires and throwing hatchets, you better get out of the way," the 'Some Beach' singer said.
Share this article:
Blending in: 'The Voice' judges Blake Shelton and Gwen Stefani go casual for her son's football game