Bhad Bhabie slammed for promoting plastic surgery: 'I want a big booty' Teen rapper Bhad Bhabie aka Daniel Bregoli aka the 'cashmeoutside' girl who gained incredible social media fame from her appearance on Dr Phil's show, has finally addressed long-term rumors of her getting cosmetic procedures to enhance her look. After consistently denying that she got lip fillers until 2019, Bregoli got candid in the comments section of a recent raunchy Instagram post, where she revealed that were she to get more procedures done, her next target would be her butt.
Bregoli garnered massive infamy at first from her stint as the unruly teen next door when she appeared on 'Dr Phil'. The teen star was however soon able to turn her famous catchphrase "Catch me outside, how 'bout that?" into a popular meme, thus profiting off social media to launch a pretty significant rap career so far. Bregoli had made headlines earlier this year when she joined OnlyFans and earned $1 million in just six hours. Known for her beef with fellow teen rappers like Woah Vicky and Li'l Tay, Bregoli is also known for her candid tell-alls with her fans and followers on Instagram - thus making this sudden, but long overdue confirmation of enhancing her features not that surprising.
READ MORE
Bhad Bhabie releases 'Do It Like Me' trailer after rehab stint, fans say 'glad you're back on the music scene'
Florida 'Karen' pulls a Bhad Bhabie by threatening nail salon worker to 'cash me outside' after racist rant
Bregoli's confirmation arrived on Saturday, August 28, when she decided to bless her fans with mirror selfies of her rocking a black bikini. The caption of the photo saw Bregoli quip, "Shaped like a p but ya man still want meeee." Soon comments flooded as seen in a screenshot posted by celeb-gossip account Onsite! on Instagram, where one user can be seen asking under Bregoli's post: "i need to know what surgery she got." The screenshot shows Bregoli reply to the comment: "Nothing has ever worked for me I've tried silicone shots and sculptra it don't stick and I don't think I got enough silicone." The Florida native further admitted: "But trust me when I do find something that will work you will know [because] imma have a big a** bootyyyyy."
Users however did not seem too enthused about Bregoli's potential cosmetic work done as they poured in with replies to the Onsite post, writing: "That's so sad. She's not even 20 yet." Another questioned, "How you gone have a big ass booty with those little legs… " Another asked: "Isn't she a child?" And others were left curious, "IT DIDNT STIIIIIIIICCKKK !?! Where the hell it go then !" One user also criticized her for slamming Kylie Jenner and Iggy Azalia's decision to get work done on their body, commenting: "But she was talking about Kylie and Iggy lmaoooo now you want it ??? Nah stay your skinny ass someone else"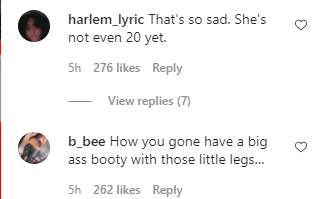 This comes after Bregoli had denied getting lip fillers just a year ago, reports AceShowbiz. Sharing two photos of herself from November and December 2019 as alleged proof. "YOU FOOLISH CLOWNS CHECK THE DATES MY LIPS BEEN BIG THE MINUTE YALL SEE ME WEAR LIPLINER ITS OUUUUUU sHe GoT InJEctiONs," Bregoli wrote. She also slammed body shamers earlier this month for calling her too skinny and insecure about her body. Posing in gray undies next to a swimming pool, Bregoli had written in the caption: "Y'all angry that I'm not insecure about my body being skinny and it shows." She continued, "BMI clearly states that someone who's 4 11 should b 86 - 105 lbs I'm 87 pounds so go suck 101 d**ks if you have a problem with someone else's body."