Skrillex ordered to pay $1.6 million to fan who suffered 'significant injuries' at gig
Jennifer Fraissi claimed she was trapped as Skrillex leapt off the stage and incurred significant injuries including a stroke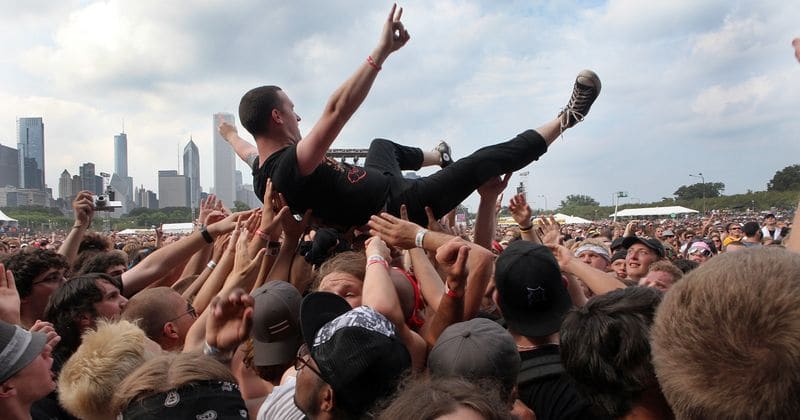 In February 2012, dubstep legend Skrillex took the stage at the Belasco Theater in Los Angeles for what was supposed to be another sold-out smash hit of a gig. Towards the end of the performance, Skrillex urged the crowd to move forward before launching off his turntables straight into the audience several feet below. Unfortunately, the stunt didn't go well with one fan, Jennifer Fraissi, who sued Skrillex after suffering serious injuries at the gig. 
Fraissi, whos sued Skrillex in 2014, claimed that after he urged the crowd to move forward, she was trapped as he leapt off the stage "incurring significant injuries and damages, including, but not limited to, a stroke."
Now, nearly five years after the incident, the jury has awarded Fraissi a total of $4.5 million, which includes $1.6 million from Skrillex, 1.8 million from his touring company Lost Boys, and $450,00 from the Belasco Theater.
For his part, Skrillex has been deeply sympathetic, saying: "There is nothing more important to me than my fans and their safety at my shows — I want them to have fun and enjoy the music."
Such incidents where the interactions between performers and fans go one step too far are not really that uncommon and it begs the question: Where exactly does the line lie between the performer and the audience at a live event?
In the early days of punk, at live shows by The Dead Kennedys, The Ramones and the likes, it was a fairly common sight to see fans rush the stage and rock out with the band, although they would maintain a respectful distance from the performers. Those days are gone of course and although fan interactions are fairly less intense these days, an occasional incident does crop up ever so often.
Sometimes, these incidents are brought on by performers themselves who go out of their way to invite fans on stage, leading to a situation that's sometimes are nothing more than mildly embarrassing. Earlier this year, Kendrick Lamar invited a fan on stage to rap along to his hit song 'm.A.A.d City' during his headlining set at the Hangout Fest in Gulf Shores in Alabama. Just a couple of bars into the track, Kendrick interrupted the fan, Delaney, right after she casually rapped the n-word loud and clear. She was white.
Kendrick decided to give her a second chance but Delaney lost herself in the moment and quoted the lyrics verbatim yet again. That was it for her as Kendrick asked her to leave the stage.
At around the same time, Foo Fighters, who are notorious for inviting fans on stage to jam with them, invited an 8-year-old boy to take over Taylor Hawkins' drum set. After impressing audiences with a drum solo for around 5 minutes, the little boy wanted some more time on the drums and things got awkward as Dave Grohl called his father to help take him off stage.
Sometimes, the situation goes beyond mild embarrassment. In 2015, Adam Levine was attacked by an overzealous female fan during Maroon 5's show in Anaheim, California. He walked away with a few scratches. Two years earlier, a male fan rushed the stage, blindsided Justin Bieber, and nearly knocked the singer off of his piano. Understandably, it's much worse for female performers. 
Iggy Azalea, for instance, used to hop into the audience during her live sets and crowd surf with her fans. But after she was groped on several occasions, she made amends.
Now, whenever she takes the stage, she has admitted to even going so far as to wear two pairs of underwear and flesh-colored tights as a protective barrier. "[Fans] think I'm real slutty, like 'Oh, she got a song called 'Pu$$y,' I know what she wants," Azalea said. "Buying my album for $12 doesn't mean you get to finger me when I come to your city."
The worst instances have also lead to tragic loss of life. Most famously, in 2004, Pantera guitarist Dimebag Darrel was performing with his new band Damageplan when a crazed fan jumped onto the stage and shot the guitarist in the head five times, killing him instantly. Three other people were shot dead during the event.
The reverse of that situation arose during a Lamb Of God gig in Prague in 2010. When a fan rushed the stage and caught frontman Randy Blythe off-guard, he pushed him off the stage and, as a result, the concertgoer hit his head and sustained injuries that caused his death two weeks later. Fortunately for Blythe, although he was arrested, he was ultimately not held criminally liable, and most of the blame lay with promoters and security members.
Part of the problem could be chalked up to the era of social media fan-following which could lead some fans to believe that they are deeply invested in the lives of artists. But that still definitely doesn't give concert-goers the right to jump onto the stage uninvited. But the scenario is definitely different when artists themselves invite them to be a part of the show.
Legally speaking, people can't usually be charged for jumping the fence unless it's a really serious case like Dimebag Darrell's. In lesser cases, the artist could choose to take the legal route but the PR nightmare that would follow would not make it worthwhile.
Getting up close and personal with your favorite artist during a live concert is a special moment. But surely there needs to be some set of rules, if not formally written in stone, then at least via precedents that prevent such incidents from occurring. Otherwise, we could very well end up in a situation where fans are separated from entertainers by humongous chain-link fences, making the set up look less like a concert and more like a zoo. And nobody really wants that, do they?
Disclaimer : The views expressed in this article belong to the writer and are not necessarily shared by MEAWW.