Worst-dressed celebs at 2022 MTV EMAs: From Bebe Rexha to Taylor Gayle, all the fashion misses
The red carpet for the MTV EMAs 2022 which took place at the PSD Bank Dome in Germany was home to some of the most ridiculous outfits ever DUSSELDORF, GERMANY: It's not an MTV awards night without some of the most peculiarly dressed celebrities taking center stage and this year was no different. The red carpet for the MTV EMAs 2022 which took place at the PSD Bank Dome in Germany was home to some of the most ridiculous outfits ever! A lot of the A-listers of the music industry and TV stars had come to be part of the event and join in on the fun. However, some did not get the memo about being dressed sharply and on point.
Daily Mail reports that some of the big names that seem to have missed the mark this year with their looks include 'I'm a Mess' hitmaker Bebe Rexha, 'Love Island' star Jack Fowler, Israeli singer Noa Kirel and 'ABCDEFU' singer Taylor Gayle. Now that we have the rundown as to who the unfortunate fashion victims are, let's take a deep dive into these worst-dressed celebrities at the awards.
READ MORE
2022 MTV Video Music Awards: List of K-pop nominees includes BTS, Blackpink and Seventeen
MTV VMAs 2022 Red Carpet: From Taylor Swift to Blackpink, here are the best-dressed celebs
Bebe Rexha
The young singer did not put her best foot forward, with her electric-blue look that left a lot to be desired. She wore a wacky blue jumpsuit and had an abstract lead panel that surrounded her. She also wore a corset in the same color to blend into the jumpsuit and showed off her small waist. She also wore a pair of stilettos, again, the same blue so they merged with the jumpsuit- making it hard to see where the jumpsuit ends and where the shoes begin. Bebe Rexha finished her look off with a glossy nude lip and pulled it off with confidence, which she needed a lot to be able to wear that cringy outfit throughout the evening.
Jack Fowler
'Love Island' star Jack Fowler made a statement, albeit not a great one, with his bright and vibrant neon multi-colored snakeskin print coordinated suit. He wore a black shirt under his suit and finished his look with white colored Nike trainers.
Noa Kirel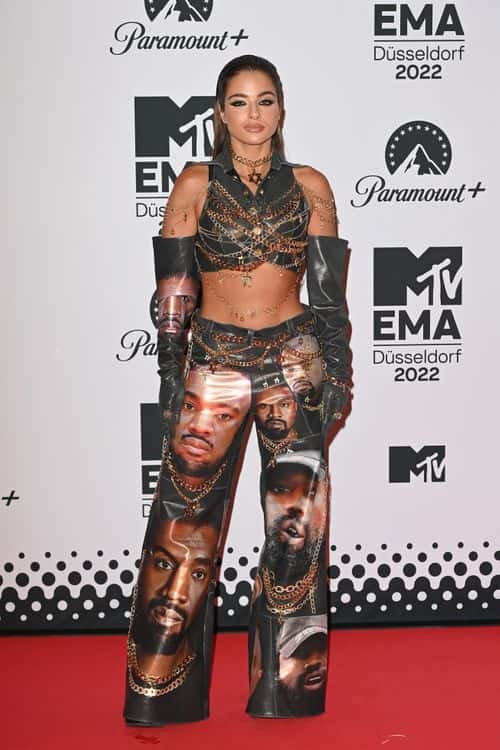 It's not a good time in the world to be associated with anything Kanye West-related but seems like Noa Kirel did not get that memo. She literally came in with Ye's face splattered all over her, we kid you not. Kirel wore a co-ord set that had Ye's face printed on it everywhere. She also wore a pair of long gloves, also with visible traces of the Kanye mania she's brought into the event. Her cropped top was embellished with gold chains and her hair was slicked back.
Taylor Gayle
If you've been on any kind of social media recently, then you've heard of Taylor Gayle's chartbuster 'ABCDEFU'. It's a fast favorite amongst content creators and so is the singer. But her fashion miss may have lost her some points. Gayle wore a black sheer dress and showed off the black bra and panties she wore underneath. She got a quirky hair coloring job done, with half her hair dyed honey blonde and the rest a stark jet black. She wore long leather gloves in black and also accessorized with some gothic accessories.
Share this article:
Worst-dressed celebs at 2022 MTV EMAs: From Bebe Rexha to Taylor Gayle, all the fashion misses