Victim of one of world's vilest pedos Jimmy Savile recalls years of horrific abuse and rape LONDON, ENGLAND: An award-winning documentary named, 'The Other Side of Jimmy Savile' directed by ex-detective Mark Williams-Thomas revealed some of the shocking stories of famous DJ, and television personality, Jimmy Savile a decade ago when it was aired on October 3, 2012. However, recently one of the five women who got featured in the ITV series revealed she was only 15 when Jimmy raped her.
In a recent interview with Mirror, the victim revealed, "He was very ­flamboyant and said he thought I was OK, that's how the grooming started." Further, she said, "He invited me to different places where there were lots of other people around so it felt safe and exciting."
READ MORE
Benjamin Mendy's rape victim clears the air that his teammate Jack Grealish did not have sex with her
'It's horrifying': Celebs outraged after Bill Cosby is released from prison
The victim is said to be a retired carer who is now in her 60s. Later, she explained that she was then invited to a hotel in London, however, was raped in the same place. She said, "He was much older than me and I didn't know what was happening. I was shocked. Kids in those days didn't talk about sex, I had no idea about anything like that. I was absolutely frightened, it was all so scary and I froze."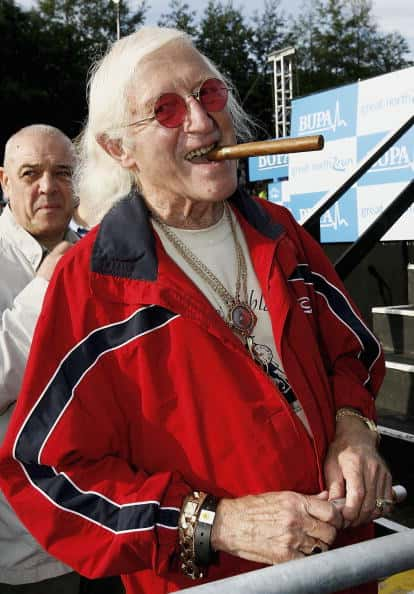 Later, she added, "Afterwards he treated me as though I didn't even exist, as though nothing had happened. I was told to go, it was as brutal as that." The victim also claimed, "He was a very good manipulator. He was very clever because you didn't quite realize what was going on, yet at the same time he told all these funny stories. He gave you these good times that young teens would like, at the same time there was this really, a really dark side to him."
The woman also stated, "I know he was connected to the criminal underworld and it was made clear that whatever he did you just did not say anything, you kept your mouth shut. I was told at the time he knew the Krays. He menaced us with the ­presence of minders from the ­underworld. So it wasn't just abuse that we suffered, but fear for our lives."
Further, she said, "I had to watch him grooming other victims, agonizingly helpless as he gave me the gloating 'look' that told me what lay in store for them later. He was very menacing and you knew that if you wanted to be safe, you kept your mouth shut." The victim further explained, "It was his whole demeanor, you knew if you messed with him that something might happen to you.It wasn't said explicitly, you just knew it. It was frightening."
She further revealed that she was able to move out from his circle in 1970s and said, "I'm still suffering quite badly, I developed depression and have had counseling. Though I continue my life, it's always been present." The victim has also revealed that she also got raped on BBC premises earlier. However, she is quite disturbed about the making of a new drama coming up about him called, 'The Reckoning', starring Steve Coogan. She then said, "I feel like I'm being abused all over again. This drama will cause immense suffering. It won't enhance the BBC's reputation, but only highlight their corruption. I want them to stop now."
Meanwhile, during the announcement of the drama, a spokesperson for the BBC said, "The drama will examine the impact Savile's appalling crimes had on victims, the powerlessness many felt when they tried to raise the alarm, and how he used his celebrity to hide in plain sight. We're working closely with many people whose lives were impacted by him to ensure their stories are told with sensitivity and respect."
The victim also mentioned about the documentary and appreciated Mark, she said, "Our documentary has made a huge difference to so many lives. I knew I had to get it out there, it was vital that people knew the truth about him. Without Mark we wouldn't be where we are now. He had a difficult time getting the documentary to air, but he fought and achieved it. He did not give up on it, nor us five victims."
Share this article:
Victim of one of world's vilest pedos Jimmy Savile recalls years of horrific abuse and rape