Stephen Deckoff: Billionaire acquires Jeffrey Epstein's private islands for $60 million NEW YORK CITY, NEW YORK: Jeffrey Epstein's infamous private islands have been purchased by a billionaire after more than a year on th market. The notorious islands, one of which is dubbed Pedophile Island, have reportedly been snapped up by businessman Stephen Deckoff for $60 million.
Deckoff, known as the founder of private equity firm Black Diamond Capital Management, acquired the properties for less than half of their $125 million initial asking price and has announced plans to develop a state-of-the-art luxury 25-room resort on one of the islands. Great St James and Little St James first hit the market as a combo deal for $125 million in March 2021, but this was later cut to $55 million a piece. Little St James is the infamous island where Epstein built his luxurious compound to host orgies and traffic underage girls.
READ MORE
Jeffrey Epstein sent ex-JPMorgan exec Jes Staley 'sexually suggestive' photo of young woman, says judge
Jeffrey Epstein's calendar revealed meetings with high-profile individuals after sexual offense charges
According to government records, the 70-acre Little St James Island was purchased by one of Epstein's companies in April 1998 for $7.95 million. Meanwhile, the nearby Great St James was purchased by Epstein -- who mysteriously died in a Manhattan jail in 2019 aged 66 -- to keep tourists away from his hideaway. While the larger island spans more than 160 acres, it is largely underdeveloped. In 2016, the pedophile spent $18 million on Great St. James Island, which was once popular with locals and tourists for its main attraction, the Christmas Cove nature preserve. In 2020, Virgin Islands prosecutors accused Epstein of bringing girls as young as 11 to the islands and sexually assaulting them.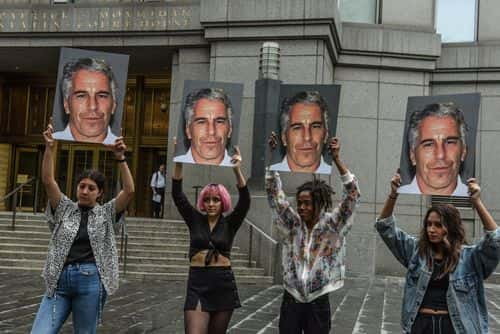 Who is Stephen Deckoff?
Deckoff has lived in the US Virgin Islands since 2011 but had neither met Epstein nor stepped foot onto his land until they were marketed following the financier's 2019 demise. "I've been proud to call the U.S. Virgin Islands home for more than a decade and am tremendously pleased to be able to bring the area a world-class destination befitting its natural grace and beauty," Deckoff, who has a net worth of $3 billion, told Forbes of his acquisition of the islands. "I very much look forward to working with the US Virgin Islands to make this dream a reality." He reportedly made his fortune in private equity, working for several firms such as Drexel Burnham Lambert, Bear Stearns, and Kidder and Peabody & Co before starting his own asset management company Black Diamond Capital.
Deckoff and his wife Pamela seem to be heavily invested in real estate. Last year, Dirt reported that the couple spent more than $13.2 million on a lavish home in the mountains above Beverly Hills. This was in addition to their property in New York and a multi-million dollar villa in the Virgin Islands. The Beverly Hills mansion reportedly is nestled between the late Paul Allen's $45 million estate and billionaire tech heiress Sophie Schmidt's $29 million mansion across the street.
According to Daily Mail, Deckoff's equity firm manages $9 billion in assets and specializes in high-yield debt, distressed debt, restructuring, and business turnarounds. A press release by SD Investments LLC - a firm founded by Deckoff - revealed that "a significant portion of the sale proceeds are being paid to the Government of the US Virgin Islands under a previously announced settlement agreement between the government and Mr Epstein's estate."
---
Stephen Deckoff has agreed to pay $60 Million to buy the pair of Caribbean islands that belonged to Jeffrey Epstein - Bloomberg pic.twitter.com/uRjjuMDuMv

— StockMKTNewz - Evan (@StockMKTNewz) May 3, 2023
---
As part of the settlement announced by the Virgin Islands Department of Justice in December, half of the proceeds from the sale of Little St James will be placed in a trust to provide support for sexual abuse victims. Meanwhile, Epstein's estate also agreed to pay $105 million to the US Virgin Islands to settle sex trafficking and child exploitation claims, as well as another $450,000 payment "to remediate environmental damage around Great St. James," where Epstein is said to have "razed the remains of centuries'-old historical structures of enslaved workers to make room for his development." Deckoff is currently in the process of hiring architects and engineers to develop his dream resort, which he hopes to open in 2025.
Disclaimer : This is based on sources and we have been unable to verify this information independently.
Share this article:
Who is Stephen Deckoff? Billionaire acquires Jeffrey Epstein's private islands for $60 million