'My 600-lb Life': What happened to Michael Blair? How molestation and a tragic accident pushed him to 609 lbs Michael Blair is the latest person to be seen on 'My 600-lb Life' with his story summarized as "Food Makes Me Feel Better". The 43-year-old who lives in Conroe, Texas, recounted the horrific experience from his childhood in the show's episode titled 'Michael's Journey'.
Scheduled to air on Wednesday, February 24, 2021, the synopsis of the episode titled reads, "A lifetime of abuse and ridicule has left Michael anxious and afraid to leave the house. Now with the help of his devoted wife, he must follow Dr. Now's program to keep from eating himself to death."
RELATED ARTICLES
'My 600-lb Life': What happened to Isaac Martinez? All the tragedies that led this 23-year-old to weigh 661 lbs
'My 600-lb Life': Where is Isaac Martinez now? Here's how much weight he lost after Dr Now approved his surgery
Wondering what led to Michael gaining all those kilos and whether he will be able to shed all of it in order for him to get the life-saving surgery? Here's all the scoop from the show.
Michael Blair's father walked out on his family
Michael was very young when his father walked out on his family. As a result, he had to move in with his maternal grandparents. "My grandma always wanted to keep me fed at all times," he said while also adding that by the age of seven he was a 110-pound kid. Soon enough Michael started feeling bad about being a bigger kid which led him to eat more and more which ended up making him larger than he was before. He also faced a lot of bullying in school that forced him to isolate himself at home and he spent all his time playing video games.
Michael Blair was molested on a camping trip at 11
Things took a turn for the worse for Michael at age 11. His mother had signed him up for a kids wilderness fun program which was an overnight camp trip. Michael revealed that the pack leader was a pedophile who made all the boys strip naked and "do things with each other". Michael said he was taken advantage of and molested by the leader but he was not pursued as much as the other boys because he was bigger. That is an incident that kept weighing heavily on Michael, as revealed in the episode.
Meeting his wife Kimberley
Despite a terrible high school phase where the torment had turned more mental and emotional and his eating habits had become all the more destructive, Michael was able to graduate. He then went to college and led the next couple of years that he described as one of the best phases in his life.
Michael was still big while he was in college. However, his weight contributed to the sudden surge in his confidence because he was getting all these jobs as a bodyguard at clubs, something that he loved doing. Michael had also discovered martial arts during this period and it had made him stronger, healthier and better. He was fully committed to the sport and dedicated six to seven hours in training, per day for seven long years. He had lost 120 pounds and at 25 years of age, his weight had dropped down to 380 pounds.
Michael revealed that he was in the best shape of his life during this period and it boosted his self-confidence and that's when he also met the love of his life Kimberley who he later went on to marry. Kim and Michael met at a live-action role-playing game. Kim revealed she had heard a lot about Michael from a friend of hers and how she would absolutely fall in love with him if she were to meet him. "And so when I saw this massive just tall as a giant man got out of the car, I ran up to him, tackled him and gave him a hug, that's how we met," Kim said blushing. The rest of the journey of this couple who are parents to two boys Xander, 17, and Liam, 12, is history.
Michael's tragic accident that ruined his chances at gastric bypass
Michael's company and being surrounded by unhealthy food constantly had led to Kim becoming dangerously overweight too. Both of them decided to get healthy for the family they were building and signed up for gastric bypass but only Kim could get it. Michael met with a tragic accident where his car toppled four times taking out a fire hydrant and lamp post. He woke up in the hospital without a spleen and a lot of scars in his stomach and scar tissues too extensive making it impossible for him to receive gastric bypass surgery.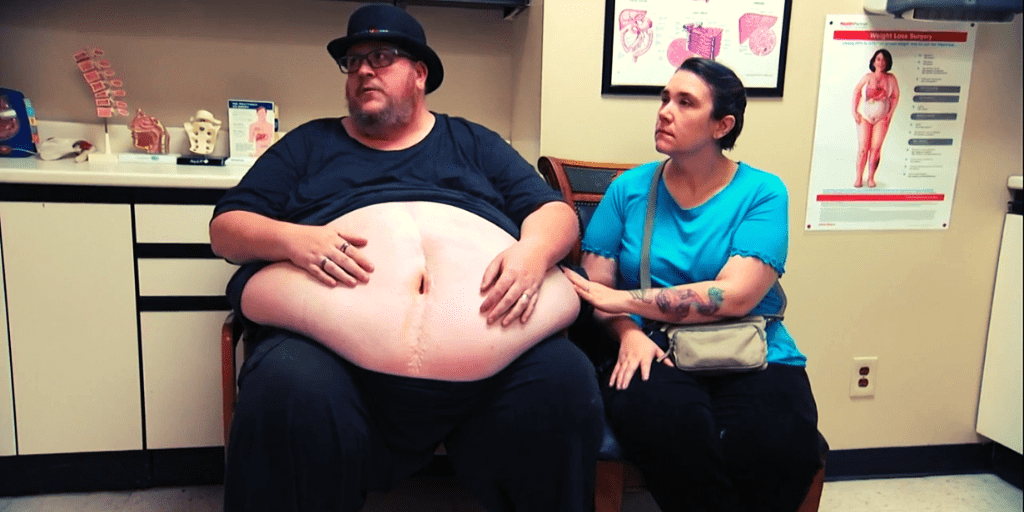 Michael Blair's depression made a comeback
Michael became depressed and returned to his old eating habits and went on to weigh 450 pounds. He also quit martial arts and had become bigger than he had ever been. Even while filming for his episode, Michael was eating like nobody's business to a point that the food made his stomach to swell up resulting in his scars to start hurting from all the pressure. Michael had also developed agoraphobia, a fear of being around other people. He said he didn't go out to play with his sons and stuck to video games because he never wanted others to see what he looked like because his kids would end up being the target for all jokes, in his opinion.
What did Dr Now say about Michael Blair?
At the first weigh-in, it was discovered that Michael was 609 pounds and after a chat with him Dr Now had sensed how negatively his new patient had perceived himself. Dr Now believed that all the anxiety that Michael was experiencing was because of his mentality. He was also concerned about the fact that Michael was denied surgery in his early years because of all the scar tissues and this case was more complicated than the others Dr Now had seen in a while.
After an endoscopic examination, Dr Now and his team found that Michael had a hernia that left most of his stomach tissues damaged. In this case, a gastric bypass surgery didn't look possible but Dr Now wanted to do hernia repair for Michael and use that as an opportunity to take out as much scar tissue as possible. However, that could only be possible if Michael lost 100-150 pounds.
Will Michael be able to lose all those pounds and get the life-saving surgery that would help him survive a couple more years longer? Sound off in the comments.
Catch new episodes of 'My 600-lb Life' Wednesdays at 8 pm ET on TLC.