What day and time will 'The Good Nurse' release on Netflix? And everything you need to know True-crime thrillers are always an intriguing watch and Netflix has an abundance of titles based on the crimes that shocked the entire world. The streaming platform is set to take viewers on an enthralling journey by telling a story that's surely going to satisfy the lovers of true-crime stories. Titled 'The Good Nurse', the movie tells the true story of Charles Cullen, who confessed to murdering up to forty patients during the course of his sixteen-year career as a nurse in New Jersey. However, his interviews with the police, psychiatrists, and journalists, indicated that he had killed many more.

The movie sees Amy (Jessica Chastain), a compassionate nurse struggling with a life-threatening heart condition, having a hard time at her workplace due to demanding night shifts at the ICU. However, things get easy for her when a new nurse, Charles Cullen (Eddie Redmayne) joins the hospital and starts at her unit. The two started to develop a good friendship and Amy was really happy that she finally had a friend after so many years. But things get worse when a series of deaths forces the authorities to open an investigation and it seems Charlie is the prime suspect. Amy is shocked to learn what has happened and puts herself on the line to find the truth. Is Charles really a murderer? We'll get the answer when the movie releases on Netflix later this month.
RELATED ARTICLES
Oscars 2022: Fans hail Jessica Chastain's Best Actress speech a 'gift' for everyone
The Watcher' on Netflix: What happened to 657 Boulevard and where is the Broaddus family now?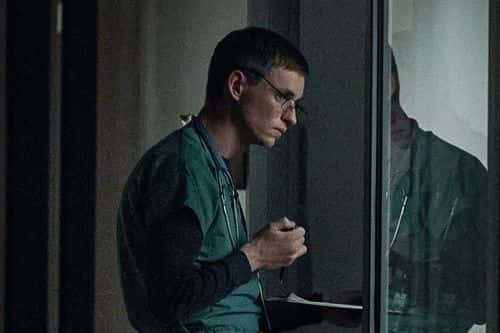 It's one of those crimes that made everyone believe that not all doctors are angels and created hysteria among a lot of people. We are surely excited to see how Chastain and Redmaye bring this horrifying story to life in 'The Good Nurse'. Here's everything you need to know about the movie.
When will 'The Good Nurse' premiere on Netflix?
Directed by Tobias Lindholm, 'The Good Nurse' will be premiering exclusively on Netflix on October 26, 2022, at 3:01 am EST. Apart from that, the film will also hit theatres for a limited period of time before it rolls out globally on Netflix.
How to watch 'The Good Nurse'?
The movie will premiere exclusively on Netflix and viewers can download the app from Google's Play Store and Apple's App Store. Netflix is also available on Roku, PlayStation, Xbox, Google Chromecast, Amazon Fire TV Stick, Apple TV, Smart TVs, YouView, BT TV Box, Now TV, Sky Q, and web browsers.
Who's acting in Netflix's 'The Good Nurse'?
Academy Award winner Jessica Chastain plays the role of Amy Loughren while Oscar-winning actor Eddie Redmayne will be seen playing the character of Charles Cullen.
Other actors to feature in the movie include Nmamdi Asomugha, Kim Dickens, Devyn McDowell, Noah Emmerich, Gina Jun, and Andrew James.
What is the plot of 'The Good Nurse'?
The official synopsis, per Netflix, reads, "Amy, a compassionate nurse and single mother struggling with a life-threatening heart condition, is stretched to her physical and emotional limits by the hard and demanding night shifts at the ICU. But help arrives when Charlie, a thoughtful and empathetic fellow nurse, starts at her unit. While sharing long nights at the hospital, the two develop a strong and devoted friendship, and for the first time in years, Amy truly has faith in her and her young daughters' future. But after a series of mysterious patient deaths sets off an investigation that points to Charlie as the prime suspect, Amy is forced to risk her life and the safety of her children to uncover the truth."
What is the latest buzz around Netflix's 'The Good Nurse'?
Recently, director Tobias Lindholm revealed that he recruited real-life nurses, doctors, and paramedic to make things more authentic. He also noted that the decision was taken to make the performances of his lead actors more "naturalistic". While talking to The Guardian, he said, "Instead of hiring actors and training them to do so, we needed to surround our actors with the real McCoys … so that that could rub off on them and make their performances even more naturalistic. ctors are about communicating emotions. These real people … were able to be in the moment and do their job without telling us any other story. That's quite different for an actor [who's] always aware of [the] story."
Share this article:
What day and time will 'The Good Nurse' release on Netflix? And everything you need to know