WEEK IN CELEB FASHION: From Sia to Emily Ratajkowski, here's every glam look that rocked New Year CELEB FASHION is a weekly special feature that delves into the wide and often controversial world of star attire. From the downright bizarre to the unquestionably elegant, here is a wrap-up of the best looks of the week.
The last week was a mix of both — a little bit of fun and a bit of work. The same applies to celebrities too, who were all partying during the holiday season. But now it seems many of them have returned to work after enjoying themselves during Christmas and New Year time.
After having a gala time, several stars have recently been spotted outdoors, either alone or with someone. Let's take a look at how our favorite celebs dressed as they greeted 2023.
ALSO READ
WEEK IN CELEB FASHION: From Kendall Jenner to JLo, all the looks that sizzled this holiday season
Sally Field looks cool yet chic in biker jacket and Carolina Herrera skirt at Palm Springs Film Festival
Cozy Jodie Foster and wife Alexandra Hedison
It seems comfort is more important for Jodie Foster than fashion as she was seen covered from head to toe recently in Los Angeles with her wife Alexandra Hedison. As per reports, the pair was out for lunch, and a small outing, 'The Silence of the Lambs' actress chose to slip into a black double-breasted coat, which she paired with a gray hooded sweatshirt.
Foster donned a pair of light beige pants along with black sneakers for that extra comfort. On her head was a gray-trimmed navy blue beanie hat. Complimenting her, Hedison also chose to go simple with a dark puffer vest, a green sweater, light-colored cargo pants, and a pair of dark sneakers.
Emily Ratajkowski taking her fashion from sexy to sexier
Ratajkowski is one of the best top models for a reason as every time she steps out, she amazes her fans with her outfit choices. And her January 2023 look was no different. She was recently spotted in New York while looking her best. The 31-year-old actress donned a side-slit wool miniskirt and paired it with a cropped jacket of the same color. To enhance her top-notch look, she added a pair of black knee-high socks and New Balance sneakers.
Fashionable bestie goals Selena Gomez and Nicola Peltz
Selena Gomez and Nicola Peltz surely know how to raise the bar when it comes to fashion. The two looked like angels while partying together in metallic Valentino dresses. Both the beauties gave out the twins' vibe as they posed for pictures, which were available on their respective Instagram pages.
Besides the dresses, the friends also went for a similar hair and makeup look. Gomez wrote in the caption, "Thank @maisonvalentino for me and my angels dresses! Felt like a fairy! Oh and @isabelalysa for making us look good!" Peltz added, "Happy New Years 🥂🤍 thank you @maisonvalentino @yigit @pppiccioli for our matching dream dresses 🥹🤍."
Stylish Shania Twain with her husband Frederic Thiebaud
Twain kept it casual yet stylish while arriving at John F Kennedy International Airport recently. She was spotted with her husband of over a decade, Frédéric Thiébaud. She donned a classic outfit — a black hoodie with blue jeans. To go a little extra, the singer wore a black cap and completed her look with a pair of white sneakers.
Thiébaud also went for a relaxed look, sporting a navy blue coat over a gray polo shirt and dark gray jeans. Just like his wife, the 53-year-old curly-haired man wore sneakers but of a mixed black and white color.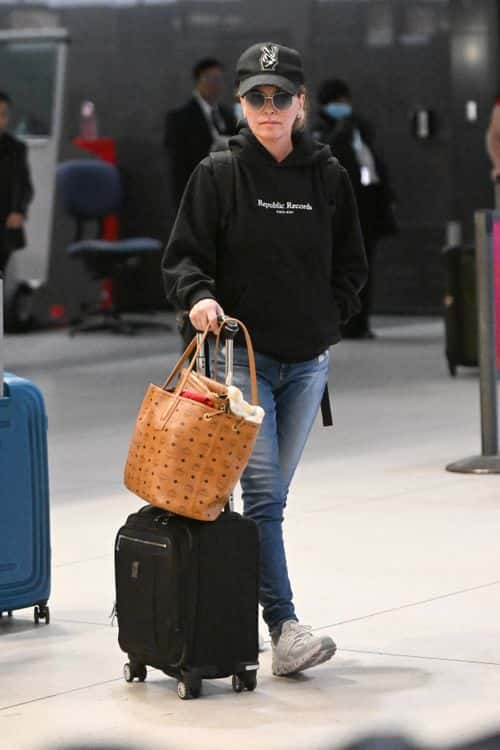 Heidi Klum still in fun mood with her husband Tom Kaulitz
Klum is seemingly not out of the holiday mood yet as the supermodel was spotted in Aspen with her husband, Tom Kaulitz, on January 4. The supermodel brought spring into winter by wearing a bright-colored flowery ski suit and eye-catching long crimson nails.
She also took care of her safety while donning a white helmet and orange protective eyewear. Kaulitz, however, did not go as vibrant as his spouse as he was seen in a neon blue puffer and gray ski pants with orange shoes.
Justin Bieber keeps it cool
Bieber kept his look stylish and swanky in a Balenciaga sweatshirt paired with blue shorts while he was out in LA on January 4. The singer also did not shy away from rocking black acne patches on his face. He completed his look with a heather gray ribbed beanie and a pair of white Nike sneakers.
Kendall Jenner and Hailey Bieber goes luxe for the gym
Kendall and Hailey are not just ordinary bffs as they share the same high-end taste in fashion too. After vacationing together in Aspen, the duo was seen in West Hollywood donning sportive leggings as they hit the gym to shed extra kilos they might have gained during Christmas.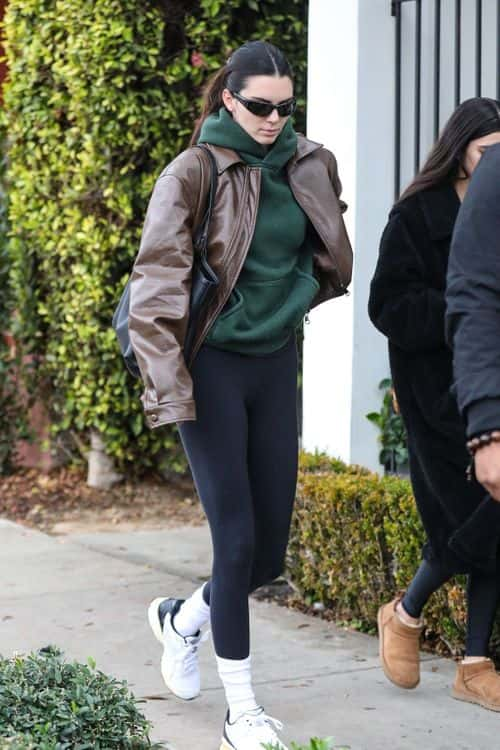 The models also included luxe leather coats in their outfits. while Justin's wife opted for a trench coat from Anthony Vaccarello's fall 2022 collection, the Kardashian sister chose a brown bomber jacket.
Eccentric Sia
Quirkiness is inherent to Sia's style. The Australian singer lived up to her reputation as she performed on New Year. She donned three looks for the performance – the first was a white full-length gown with a dual-colored wig. Her second look was a vibrant mix of colors as she wore a wig and a huge bow.
Sia's third look was all about balloons. She wore a puffy colorful dress, giving the impression of balloons. To complete her fun outfit, she donned a big red bow on her head.
Stunning Jennifer Lopez
Lopez had an at-home new year celebration as she slipped into a sexy gown for the party. The 53-year-old simply looked glamorous in a black and red dress that came with a plunging neckline. She shared her look and gave glimpses of her celebration on Instagram while writing, "HAPPY NEW YEAR! // ¡FELIZ AÑO NUEVO!"
Pinky-pinky Paris Hilton
Hilton went all glitzy for New Year in a pink dress. The 41-year-old revealed on her Instagram that the special dress was from her 21st birthday as she wrote, "I had to bring back my iconic 21st birthday dress in pink for my Stars Are Blind performance. 💎💖 Can't wait to share all the other exciting projects I have up my sleeve for 2023. #StarsAreBlind #Sliving 🎧💫🎤."
However, it was not just the dress as Hilton was shining like a star in glitters from head to toe. She also kept her makeup shiny and bold.
Share this article:
WEEK IN CELEB FASHION: From Sia to Emily Ratajkowski, here's every glam look that rocked New Year