Wanda Espinosa: OnlyFans star makes an X-rated offer to Guillermo Ochoa ahead of World Cup
Wanda Espinosa, a former tattoo artist turned Onlyfans star, offered some extra motivation to the goalkeeper ahead of the tournament An OnlyFans model has promised Mexico icon, Guillermo Ochoa, a night he will not forget if he wins the World Cup. The latest offer received by the current Mexican football team goalkeeper is something that he has probably not even imagined in his wildest dreams.
Popular OnlyFans model Wanda Espinosa wants to see her country emerge as the winner of the most prestigious sports tournament just like millions of other Mexicans. The model, who has more than one million followers on her Instagram account has recently made an unusual and intimate offer to the goalkeeper during a recent appearance on a podcast. She said, "Memito, I'm going to take you so hard that you'll be happier than if we were world champions," according to OutKick.
READ MORE
Who is Alexis Monroe? RHSLC star Jen Shah gets naughty with porn star at strip club
From Choe Cherry to Sasha Grey, 11 porn stars who rocked mainstream entertainment
Football is probably the most popular sport in Mexico and the country is always regarded as the "underdog" whenever it comes to major football tournaments. Despite producing quality players over the years, Mexico has failed to win the World Cup trophy till now and has not even qualified for the quarterfinals since 1986. It now remains to be seen if Wanda's sensual proposal is going to give Ochoa the confidence he needs to take his team to the top of the tournament.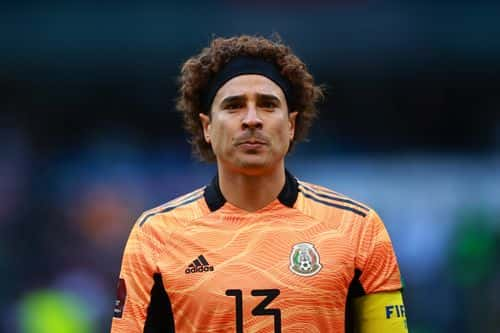 The FIFA World Cup 2022 is going to kick off in less than two weeks on Sunday, November 20 and Mexico will face Poland in their first match in Group C. As for Ochoa, he is already married to Karla Mora for the last four years and has two children.
MEAWW previously reported that playboy model Luana Sandien had made a bid of over half a million dollars to possess the handkerchief that soccer player Lionel Messi shed tears in while announcing his exit from his boyhood club, Barcelona FC, last year.
During a press conference on August 8, to talk about his departure from the club that has been synonymous with his name since his fans can remember, Messi got emotional and was handed a tissue by his wife Antonela Roccuzzo. The handkerchief that Messi used to wipe his tears on, was listed on an international auction site for a small fortune — 1 million to be exact. In the listing, the seller, Rojak Daily, claimed that the tissue contained Messi's "genetic material".
When Sandien spotted the item online, she wasted no time in bidding for it. "I bid $600,000 to get the Messi handkerchief gone, after that the ad disappeared," she said, the Sun reported. "I gave more than half the advertised amount believing I would win, but the ad disappeared after my bid, out of nowhere. The ad went off the air without giving more information about the outcome of the case, so we don't know if anyone bought the artifact, or if the advertiser gave up on the idea. I hope I made it."
Share this article:
Wanda Espinosa: OnlyFans star makes an X-rated offer to Guillermo Ochoa ahead of World Cup