Vet makes heartfelt plea to owners who are putting 'scared and confused' pets to sleep SAN FRANCISCO, CALIFORNIA: A veterinarian has shared an experience with other people on the internet in an attempt to make pet owners realize why is it important to be with their dogs at their last moment. The unidentified person, a woman, took to Reddit to reveal the whole story while understanding the pet parents' side as well.
On Reddit, she wrote, "I work at a vet clinic and I'm sick of people dropping their dogs off to be euthanized. It might be hard to say goodbye but it's hell for them. They already don't like the vet, they're confused, they're scared, they're sad and they're looking for YOU when they take their last breath."
ALSO READ
Foster pets help people fight loneliness, anxiety as applications see 90% increase amid coronavirus lockdown
Eight dogs that viciously mauled a 28-year-old dog walker to death will remain 'in kennels for a year''
'I kept her with me for most of the day'
The vet, identified as u/rescuemum on Reddit, went on to mention an experience they had while putting a 13-year-old dog to sleep after the animal's owner left. She stated, "I can try to provide them as much love and comfort as I humanly can but at the end of the day I'm a stranger to them. Today a lady dropped off her 13 year old dog to be put to sleep after I told her we didn't have a vet in clinic as she was on farm calls all day, she insisted on leaving her there at 9am, knowing that our vet wouldn't be back until well after 6pm. She was too busy to bring her back later, so she left her sweet girl to be alone all day before dying."
The woman then explained, "I kept her with me for most of the day, took her for a small walk, bought her a cheeseburger and donut on my lunch, and laid on the ground and cuddled her while she cried, scared and confused. I kissed her and told her she was a good girl while she crossed the rainbow bridge, but her eyes never stopped looking for her family."
'Be there when they cross that bridge'
She stated, Dogs know what's happening, don't do this to them. Be there when they cross that bridge. It won't kill you, I promise," before adding, "This very obviously does not apply to anyone who had absolutely no choice during the pandemic."
The vet's story reportedly attracted a lot of responses with one pet parent saying, "My dog just turned 14 and she has clear cognitive issues as well as other things (heart disease and arthritis). She physically seems ok, but the cognitive decline worries me because I don't know when I will know when it's the right time to let her go. I think she still knows who I am, but if it gets to the point of biting it might be time. It's a relief to see your baby got some clarity and peace in her last moments. And no doubt I will be with her when she passes."
'We TRULY don't deserve dogs'
Another person added, "Dogs love you unconditionally. It may take time but giving a dog a home, and the love that goes with it is the best things we can do. After I left painting job after 20 years i went to school to be a Vet tech. After 8 years in shelters and clinics i left. It was the people i hated. Please rethink giving a dog a home, good people who love and care for their animals are far and few. You sound caring and loving."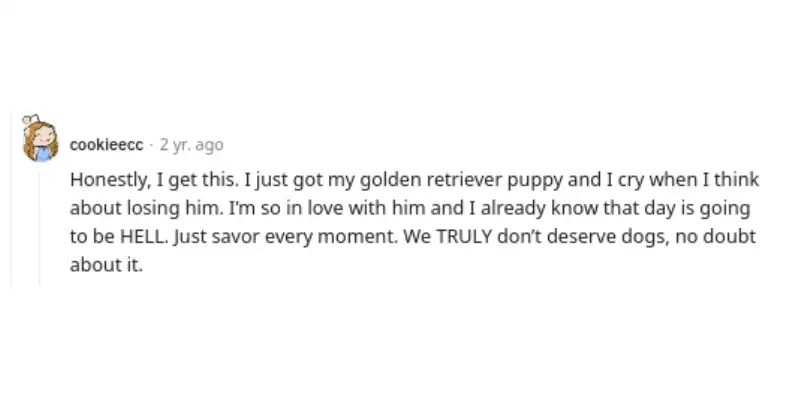 A user posted, "Honestly, I get this. I just got my golden retriever puppy and I cry when I think about losing him. I'm so in love with him and I already know that day is going to be HELL. Just savor every moment. We TRULY don't deserve dogs, no doubt about it." "Seeing my dog euthanized was one of the worst experiences of my life, but I would never have made her go through that alone. People don't deserve dogs, they are too good for us," a comment read.
This article contains remarks made on the internet by individual people and organizations. MEAWW cannot confirm them independently and does not support claims or opinions being made online.