No signs of trouble! Tori Spelling and Dean McDermott share adorable family snaps amid rumors of a breakdown
Taking to Instagram over the Easter weekend, both Tori Spelling and her husband Dean McDermott shared adorable pictures of their brood; dismissing those trouble talks. Getty Images
For celebrity couple Tori Spelling and Dean McDermott, the past month has been quite rough. First, there were the whirlwind rumors of the 44-year-old actress suffering a nervous breakdown. Following which, the pair was hit with reports of a domestic disturbance, with LAPD officers showing up at their family home twice in the same week.
However, with the festive spirit in the air, the couple seems to have done away with their troubles to put up a united front on social media. Taking to Instagram over the Easter weekend, in fact, both Spelling and her 51-year-old husband shared adorable pictures of their brood; dismissing every bit of those tumultuous rumours.
"Happy Easter Every-Bunny from The McDermotts!! Hope you had a beautiful day. #familyfirst #happyeaster," the Canadian-American actor posted alongside a quirky animated video of his five children – Stella, 9, Hattie, 6, Liam, 10, Finn, 5, and one-year-old Beau – in cute bunny costumes.
The joyous feelings were echoed by the True Tori star as well, who used the opportunity to share a glimpse of their fun-filled egg hunt in their backyard. "Happy #eastersunday 2018 from Our Family to Yours... here's the kiddos starting their egg hunt 🥚We ❤️you easter Bunny," the mother-of-five captioned the clip, showing four of her older children as they scavenged through the backyard.
---
In a second post, though, the 'Beverly Hills, 90210' star shared a snap of her sumptuous Easter dinner – complete with Ham, Garlic Mashed Potatoes, and Japanese Spinach.
Unsurprisingly, her festive posts stirred quite the buzz on the picture-sharing site with her million followers bombarding the comment's section with raving messages.
"Your such a great mommy!! Love seeing everything you do and love working with you on our beauty biz!" a user gushed.
As someone else chimed in, writing, "Love you and your family!! Wish you were on your tv own tv show. Make it happen girl! My family loved watching yours!!" While things appear to have smoothened out for the reality couple, just a month ago, though, the two were in the news for all the wrong reasons. According to reports, the police paid a visit to Spelling's Los Angeles home after receiving a call of some sort of domestic disturbance.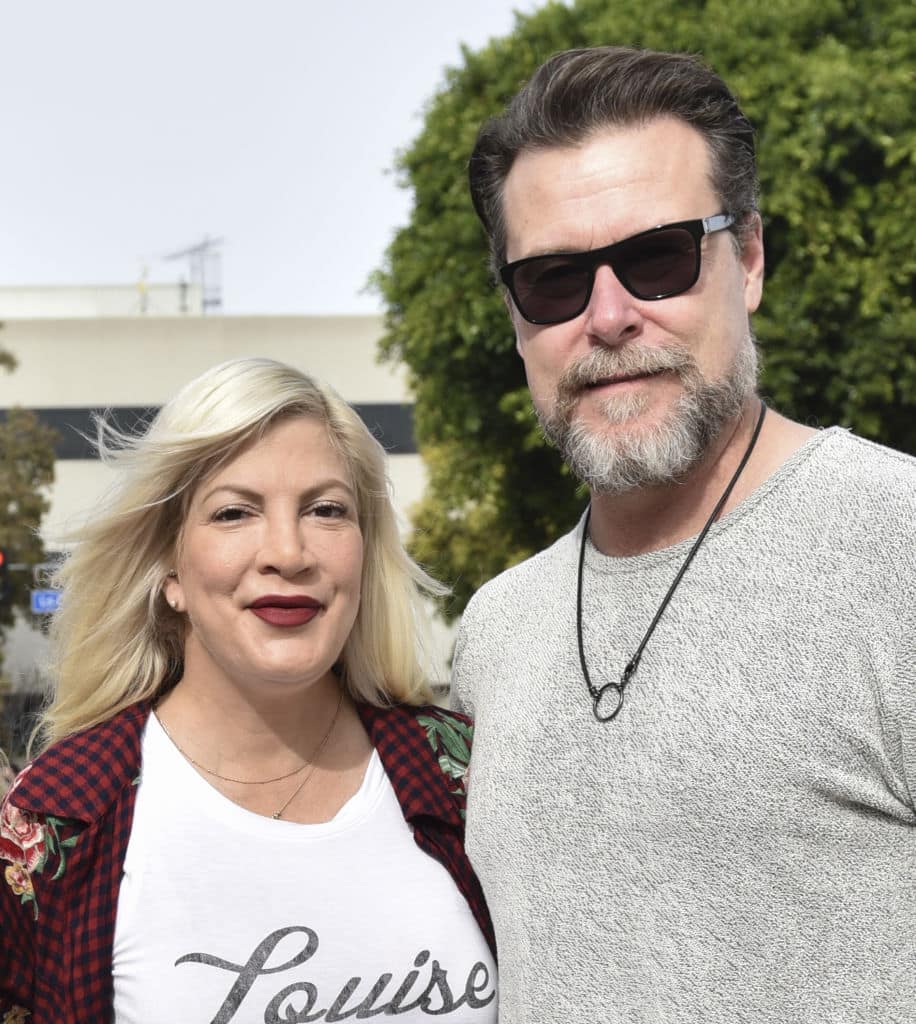 Not long after the incident, Spelling's husband is said to have made a second distressed call to the police, urging them to check her whereabouts.
In both the situations, no further action was taken as no crime was committed.