The Boyz 'Thrill-ing': Release date, tracklist, concept and all about vacation-themed comeback The Boyz are back! The 11-member boy group took the K-pop world by storm by appearing in two of the fiercest survival shows back to back. After winning Mnet's 'Road to Kingdom' in 2020, they held their own among strong competitors in 'Kingdom: Legendary War' in 2021 and were the runner-ups in the second survival show with a total of 23,963 points. And while it's been a while since they came back, we got some iconic covers, remakes and original songs for the competition like 'Kingdom Come'.

The Boyz did have a full comeback in March 2021 with 'Breaking Dawn'. While it was their second studio album, it was a Japanese release, so fans did not get the full extent of promotions and content that they expect from a K-pop release. We also got the supernatural single 'Drink It', however, it was for 'UNIVERSE Music' and just had a music video. So, fans have been waiting eagerly for a proper K-pop comeback. Looks like their wish has been granted as The Boyz are coming back with their sixth Korean mini-album 'Thrill-ing'.

READ MORE
Sunmi's '1/6': Release date, concept and all about K-pop star's third mini-album

Mamamoo's WAW: Date, how to live stream and all you need to know about online concert
Release date
The Boyz's 'Thrill-ing' will be released on August 9 at 6 pm KST (5 am ET).
How to listen
The album will be released on all major music streaming platforms like Spotify, Apple Music, MelOn and more.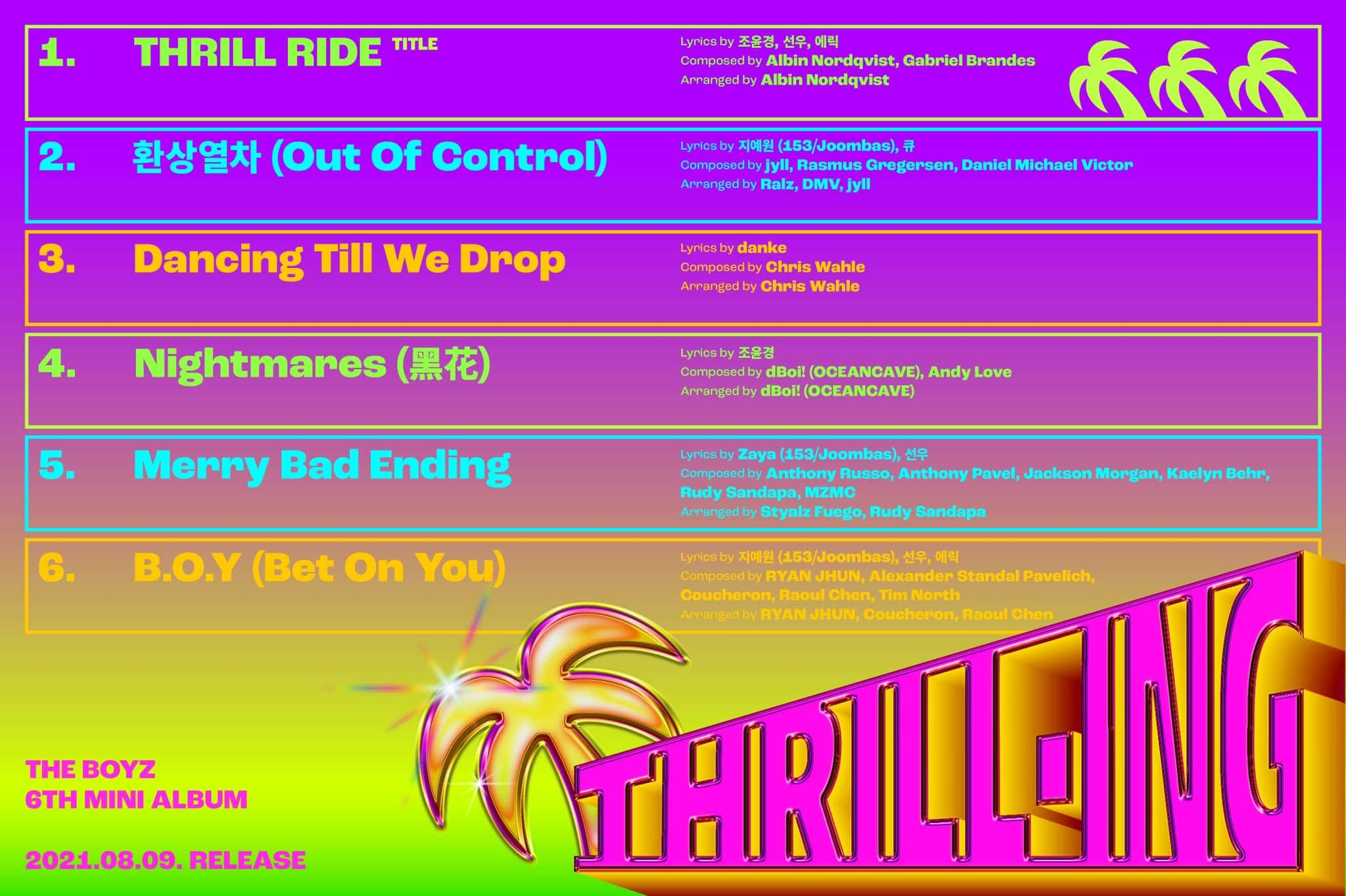 Tracklist
1. 'Thrill Ride' - Title track
2. 'Out Of Control'
3. 'Dancing Till We Drop'
4. 'Nightmares'
5. 'Merry Bad Ending'
6. 'B.O.Y (Bet On You)'

The rappers of the group, Sunwoo and Eric have co-written the lyrics for 'Thrill Ride' and 'B.O.Y (Bet On You)'. Sunwoo has also written part of the lyrics for 'Merry Bad Ending'. Then we also have Q who has participated in lyric writing for the track 'Out Of Control'. The first half of 'Thrill-ing' is a typical summer album with bright and upbeat songs while the second half takes a twist with haunting tracks full of string percussions and shows a different side to this traditionally happy season.
Concept
Established as a fun and summer comeback with a peppy concept like their 'Giddy Up' and 'Bloom Bloom' era, fans were excited to see the three sets of concept photos for 'Thrill-ing'. In the 'Splash' concept, we see the boys enjoying the summer surrounded by scrapbook style stickers of summer motifs. The Boyz take a sporty route for the 'Bang' concept while we see them enjoying themselves at an amusement park in the 'Kick' concept. We also got character posters where they dressed up as different professions like lifeguards and bellboys.
Teaser
The music video for 'Thrill Ride' is exciting as the boys go on a vacation, play at an arcade and just enjoy themselves in a vibrant set-up.
Watch the teaser below:
'Kings of summer'
One fan tweeted, "Thrill Ride is gonna be the first thing I listen to every morning after the release. Gonna 뚜뚜루루 뚜뚜루루 the whole way to work." Another tweeted, "Will do everything to protect these smiles." One tweeted, "Are you okay? ME:." Another tweeted, "im so excited AAAAA tbz kings of summer."