'Chris Cornell, rest his soul': Taylor Hawkins eerily mentioned dead compatriot days before his own death If you or someone you know is considering suicide, please contact the National Suicide Hotline at 1-800-273-TALK (8255).
TEXAS, UNITED STATES: After Taylor Hawkins' sudden and unexpected death earlier this year, a particularly petrifying moment in one of his final interviews has attracted attention and it was recorded just before his death. It takes place when the famed Foo Fighters drummer shows his viewers around his "hang room" during a segment in the new rockumentary 'Let There Be Drums!' which will be premiering Friday, October 28.
On the wall are custom drum heads picturing Jane's Addiction's Perry Farrell, Pearl Jam's Matt Cameron — "one of my drum heroes" — and the late Soundgarden frontman Chris Cornell. "There's Chris Cornell — rest his soul," says Hawkins in a sad, eerie tone about the rocker who had committed suicide in 2017. Just half a decade later, the Foo Fighters drummer followed in his footsteps and died at the age of 50 on March 25, 2022, due to an overdose.
READ MORE
IS HE BROKE? Fans puzzled as MCR's former drummer Bob Bryar sells 'The Black Parade' costume on eBay
Olivia Wilde's ex-nanny claims actress ranted to Jason Sudeikis about Florence Pugh sleeping with Harry Styles
The film will be released in theatres and will also stream on Apple TV and Amazon Prime. Besides showing the significance of drumming in rock and roll music, it also features a series of interviews with icons like Ringo Starr, Stewart Copeland of the Police and Hawkins, who reveals the special gratitude he had for the Grateful Dead. He recounts how seeing the Dead in concert changed his life. "At first I was like, 'What's going on?' … Everyone's throwing energy and, you know, passing each other doobies and s–t," Hawkins recalled. "And I'm like, 'Oh, OK, they don't know how they're gonna start this song.' They just do this, like, improvisational jazz thing. And that got me good … I loved the chances they were taking the whole time."
Hawkins was indeed influenced as a drummer by the free-form jamming of Jerry Garcia and company. "Three days after that show, I had to go to Europe to do a two week tour with the Foo Fighters," he says. "And I just started, like, taking a lot more chances. I had some of the best shows I've had in a long time, if not ever. I kept saying to Dave — our singer and our fearless leader Dave Grohl — I just kept going, 'F—king Dead show, man. I'm telling you, dude.' It took me to new heights."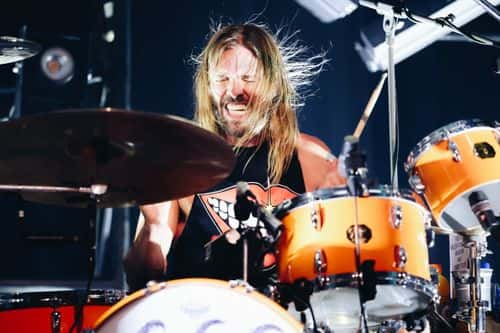 The son of dead drummer Bill Kreutzmann also featured in the film, 'Let There Be Drums!' directed by Justin Kreutzmann. Hawkins also shares how he found his love for music by playing the instrument. "I wasn't shining at anything, and the second I sat on the drums, it was like a bolt of lightning through my body. And I'll never forget that day," he says. "And never from that second on did I not say this is what I'm gonna do."
Share this article:
'Chris Cornell, rest his soul': Taylor Hawkins eerily mentioned dead compatriot days before his own death