From Pamela Anderson to Brigitte Nielsen: A look at Sylvester Stallone's love life amid third divorce with Jennifer Flavin
Let's take a look at the 'Rocky' star's love life which includes supermodels Naomi Campbell and Janice Dickinson PALM BEACH COUNTY, FLORIDA: Sylvester Stallone is known for being one of the greatest action stars in the world. The biggest milestione in his career was 'Rocky'. He wrote the script for the 1976 blockbuster and was nominated for two Oscars for the film. Stallone was catapulted into achieving worldwide fame and was known as the next big thing in Hollywood when the 'Rocky' series was out and went on to achieve wider recognition for 'Rambo'. The icon will now be seen playing a mobster in the upcoming Paramount+ series 'Kansas City'.
The star's personal life has grabbed headlines for years, especially after his wife Jennifer Flavin filed for divorce. Rumors started circulating after Stallone replaced a tattoo of Flavin's face with a picture of Butkus, Rocky's bull mastiff from the hit movies. Flavin had posted a picture on social media with her three daughters sans Stallone with a cryptic caption, "These girls are my priority ❤️ nothing else matters. The 4 of us forever🤍🙏🏻 #truth #family #forever." Read on to find out about Stallone's many lost loves.
READ MORE
THE WASTERS! Sylvester Stallone, Kim Kardashian and Kevin Hart among celebs accused of wasting water amid drought
Who are Sylvester Stallone's children? Star's first child died at the young age of 36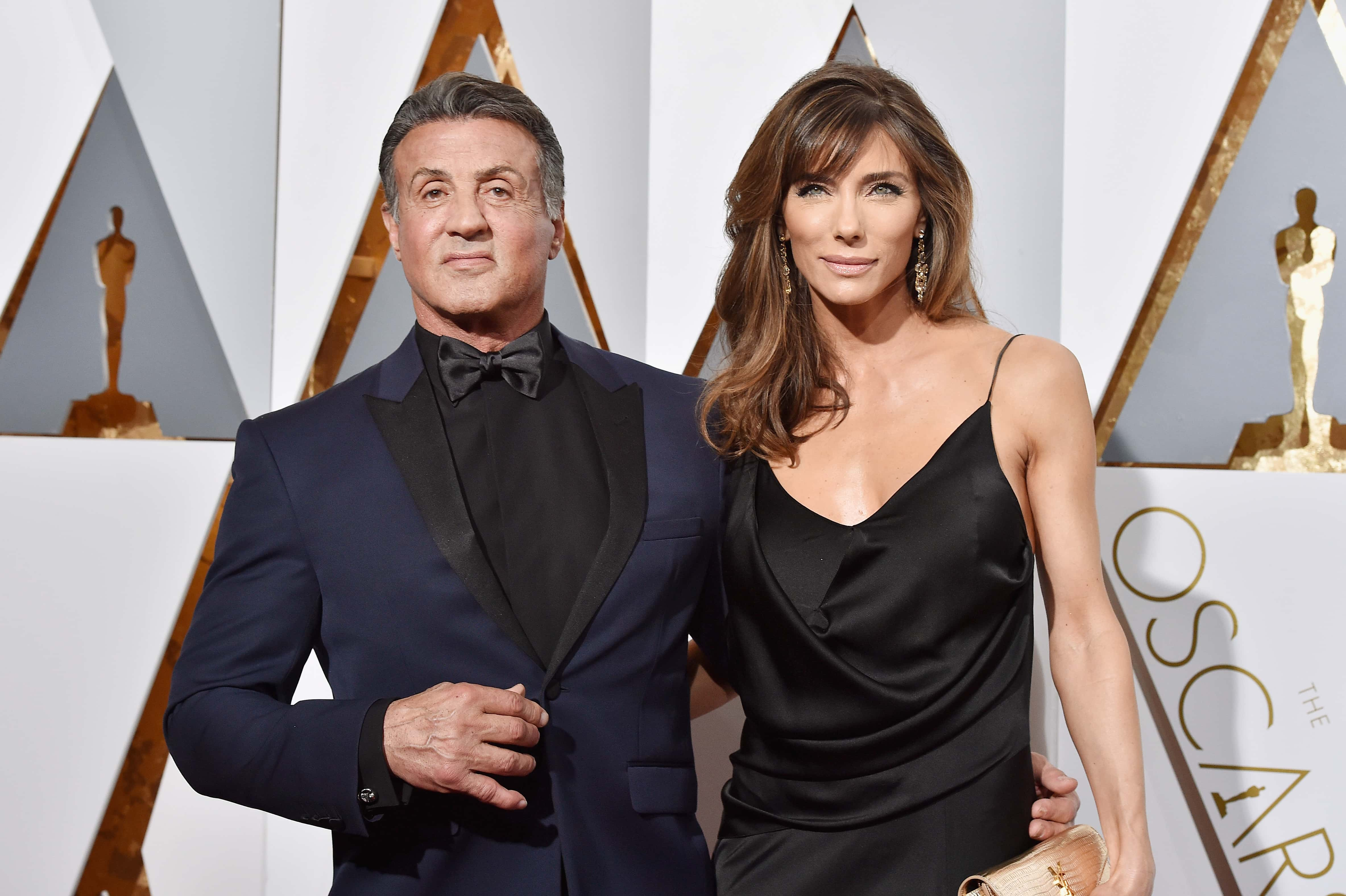 1. Jennifer Flavin
Sylvester Stallone married Jennifer Flavin in 1997. Flavin (born August 14, 1968) is a former American model and entrepreneur. She is Stallone's third wife and they have three daughters, Sophia, Sistene and Scarlet. Flavin filed for divorce on August 19, 2022. Documents stated that the marriage was "irretrievably broken." Flavin requested that whatever they accumulated during their marriage wouls be "equitably distributed" between them, as per court documents obtained by Page Six. However, she also alleged that Stallone "engaged in the intentional dissipation, deplete and/or waste of marital assets," which negatively affected the marital estate. Hence, she asked that she be "compensated and made whole" by receiving more money than he does from the estate. She also wants exclusive use of their marital home in Palm Beach, Florida, as Stallone lives in their California property.


2. Brigitte Nielsen
Sylvester Stallone and Brigitte Nielsen were married from 1985 to 1987. Nielsen (born July 15, 1963) is a Danish actress, model, singer and reality television personality who began her career modeling for Greg Gorman and Helmut Newton. Several years later, she acted in the 1985 films 'Red Sonja' and 'Rocky IV'. She later starred in Creed II in 2018. She is Stallone's second wife. She shared screen space with the actor on 'Cobra' in 1986. She, then 22, boldly contacted Stallone, 17 years older, by sending him a promo photo of herself along with a note right to his hotel door in Manhattan. "My name is Brigitte Nielsen," the message read, according to Entertainment Weekly. "I'd really like to meet you. Here's my number." An intrigued Stallone went to see her the same night.
3. Janice Dickinson
Sylvester Stallone and Janice Dickinson were engaged from 1993 to 1994. Janice Doreen Dickinson (born February 16, 1955) is an American model, author, actress, television personality and talent agent. She was considered the world's first supermodel. One of the most successful models of the 1970s and 1980s, she also served as a judge on four cycles of 'America's Next Top Model' beginning 2003. She opened a modeling agency in 2005, which was documented in the reality television series 'The Janice Dickinson Modeling Agency' from 2006 to 2008.
4. Pamela Anderson
Sylvester Stallone is rumored to have hooked up with Pamela Anderson in 1989. Pamela Anderson is a 55-year-old Canadian Actress. Born Pamela Denise Anderson on July 1, 1967 in Ladysmith, British Columbia, Canada, she is famous for being Playboy's Playmate of the Month for February 1990 and for playing CJ Parker on the hit TV series 'Baywatch'.
5. Angie Everhart
In 1995, Sylvester Stallone was in a relationship with Angie Everhart. Angela Kay "Angie" Everhart (born September 7, 1969) is an American actress and former model who appeared in several Sports Illustrated Swimsuit issues in the 1990s and posed nude for Playboy in 2000. Stallone had coldly dumped Jennifer Flavin via a FedEx letter in the 1990s and began to date a string of beauties and even got engaged to Everhart.
6. Pamela Behan
Pamela Behan is among the string of beauties who dated Sly Stallone in 1992. She was nanny to Khloe, Kim and Kourtney. "I watched him arrive from behind a curtain. He was sporting a Hawaiian shirt and some very tight jeans. With his bronzed skin, aviator sunglasses and matchstick in his mouth he looked cool, wealthy and powerful," she reportedly said as per Famous Fix. Soon, Stallone got word Behan was interested in him and he called her and asked her out. "The truth is I'm scared," Behan reportedly admitted to Stallone. "I don't think I will live up to your expectations. You have dated so many beautiful women!" The smooth Stallone told her to relax and Sly said, "Pam, you are being silly. You are beautiful inside and out. You are down to earth and real. And I like that about you."
7. Andrea Wieser
Stallone dated Austrian model Andrea Wieser from September 1994 to 1995.
8. Caroline Stanbury
Caroline Stanbury was the cheeky, brash business-woman and socialite on Bravo's 'Ladies of London'. However, when she was younger, the 39-year-old was one of London's most sought-after girls by A-list actors and royalty. At the age of 18, she briefly dated then 48-year-old Sylvester Stallone when he was in London for an extended stay in 1994.
9. Naomi Campbell
Stallone and supermodel Naomi Campbell dated from 1990 to 1992. Campbell is a 52-year-old British model. Born Naomi Elaine Campbell on May 22, 1970 in London, she is known worldwide for her illustrious modelling career till present. Campbell allegedly pleaded with one of Stallone's security guards to have the actor call her.
10. Peggy Trentini
Stallone was in a relationship with Peggy Trentini From 1991 to 1992. Trentini is a former American actress and model. She started acting in movies in 1982 and played 25 roles until 2002. Stallone was then 14 years older than Trentini. She later married rock bassist Dana Strum.
11. Kim Andrea
Kim Andrea was one of the many women Stallone dated after his split from Brigitte Nielsen. Andrea was his date to the 1988 Gourmet Gala Benefit for March of Dimes Birth Defects Foundation at Waldorf Hotel in New York City. She was one of the elite models in the 1980's.
12. Dena Goodmanson
Stallone and model Dana Goodmanson dated from February to June, 1988. he was caught with the red-haired beauty at a Los Angeles Grammy party. "Stallone dates a lot of different women," said his friend Jonathan Michaels, who added that he introduced Stallone to Goodmanson. "She saw Sly, thought he was cute, and asked me to introduce her to him," he said.
13. Cornelia Guest
Stallone was in a relationship with Cornelia Guest from 1987 to 1988. Cornelia Cochrane Churchill Guest (born November 28, 1963) is a New York socialite, author and the Debutante of the Decade for the 1980s of the International Debutante Ball in New York City. They met at a party, soon after Stallone filed for divorce from Nielsen. Shortly after he returned from a five-month 'Rambo III' shoot abroad, the world was surprised that Sly and Cornelia were not only an item, but reportedly engaged. They made their first formal appearance at a Touchdown Club gala in Washington DC, where Sly accepted an award from the President's Council on Physical Fitness and Sports.
14. Sasha Czack
Stallone married Sasha Czack from Pennsylvania in On December 28, 1974. She was stallone's first wife and the couple share two sons Sage Moonblood Stallone (1976–2012), who died of heart disease at 36, and Seargeoh (born 1979), who was diagnosed with autism at an early age. The couple divorced on February 14, 1985. After a successful screen test, director Frank Perry chose Czack to play the leading role in 'Play It As It Lays' (1972). The couple reportedly met each other while they were both working in the industry and were married for 10 years.
Share this article:
From Pamela Anderson to Brigitte Nielsen: A look at Sylvester Stallone's love life amid third divorce with Jennifer Flavin