TULSA KING IN NYC: Sylvester Stallone and Jennifer Flavin seen in NYC with daughters ahead of new TV show NEW YORK CITY: Sylvester Stallone and his wife Jennifer Flavin were spotted leaving with their daughters after dining at Carbone following the premiere of 'Tulsa King' in New York City. 'The Expendable' star's family was seen leaving after having their dinner at the Italian restaurant. The premiere was held in New York on November 9, Wednesday, and the actor looked uber-stylish as he was photographed leaving the restaurant.
Stallone chose an all-black ensemble that included a checkered blazer, matching pants, a button-up shirt, and leather shoes. The actor will be seen in the new crime drama series 'Tulsa King,' which will make its streaming debut on the Paramount+ network on November 13.
READ MORE
'We went in different directions': Sylvester Stallone shuts down rumors that his DOG caused split with Jennifer Flavin
Sylvester Stallone and Jennifer Flavin: Inside couple's age gap and infidelity rumors as duo end 25-year marriage
His wife Jennifer Flavin, sported a white button-up shirt that contrasted with a pair of slim-fitting jeans. The couple just got back together after Flavin filed for divorce from Stallone. Their daughters Sistine and Sophia donned stunning dresses. Sophia's dress featured a simple square neckline, cut just low enough to show off her assets while Sistine wore a cocktail dress with a choker-like detail at the neck.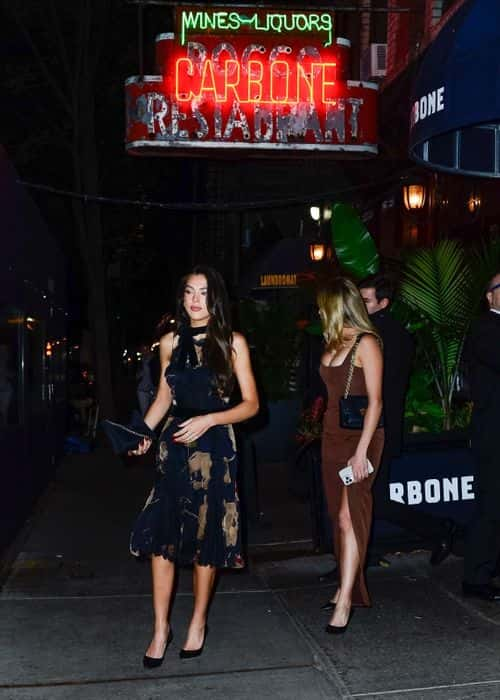 In a recent interview, Sylvester Stallone talked about his marriage to entrepreneur Jennifer Flavin and said that it was a "tumultuous time" in his life when he almost got a divorce from her. After 25 years of marriage, The 76-year-old actor and his wife briefly separated in August after 25 years of marriage, which he discussed with Sunday Times before they opted not to file for divorce.
Sylvester Stallone starring Tulsa King' is a crime series wherein The 75-year-old actor, will play a contemporary East Coast mobster who is compelled to move to Tulsa, Oklahoma. He will also manage the series' executive producer. The series' first full-length trailer was released in October, giving us a better idea of the action, plotting, and sly quips of the series.
The show's official synopsis read, 'Tulsa King' follows New York mafia capo Dwight "The General" Manfredi (Stallone), just after he is released from prison after 25 years and unceremoniously exiled by his boss to set up shop in Tulsa, Okla. Realizing that his mob family may not have his best interests in mind, Dwight slowly builds a "crew" from a group of unlikely characters, to help him establish a new criminal empire in a place that to him might as well be another planet."
Tulsa King will debut on Sunday, November 13, with two episodes, according to Paramount+.