The Rise and Fall of Scott Baio: 'Happy Days' no more as teen heartthrob turns toxic Scott Baio was recently trending on Twitter after it was revealed that he's going to be the headliner on 'Tonight on Newsmax'. Newsmax is US-based conservative news and opinion website, which was founded in 1998. Several people jumped to express their views on his appearance with most of them dissing him. A user tweeted, "A #MAGA creepshow - perfectly timed for Halloween."

The second one wrote, "Chachi is looking like someone just snapped on the bar lights and screamed 'Alright you leftover lovelies! You don't have to go home but you can't stay here! Drink 'em up and head 'em out!'" "Sorry, I have some live vomiting to watch," the third user noted and a tweet added: "I called my TV provider DirecTV today to ask for Newsmax, OAN, and Fox News to be removed from my cable package, they said they can't remove them individually because they're bundled in all the options... Houston we have a problem."
READ MORE
Who is Scott Baio's wife? Actor met Renee Sloan at the Playboy Mansion
Why is 'Happy Days' star Scott Baio trending? All about Chachi actor's feud with former costars over reunion
---
Chachi is looking like someone just snapped on the bar lights and screamed "Alright you leftover lovelies! You don't have to go home but you can't stay here! Drink 'em up and head 'em out!"

— nakedbatsf (@nakedbatsf) October 8, 2021
---
---
Sorry, I have some live vomiting to watch.

— Leslieoo7 ☠️ 🇺🇲 (@Leslieoo7) October 8, 2021
---
---
I called my TV provider DirecTV today to ask for Newsmax, OAN, and Fox News to be removed from my cable package, they said they can't remove them individually because they're bundled in all the options... Houston we have a problem

— Donna Mc (@piperbug) October 8, 2021
---
Why is Scott Baio hated so much?
Baio's journey is quite a rollercoaster in its own way. There was a time when the 'Happy Days' actor was a popular star for playing the character of Charles "Chachi" Arcola. The teenagers in the '70s and '80s were in awe of him, but because of his recent antics in the last few years, he had lost most of the goodwill he once had. His divisive views and growing closeness to the Republican Party has managed to irk quite a few former fans of the actor.
Baio reportedly attracted trouble in 2010 when he tried to make fun of then-first lady Michelle Obama by writing on Twitter, "WOW He wakes up to this every morning?" alongside what seemed to be an unflattering photo of her. Soon people started blasting the 'Charles in Charge' star with some even sending him death threats. He was also accused of being a racist at the time.
---
http://twitpic.com/ytrbx - WOW He wakes up to this every morning.

— Scott Baio (@ScottBaio) January 19, 2010
---
To stop the matter from getting worse, Baio then shared a photo of him and his wife Renee Sloan's best friend, who apparently is a black woman. He captioned it as, "I'm NOT racist for posting a pic of M.O. My WIFE'S BEST FRD IS BLACK, HELLO."
Then in 2016, Baio again attracted a lot of negative attention when he went on to support the then-Republican candidate Donald Trump. During the July 2016 Republican National Convention, he claimed that Trump would be best for America and he's the one who can "make America great again". Many of his Hollywood counterparts criticized him at the time, but in response, he told The Hollywood Reporter: "I genuinely, in my heart, do not care if I ever work again. I don't care. I'm comfortable and I've got a great life, but If I don't have a country that is recognizable to me, I've got nothing."

The same year he also went on to stand with Trump when he was engulfed in controversy for his infamous "grab 'em by the p***y" remark. In his defense, he told Fox News in October 2017, "I like Trump because Trump is not a politician, he talks like a guy. And ladies out there, this is what guys talk about when you're not around. So if you're offended by it, grow up, ok? And, by the way, this is what you guys talk about over white wine when you have your brunches. So take it easy with the phony outrage, this is the way the world works. It's not a big thing."
Not just for his political views, Baio has also received the wrath of people for his bizarre assumptions. After Erin Moran — who was the love interest of Baio's character on 'Happy Days' and 'Joanie Loves Chachi' — died in 2017, he gave an interview in which he speculated whether the actress died because of her history of drinking and drug abuse.
He had said, "I feel bad because her whole life she was troubled, could never find what made her happy and content, you know what I mean? For me, you do drugs or drink, you're gonna die. And I'm sorry if that's cold, but... God gave you a brain, gave you the will to live and thrive, and you gotta take care of yourself. I'm sorry. You just have to, and I am saddened by what happened. And I don't know if it was drugs that killed her. I read one report that it might have been. And I hope it – you know, I don't know what I hope." However, soon Baio had to issue an apology after it was revealed that Moran's cause of death was complications with Stage 4 cancer.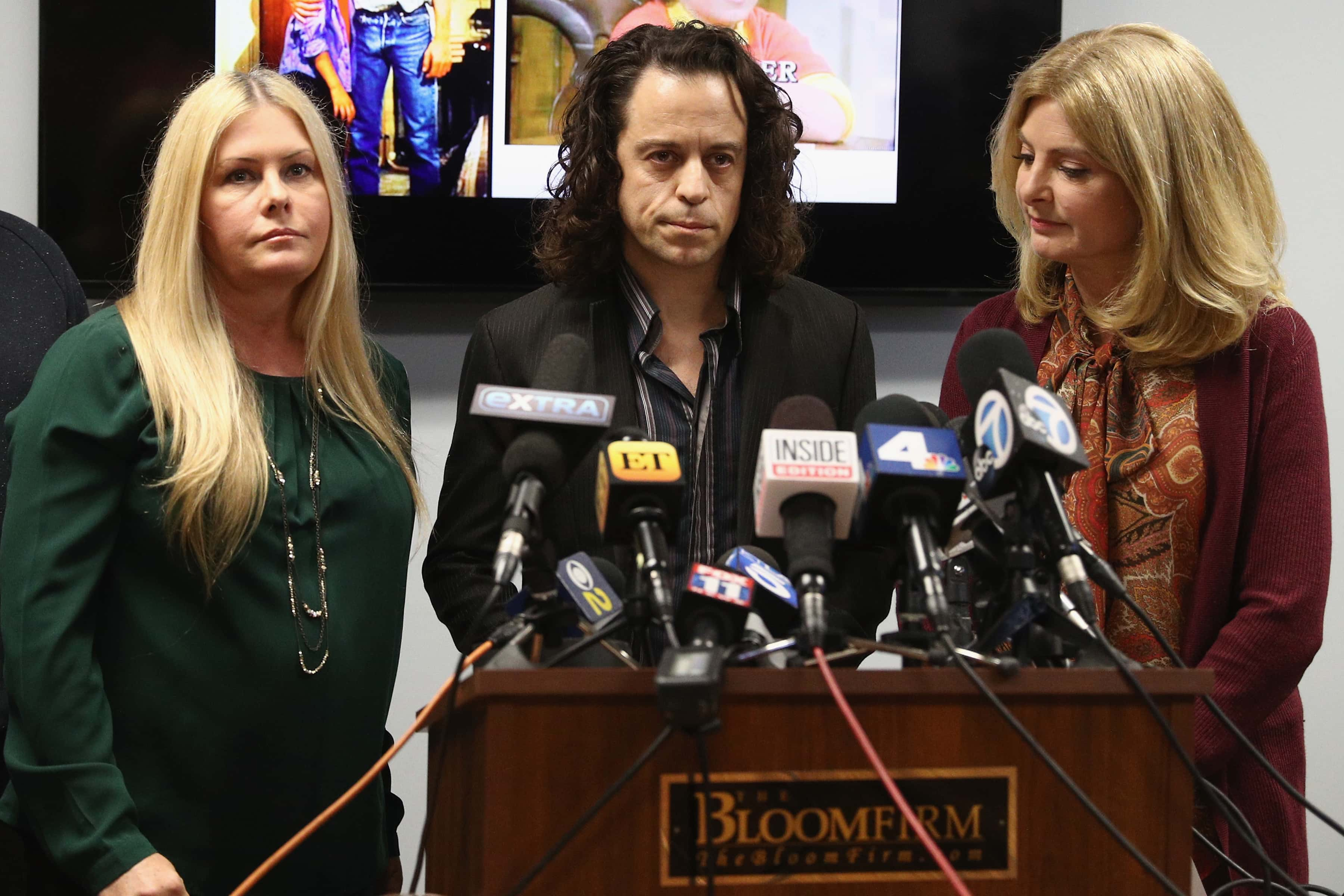 The image Baio degraded more in 2018 when his former 'Charles in Charge' co-star Nicole Eggert accused him of sexually assaulting her while they were shooting for the 1980s hit sitcom. Not just that, another of his castmate, Alexander Polinsky, also alleged that Baio physically assaulted and mentally tortured him. Though the father-of-one refuted the accusations, he admitted that he had consensual sex with Eggert once after she turned 18. On 'Good Morning America' he had said, "I'm trying to figure out which time she's lying and which time she's not lying, because the story seems to change quite a bit and I can't keep up with it quite honestly."
More recently, Baio again found himself embroiled in controversy after he went on to defend his wife, Renee Sloan, over a conspiracy theory about the Sandy Hook elementary shooting. Sloan has apparently stated that one of the school victim's mothers was portrayed by an actress.
Share this article:
Scott Baio TV heartthrob to toxic celebrity MAGA Trump sexual assault allegations costar death