How did Ronnie Hawkins die? King of Rockabilly, 87, mentored several rock greats
Ronnie Hawkins was born just two days after Elvis Presley and he was fondly known as 'The Hawk' amongst his friends Mariel Hemingway and Ronnie Hawkins (Photo by Todd Williamson/Getty Images for Cambria Gallery)
Music lovers across the world were left devastated after American/Canadian rock star Ronnie Hawkins died on Sunday, May 29. He was 87. The unfortunate news of his demise was shared by his wife Wanda to The Canadian Press. Ronnie was a popular rockabilly singer who mentored several musicians. He was known for the establishment and evolution of rock music in Canada. Ronnie recruited a handful of local musicians later known as The Band. He is survived by Wanda, and children Ronnie Jr., Robin and Leah.

Ronnie helped mentor the first band from this country to be inducted into the Rock and Roll Hall of Fame. The news of Ronnie's death comes months after the legendary actor and comedian Louie Anderson died on January 21. He was admitted to the hospital days earlier after being diagnosed with cancer but sadly could not make it. Speaking of celebrity deaths, Bob Saget is another icon that Hollywood lost on January 9. Betty White died at 99 of natural causes on December 31, 2021. Chick Vennera, DMX, Jay Black, and Jeanette Maus are other public figures who passed away last year leaving their loyal fans devastated.

RELATED ARTICLES
How did Joni James die? 1950s pop star, 91, had recorded more than 40 albums
How did Vangelis die? Iconic 'Blade Runner' composer could not read or write music

How did Ronnie Hawkins die?
Ronnie was born just two days after Elvis Presley and was fondly known as "The Hawk" amongst his friends. He also nicknamed himself "The King of Rockabilly" and "Mr. Dynamo." The iconic musician recorded 25 albums in his elongated music career and was best known for his covers of 'Mary Lou' and 'Thirty Days' among others.

Speaking of his death, the singer passed away after a prolonged illness. Shedding light on the same, his wife told The Canadian Press, "He went peacefully and he looked as handsome as ever," as reported by the New York Post. Known for mentoring bands, his most successful example came in the form of The Band. Other musicians recruited went on to form Robbie Lane and the Disciples, Janis Joplin's Full Tilt Boogie Band, Crowbar, Bearfoot, and Skylark. Ronnie also appeared Martin Scorsese's documentary 'The Last Waltz', Bob Dylan's film 'Renaldo and Clara', 'Heaven's Gate' and 'Hello Mary Lou.'
Ronnie was diagnosed in 2003 with pancreatic cancer and given a few months to live. His choice of alternative treatment was covered in the documentary 'Ronnie Hawkins: Still Alive and Kickin'.

'A true icon in his own right'
Tributes for the late musician poured in on Twitter as one of the users said, "Ronnie could really work a crowd on a Friday night. He was an entertainer rather than a musician. He had an instinct for crowd psychology and could start a rumble across the room if he wanted to just by flicking his wrist." - Levon Helm. Rest in peace, Ronnie Hawkins." Another said, "Ronnie Hawkins: Thank you for changing my life when you invited me to dance onstage at the 1969 Toronto Pop Festival. You helped fuel my teenage dreams and showed me what true legends are made of. Forever in my heart."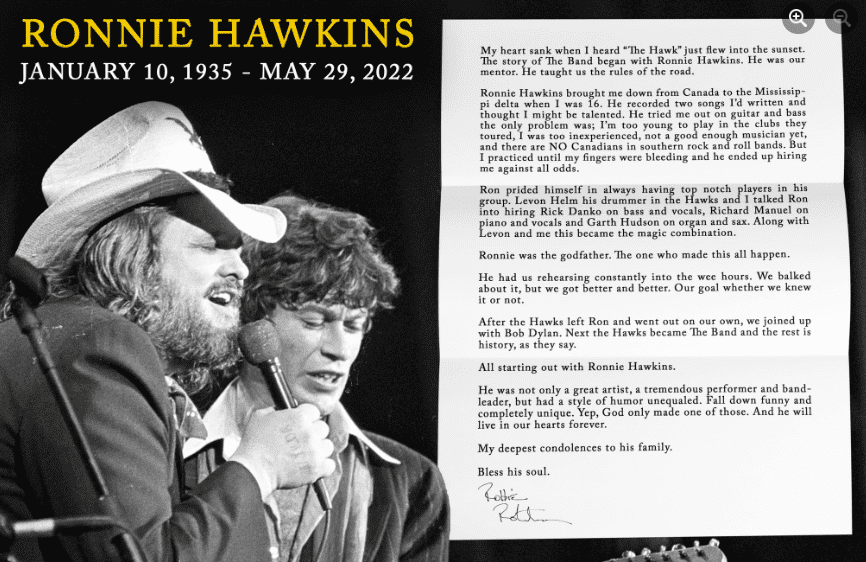 Robbie Robertson, was one of the musicians who was mentored by Ronnie and paying tribute to the legend, Robbie wrote on Facebook in a lengthy post: "My heart sank when I heard "The Hawk" just flew into the sunset. The story of The Band began with Ronnie Hawkins. He was our mentor. He taught us the rules of the road. Ronnie Hawkins brought me down from Canada to the Mississippi delta when I was 16. He recorded two songs I'd written and thought I might be talented. He tried me out on guitar and bass the only problem was; I'm too young to play in the clubs they toured, I was too inexperienced, not a good enough musician yet, and there are NO Canadians in southern rock and roll bands. But I practiced until my fingers were bleeding and he ended up hiring me against all odds. Ron prided himself in always having top notch players in his group. Levon Helm his drummer in the Hawks and I talked Ron into hiring Rick Danko on bass and vocals, Richard Manuel on piano and vocals and Garth Hudson on organ and sax. Along with Levon and me this became the magic combination. Ronnie was the godfather. The one who made this all happen..."
The next one posted, "Ronnie Hawkins, the single most important rock and roller in the history of Canada, has passed away at age 87. The Band, Dale Hawkins, Bob Dylan and thousands of others wouldn't be the same without him. Music wouldn't be the same. He will be deeply missed, and thank you, Hawk." Meanwhile, one added, "Rest easy, Ronnie Hawkins. One of the earliest people to recognize the magic of Richard Manuel's voice, and the one to set him and the rest of The Band on their path to creating a musical legacy unlike any other. A true icon in his own right." And, one user concluded, "Very sad to hear that Ronnie Hawkins has passed away...it was virtually impossible ever to find anyone who didn't like Ronnie...I spent some great times with him, listening to his stories and experiences...he could always make you howl with laughter."
---
"Ronnie could really work a crowd on a Friday night. He was an entertainer rather than a musician. He had an instinct for crowd psychology and could start a rumble across the room if he wanted to just by flicking his wrist." - Levon Helm

Rest in peace, Ronnie Hawkins. pic.twitter.com/fHWPuT5sPa

— The Band (@thelastwaltz78) May 29, 2022
---
---
Ronnie Hawkins: Thank you for changing my life when you invited me to dance onstage at the 1969 Toronto Pop Festival. You helped fuel my teenage dreams and showed me what true legends are made of. Forever in my heart… 🖤🙏🏻🎶 pic.twitter.com/KqEQlTP55G

— Jeanne Beker (@Jeanne_Beker) May 29, 2022
---
---
Ronnie Hawkins, the single most important rock and roller in the history of Canada, has passed away at age 87.
The Band, Dale Hawkins, Bob Dylan and thousands of others wouldn't be the same without him.
Music wouldn't be the same.
He will be deeply missed, and thank you, Hawk. pic.twitter.com/R2E28p5bUj

— Eric Alper 🎧 (@ThatEricAlper) May 29, 2022
---
---
Rest easy, Ronnie Hawkins. One of the earliest people to recognize the magic of Richard Manuel's voice, and the one to set him and the rest of The Band on their path to creating a musical legacy unlike any other. A true icon in his own right. pic.twitter.com/cDsnNhZt4n

— The Richard Manuel Archive (@manuelarchive) May 29, 2022
---
---
Very sad to hear that Ronnie Hawkins has passed away...it was virtually impossible ever to find anyone who didn't like Ronnie...I spent some great times with him, listening to his stories and experiences...he could always make you howl with laughter. pic.twitter.com/QEfGSULmVw

— Burton Cummings (@burtoncummings) May 29, 2022
---