Pink's rendition of 'Hopelessly Devoted To You' honoring Olivia Newton-John receives standing ovation at AMAs 2022 LOS ANGELES, CALIFORNIA: Pink received a standing ovation for her touching rendition of 'Hopelessly Devoted To You' in tribute to the late Olivia Newton-John at the 2022 American Music Awards held on November 20 at the Microsoft Theatre in Los Angeles. The 10-time AMA-winning 'Grease' actress was honored by the 43-year-old singer when she performed on stage for the second time.

On a little stage in front of the larger one, Pink performed her heart out while a screen behind her displayed a photo collage of Olivia Newton-John as the camera shifted to pictures of the audience joining in. She was wearing a long, tight dress in baby pink with feather sleeves and a skirt. Newton-John died on August 8 at age 73 after years-long battle with breast cancer.
READ MORE
Buoyed by family and Christopher Lloyd, Michael J Fox gets honorary Oscar at 13th Annual Governors Awards
Machine Gun Kelly's AMAs look trolled as he says his spiky 'sea urchin' suit is 'uncomfortable to pee in'
The song 'Hopelessly Devoted To You' was first performed by Newton-John for the soundtrack of the 1978 musical success 'Grease', and it went on to peak at number three on the Billboard Hot 100 and number seven on the Adult Contemporary chart. Pink was initially introduced on the AMA stage by Melissa Etheridge. The performer said a few kind things about Newton-John before calling Pink out for her performance, Daily Mail reports.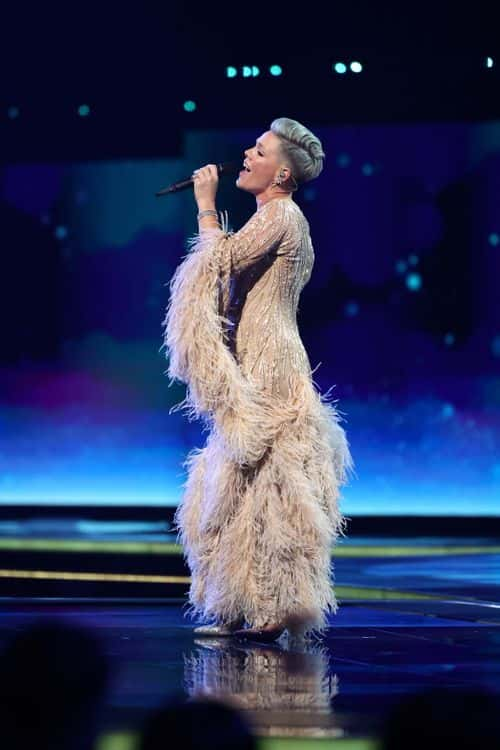 "From the moment you were in the presence of Olivia Newton-John, you sensed her sweetness, you stood in awe of her welcoming beauty, and you basked in the feeling that she was connecting to you alone, "she began. The singer-songwriter continued saying that listening to her music "was to feel the power of art to transform feelings, the feelings we all have of love and elation and disappointment into something sublime." Etheridge then introduced Pink for her performance of 'Hopelessly Devoted To You' after that.
The song was also sung by Newton-John at the 21st Grammy Awards in 1979. As Pink sang the passionate tribute, a group of spectators who were seated above her right shoulder could be seen with their hands raised in the air the entire time she was singing. At the conclusion of the song, Carey Hart, Pink's husband, and their two children, Jameson, 5, and Willow, 11, led the audience in a round of thunderous applause that swiftly turned into a standing ovation. Pink also had the opportunity to perform her brand-new song, 'Never Gonna Not Dance Again', live to begin the 2022 AMAs.
Pink paid tribute to the late performer and actress in an interview with Entertainment Tonight before the show started. "She was an absolute icon, and also, she was a wonderful human being. I loved her voice,' Pink shared while on the red carpet. "My daughter just got done doing Grease in her theatre production, and she actually helped me learn the song.'"
The singer-songwriter got to meet Newton-John three times, and that she was an "absolute angel," according to her Instagram post in the wake of Newton-John's death this past August.
"One of the loveliest, kindest, light from within human beings I have ever met. Kindness personified. May she Rest In Peace and may her family be held in love and light during this difficult time," she wrote in the caption alongside a photo of the two singers together.
Carrie Underwood, Imagine Dragons, Yola, Dove Cameron, Lil Baby, Anitta, and Bebe Rexha were among the other 2022 AMA performers. To cap off the evening, 17-time AMA winner Lionel Richie was presented with the Icon Award as Stevie Wonder and Charlie Puth took the stage to sing a song honoring Richie's career.