'Only Murders In The Building': Release date, spoilers and about Hulu's mystery series It always helps to stay in the good books of your neighbours. After all, you never know when you might rely on them. Or worse, have to find out which one of them could be behind a heinous crime.
Written by celebrated comedian and actor Steve Martin and starring Selena Gomez and Martin Short, 'Only Murders In The Building' follows the story of an unlikely trio of neighbors that comes together to solve a murder in their apartment complex. If you're looking for similar titles, you might want to check out 'The Flight Attendant' and 'Good Girls'.
READ MORE
Was Manny Montana responsible for 'Good Girls' being cancelled?
Why was 'Good Girls' canceled after Season 4? Fans start petition to save NBC show
Release date
'Only Murders In The Building' premieres on Tuesday, August 31, 2021.
Where to watch
You can watch 'Only Murders In The Building' on Hulu.
Plot
As per the official synopsis, "From the minds of Steve Martin, Dan Fogelman and John Hoffman comes a comedic murder-mystery series for the ages. "Only Murders In The Building" follows three strangers (Steve Martin, Martin Short and Selena Gomez) who share an obsession with true crime and suddenly find themselves wrapped up in one. When a grisly death occurs inside their exclusive Upper West Side apartment building, the trio suspects murder and employs their precise knowledge of true crime to investigate the truth. As they record a podcast of their own to document the case, the three unravel the complex secrets of the building which stretch back years. Perhaps even more explosive are the lies they tell one another. Soon, the endangered trio comes to realize a killer might be living amongst them as they race to decipher the mounting clues before it's too late."
Cast
Steve Martin
Stephen Glenn Martin is an actor, comedian, writer, producer, and musician. Martin has earned multiple awards over the course of his career -- he has won Grammy Awards, a Primetime Emmy Award, an Honorary Academy Award, the Mark Twain Prize for American Humor, the Kennedy Center Honors, and an AFI Life Achievement Award. His works include 'Cruel Shoes', 'Caroline', 'Love the Coopers', 'It's Complicated', 'Baby Mama', 'The Pink Panther' franchise, 'Cheaper by the Dozen' franchise, Shopgirl', 'Jiminy Glick in Lalawood', 'Cheaper by the Dozen', 'Looney Tunes: Back in Action', 'Bringing Down the House', 'Novocaine', 'Joe Gould's Secret', 'Bowfinger', 'The Out-of-Towners' and 'The Prince of Egypt'.
Martin Short
Martin Hayter Short is a Canadian actor, comedian, singer, and writer. His works include 'Saturday Night Live', 'Three Amigos', 'Innerspace', 'Three Fugitives', 'Clifford', 'Father of the Bride', 'Pure Luck', 'Captain Ron', 'Mars Attacks!', 'Jungle 2 Jungle', 'The Santa Clause 3: The Escape Clause', 'The Prince of Egypt', 'Jimmy Neutron: Boy Genius', 'The Spiderwick Chronicles', 'Madagascar 3: Europe's Most Wanted' and 'Frankenweenie'.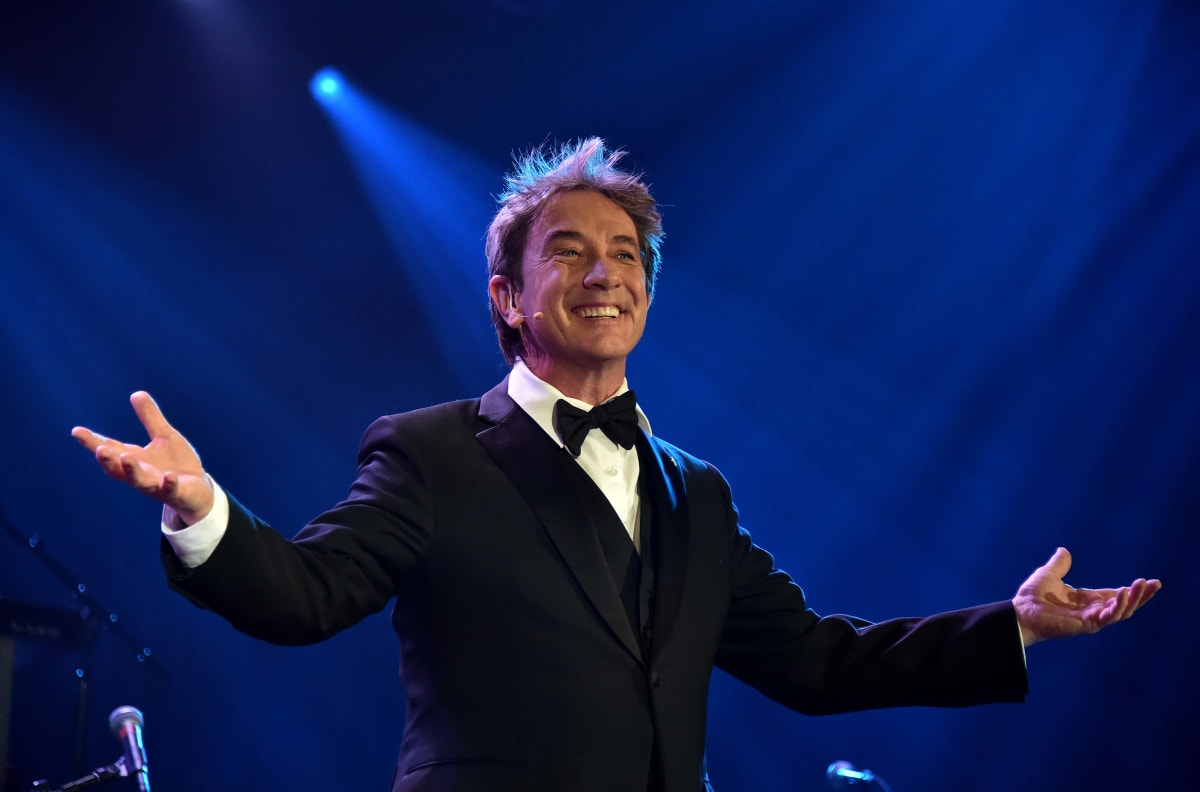 Selena Gomez
Selena Marie Gomez is a singer and actress. She began her acting career on the children's television series 'Barney & Friends'. As a musician, Gomez has sold over seven million albums and 22 million singles worldwide. Apart from music and acting she also launched her own makeup line, a clothing line, a handbag line, and a fragrance line. Her acting credits include
'The Suite Life of Zack & Cody', 'Wizards of Waverly Place', 'Princess Protection Program', 'Ramona and Beezus', 'The Muppets', 'Spring Breakers', 'Hotel Transylvania', 'Girl Rising', 'The Wizards Return: Alex vs. Alex', 'Rudderless' and 'The Fundamentals of Caring'.
Aaron Dominguez
Dominguez is an actor, whose works include 'Diminished', 'Two Sides', 'Pink Opaque', 'Words on Bathroom Walls', 'With Interest', 'Like a Boss', 'Limbo', 'SEAL Team', 'Should I Do It?', 'Shaft', 'Codes Dealt', 'NCIS: New Orleans', 'Los Lobos', 'The Run Saga: Breathe' and 'Codes Abided'.
Creators
Apart from Steve Martin who is the writer of the series, Dan Fogelman and John Hoffman are the creators of the same. Fogelman is a writer and a producer, whose works include 'This Is Us', 'Je te promets', 'Bir Aile Hikayesi', 'Life Itself', 'Pitch', 'Grandfathered', 'Galavant', 'The King of 7B' and 'Danny Collins'. Hoffman, on the other hand, is an actor, director and producer and is known to have been the executive producer on shows such as 'Grace and Frankie' and 'Looking '.
Trailers
After encountering a resident of their building, Tim, in the elevator, Mabel, Oliver and Charles soon find out that he has been murdered and everyone in the building is a suspect. This unlikely trio is now determined to get to the bottom of this case, all while filming their very own podcast As per the caption shared alongside the trailer, "Welcome to The Arconia. We're all neighbors here, but if I were you, I wouldn't trust anyone."
If you like this, you'll love these
'Death in Paradise'


'The Flight Attendant'


'Good Girls'


'Happy'