'Nobody Knows I'm Here': Netflix drama is a gripping watch that revolves around the tale of a talented recluse Spoilers for 'Nobody Knows I'm Here'
Netflix's new Chilean release 'Nobody Knows I'm Here' (Spanish: Nadie Sabes Que Estoy Aqui), is a thought-provoking film that tugs at your heart with its refreshing and distinctive storyline. Written and directed by Gaspar Antillo, the film marks the short-film director's first feature venture and a striking one at that. Touching upon themes like hopelessness. failure, aspiration, and achievement, the film rings true with a very realistic scenario of everyday life. It stresses on the frequently asked, overrated question 'what is the meaning of life?' and also aptly coins the answer for it -- life is what you make out of it. The 90-minute feature is 'Lost' star Jorge Garcia's debut in a major Spanish language film, and also stars Millaray Lobos, Luis Gnecco, Roberto Vander, Gaston Pauls, Eduardo Paxeco, Alejandro Goic, Nelson Brodt and Juan Falcon. It was originally supposed to premiere at the Tribeca Film Festival earlier this year.
The film revolves around Guillermo 'Memo' Garrido, a 30-something-year-old who has spent most of his life as a recluse on a remote island in Southern Chile. Although not far-away from the mainland, he refuses to step foot in the city because of a traumatic experience that forced him to a life of isolation. A former child-singer, he had a born talent for singing (and he still does) which had him scouted by producers in Miami. His angelic voice earned him his first single 'Nobody Knows I'm Here,' however that didn't mean it had been his ticket to stardom. Memo was a stout kid, and as the industry operated on the 'all about the looks' and 'sex sells' notion, he never rose to public attention. Instead, he became a phantom singer, lending his voice to a good-looking kid with star quality, down to the face and body, who could conjure 'sexual fantasies', in 'little girls'.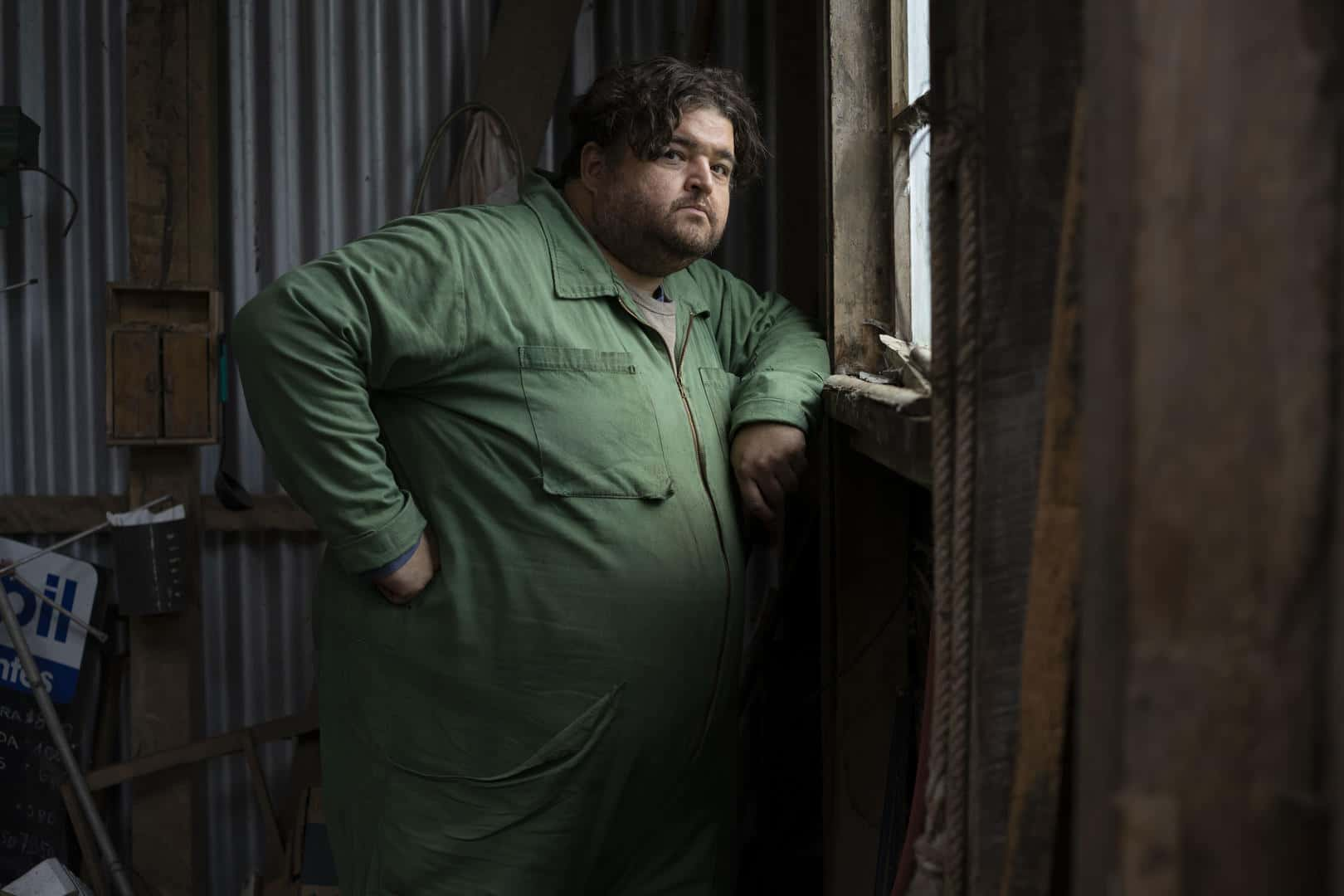 Feeling utterly betrayed and defeated at having his talent capitalized, an enraged Memo accidentally injures Angelo Casas (Pauls), his on-stage physical embodiment. Angelo, who was left paralyzed after the incident, is wheelchair-bound and has since established a career as an international motivational speaker. The unflattering video from the accident soon made headlines, and Memo was subjected to public scorn for gravely injuring their beloved Angelo. Memo was never given the chance to defend his actions and fled to Southern Chile, where his uncle lived on a small picturesque island. 25 years later, Memo lives in exile with his uncle (Gneco) on a sheep farm, helping him rear sheep and gather wool. He has nurtured a life of anonymity and refuses to make an appearance in front of anyone who is not his uncle or their supplier, Sergio. But on one occasion, Sergio is indisposed and his niece Martita (Lobos) who arrives with the day's supply spots Memo. There's no more hiding then.
Things take a drastic turn when one day, his uncle accidentally gets his fingers brutally chopped off in the boat's motor, and Memo has no choice but to take him to the mainland. After spending years in isolation, Memo is suddenly in the public eye again; however, he refuses to step off the boat and returns to the island after he is assured that his uncle is in safe hands. Back in the cottage alone, we witness Memo in all his glory. He still yearns to take center-stage and show off his singing talent, yet he is terrified to confront his fears. We see him sat at his sewing machine in the dark, stitching up a performance-worthy glittery ensemble. In moments of deep contemplation, a red light shines upon him, where he imagines being a star and performing for a cheering crowd, within the confines of his bedroom. But his reality is far from the dream he longs to achieve.
Meanwhile, Martita, a compassionate young woman, makes it a point to visit Memo every day in case he is lonely or in need of help, while his uncle recovers in a hospital in the city. After a sudden violent outburst that almost has Martita running for the hills, Memo reveals his long-kept secret by singing to her. From then on, they establish a close friendship and he records himself singing his one-hit-wonder while messing around on her phone. Days later, Martita's journalistic friend, Samuel (Paxeco) finds the video recording on her phone and uploads it to YouTube sending the world into a frenzy. The video garners over a million views, but most people's reaction to it is not pleasing for they still think of Memo as Angelo's attacker. Soon after, Memo's absentee father, who works in the music industry, shows up at the cottage in a bid to do some damage control. By this time the media has gotten wind of his whereabouts and attempt to hound him, while filing his moves secretly.
Memo finally attracts the attention that he had been craving all his life, but now he is in a fix, not knowing what to do. His father tries to coax him into making a television appearance alongside Angelo, to finally address the bygone issue publically. With his decision made after talking about his troubles with Martita, he travels to the city hoping to make things right but realizes that the public still hates him. When he comes face to face with Angelo, the motivational speaker tries to draw the spotlight on him and plays victim so he can gain more of the public's favor. But Memo is having none of it. After accusing Angelo of stealing his voice, he stuns the studio by singing his rendition of 'Nobody Knows I'm Here.'
The musical-drama is not your average success-story, where the protagonist goes from being a nobody to an overnight sensation. What makes it so impacting is that it reflects real-life sentiments of pain and anguish coupled with failure and a sense of hopelessness. Throughout the film, Memo slowly yet surely starts to overcome his fears and inhibitions, first by letting someone other than his uncle into his life and then voluntarily traveling to the city by himself. 'Nobody Knows I'm Here' stands out mostly because of some very distinct characteristics. Scarce dialogue, for one, calls for emotive visuals and body language, which this film delivers perfectly. The panoramic views of the island and the skillful play on camera angles by Sergio Armstrong adds significant depth to the film, coupled with a strong plot and a moving performance from Garcia crooning the film's soundtrack. And like most films of this genre, 'Nobody Knows I'm Here' has a happy ending in itself -- Memo finally makes peace with his past and overcomes his longstanding fear and resentment. The film ends on a high note, with Memo and Martita laying in bed and blanketed in solace.
Produced by Juan de Dios Larraín and Pablo Larraín, 'Nobody Knows I'm Here' is now streaming on Netflix.
Share this article:
nobody knows im here review chilean film netflix gripping watch gaspar antillo jorge garcia