No sign of Meghan Markle as Harry flies solo at NYC bar in $1.3K-a-night Carlyle hotel Prince Harry was photographed for a second night in a row at New York City's iconic Upper East Side Bemelmans Bar in the $1,300-a-night Carlyle Hotel on Thursday, September 23. However, there was no sign of his wife Meghan Markle.
The 37-year-old Duke of Sussex was seen in photos obtained by the Daily Mail, blending into the crowded bar despite having security by his side. He arrived without pomp and ceremony shortly after 5.30 pm as a jazz pianist played in the background. However, his actress wife was nowhere to be seen as he sat in a discrete corner at the bar. You can see the photos here.
RELATED ARTICLES
Candace Owens blames Meghan Markle for Prince Harry's 'emasculation' on Time cover
William felt Meghan Markle acted more like a celebrity than a royal, Lifetime movie claims
At one point, Harry's security reportedly approached a couple from Brooklyn and asked them not to take pictures. The prince spoke animatedly and gestured frequently with a glass of white wine before him at what seemed like a business meeting. At the time of writing, it's unclear who the middle-aged men and woman he was sitting with were. The men were dressed in black suits while the woman wore a white blazer. Harry left the meeting about 45 minutes later, clutching an iPad and notebook as he shook hands and walked out with his security detail. "We get everyone in here," a source from the hotel told the Daily Mail. "She (Meghan) was in last night. Bill Clinton sat here and spoke to people for three hours. He's a people person. This guy [Harry] not so much. I don't blame him."
That said, this is the Sussexes' first public trip to New York City since they stepped down as senior royals and permanently moved from England to California in March 2020. The couple has been staying at the lavish Manhattan hotel for the duration of their three-day trip, for which they left their children Archie and Lilibet in Los Angeles.
Witnesses said the nightcap ended a long day for Harry and Meghan as they made their way through New York City and were pampered with A-list treatment. The Daily Mail reported how a large security detail followed them around the city as they met with UN officials and New York politicians.
The Sussexes also paid a visit to the 9/11 memorial at One World Trade Center Thursday morning before meeting with US Ambassador to the UN Linda Thomas-Greenfield at 50 UN Plaza in Manhattan for an "important discussion" on Covid-19, racial justice and mental health, per the newspaper.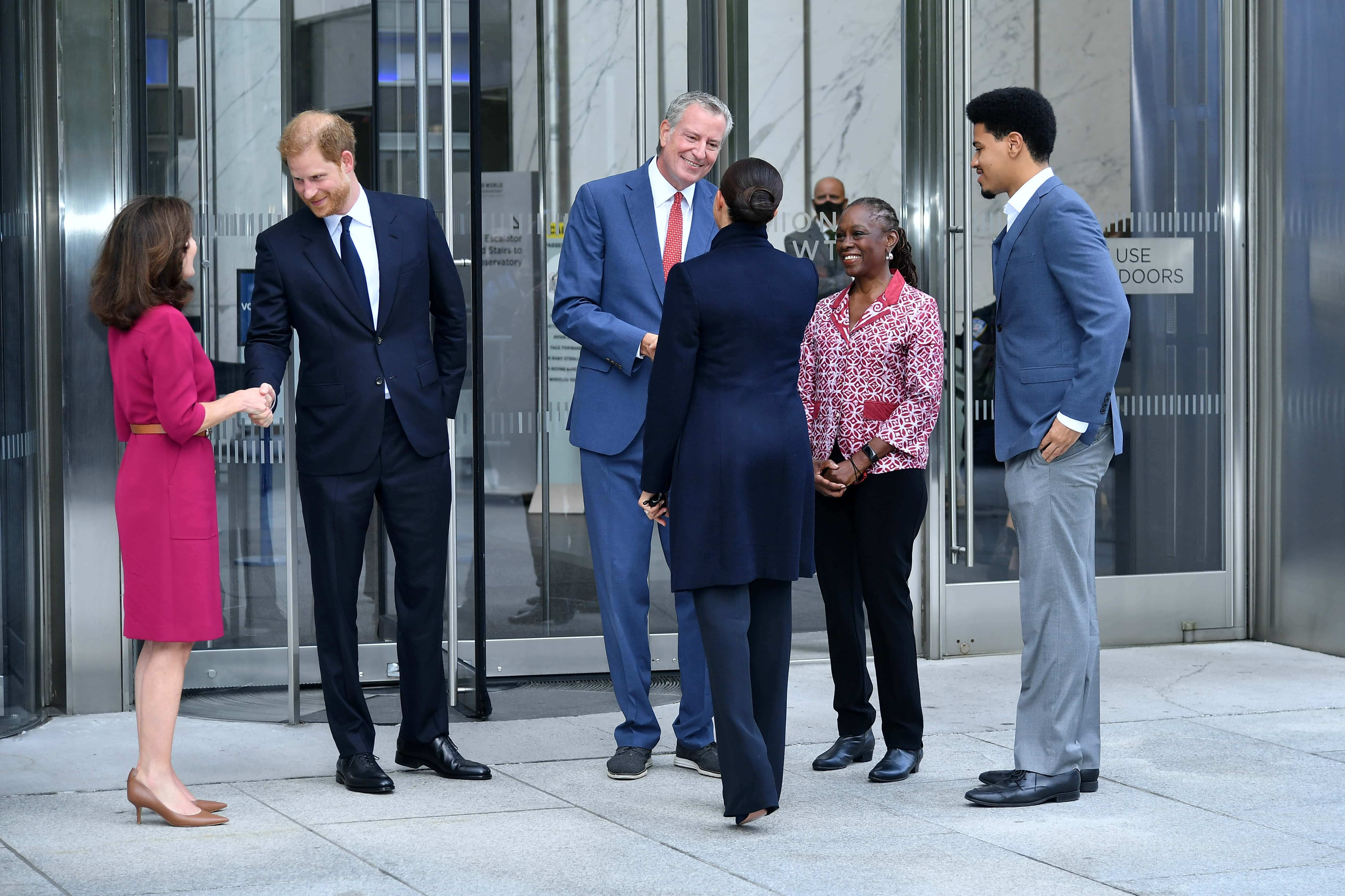 Less than two weeks after the 20th anniversary of the deadly terror attacks, Harry and Meghan spent hours at the somber memorial as they were joined by New York Governor Kathy Hochul, NYC Mayor Bill de Blasio, National September 11 Memorial & Museum President Alice Greenwald, and CEO of Bloomberg Philanthropy Patricia Harris.
Meghan was atop the One World Trade Center when she remarked "it's wonderful to be back" in New York. She returned to the Big Apple almost exactly two years after her last visit in September 2019, when she cheered on close pal and tennis legend Serena Williams at the US Open.
Meghan subsequently accompanied her husband to the 9/11 Memorial and Museum to pay their respects. Mayor de Blasio shared a live stream of himself and Governor Hochul with the royal couple as they posed for photos in front of the observation deck's floor-to-ceiling windows, which overlook stunning views of New York and New Jersey skyline. "The tragedy of September 11 touched the entire world, and it's still felt today," de Blasio captioned the Instagram post. "We're honored to join Prince Harry and Meghan, the Duke and Duchess of Sussex, at One World Observatory."
Share this article:
No sign of Meghan Markle as Prince Harry hits lavish NYC bar in $1.3K-a-night hotel