'My Feet Are Killing Me' Season 4: Dr Brad Schaeffer impresses fans with scarless removal of tumor Dr Brad Schaeffer acknowledges that he finds feet "cool and sometimes sexy," but there are instances when he needs to see patients with unusual ailments. Dr Brad amazed viewers with his procedure on Wednesday's episode of 'My Feet Are Killing Me,' since it left no scar on his patient's toe.
In the latest episode of 'My Feet Are Killing Me,' Dr Brad is approached by April, who has a lump on the underside of her big toe. The woman reports feeling like "a freak" after having that lump developing on her foot for years without knowing what it was. Working longer shifts had made walking difficult for her since her entire foot throbbed all the time. Frustrated by the weight of her dread, April and her mother, Joann, traveled to see Dr Brad to get rid of it for good.
RELATED ARTICLES
'My Feet Are Killing Me' Season 4: Dr Sarah Haller helps Kim who has 'hobbit feet'
'My Feet Are Killing Me' Season 4: Dr Ebonie hailed as 'miracle worker' for removing Victoria's giant cell tumor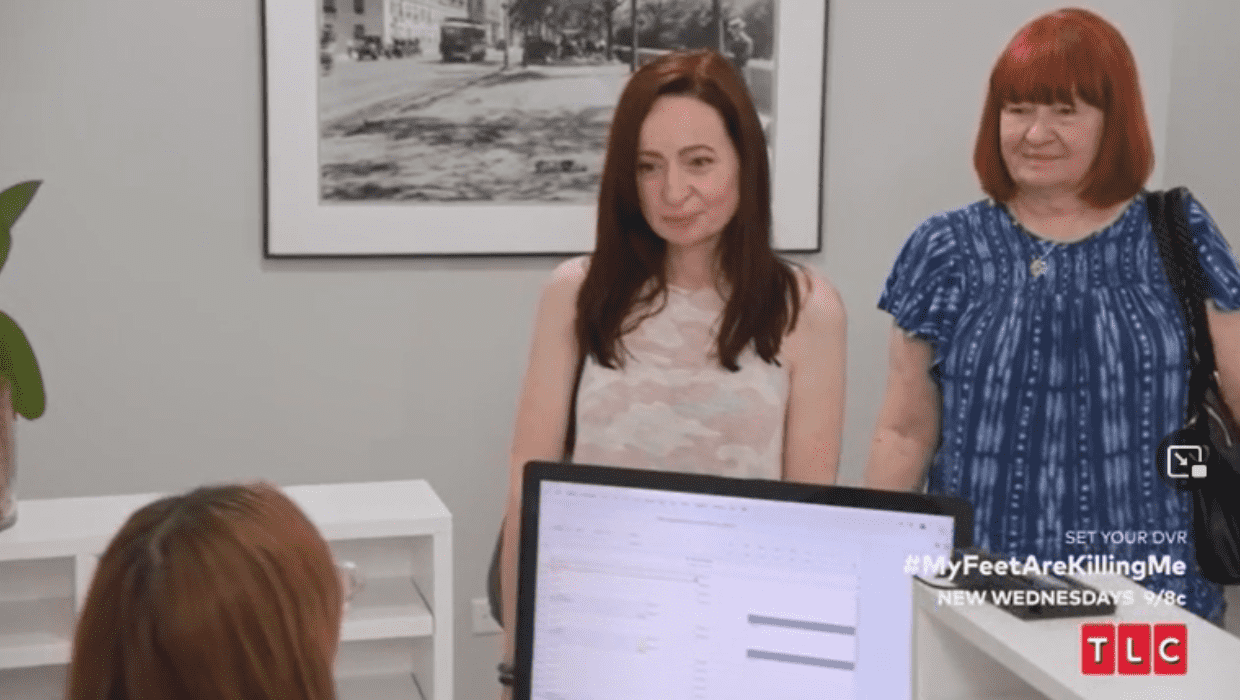 April admitted to putting off treating her foot because she was too preoccupied with becoming a mother, but she has now decided to get her life back on track. Even though she wished Dr Brad would just cut it off, she also prayed it wasn't a tumor. April told the doctor that she initially assumed the growth on her skin was a wart that had taken on a life of its own and began to grow on the side of her toe and wrap around it. She desired to finally receive a confirmed diagnosis from Dr Brad because she was unable to work long hours in this situation. He noted how the mass just burst out of the toe and wrapped around her big toe, creating the appearance of a sixth toe.
While the episode aired, Dr Brad took it to his official Twitter account to share some information on related incidents. His tweet read: "Growths on the body ALWAYS need to be examined by a doctor! I love to figure out the MYSTERY! @TLC #MyFeetAreKillingMe."
Dr Brad immediately ruled out warts, since he has never seen a wart encompassing a toe like that. He pressed around to check for discomfort, which April confirmed. Dr Brad explained that when inspecting masses on people's feet, if it's solid and hard, it's a dead giveaway that it's serious. The actual blood flow in April's situation was fuelling the mass with blood and soft tissue. He indicated that there is nearly a stalk connecting the growth from the bottom to the base. He finally diagnosed it as a soft tissue tumor, but admits that he wanted to rule out malignancy by sending it for a biopsy. Dr Brad said that when a person has a tumor, the source is like a small stalk, and that's precisely what April had, a stalk that went from the bottom of her toe and wrapped around the side into the mass with little vessels. He suggested that April get surgery to remove her 'sixth toe'. April, without hesitation, decided to "kill the beast" and undergo the procedure. Fans were amused by the reaction from the patient and her mom when they heard of the stalk. A tweet read: "@TLC "A stalk". @Doctor_Haller @DrBradleyDPM I love the expression on the person behind them!! #MyFeetAreKillingMe Exactly my expression!!"
Another shared their enthusiasm to see Dr Brad get rid of the tumor as they tweeted: "Alright @DrBradleyDPM and April lets kill the beast. #MyFeetAreKillingMe."
Dr Brad admitted April to surgery in order to offer her the gift of a "pain-free foot" after her dealing with it for twelve years. Dr Brad collaborated with Dr. Sarah Haller to remove the mass. The doctor's biggest issue was determining what was causing the growth and how far he needed to go to remove it. He first laid out the region where he intended to make the incision. He expressed his intention to go against the skin lines on her toe because he did not want her to put weight on her toe and rupture the sutures. The doctors located the stalk and where the mass has been nourished after performing the incision. He made certain to get all the way to the base of the stalk to determine what is causing the growth, and then completely removed it. The physicians discovered a little larvae-like creature spilling out when removing the stalk. He delicately removed the sac without attempting to rupture it and sent it away for biopsy.
Next we saw April walking in her new boots, which she hasn't been able to wear in over 10 years, when she met with Dr Brad for her four-week follow-up session. The final revelation demonstrated how quickly her toe had healed without leaving a single scar.
Fans were equally amazed by the fact that the procedure left no scar. A fan wrote: "Wow @DrBradleyDPM not even a scar on her toe! #MyFeetAreKillingMe."
This article contains remarks made on the Internet by individual people and organizations. MEAWW cannot confirm them independently and does not support claims or opinions being made online.