Mina Bonino: Fede Valverde's partner bares breasts in pic beside son; social media erupts Uruguayan soccer star Fede Valverde's wife Mina Bonino has made waves on social media with a topless photo she posted to her Instagram Stories.
The Argentinejournalist shared an intimate snap on the social media platform of herself lying in bed with her infant son. The image showed Bonino's breasts fully exposed beneath her shirt, which had been pulled up. She had previously posted an image of herself in a bikini, writing, "I'm not just a pretty face." She then added the aforementioned picture, declaring, "I'm this." The photo has since been deleted.
RELATED ARTICLES
10 sexiest Italian football WAGs at Euro 2020: From Jude Law's ex to world's top models
NHL 2020: Carrie Underwood to Barbie Blank, here are 10 hottest hockey WAGs
Bonino, who boasts over 414,000 followers on Instagram, has previously expressed regret for having her natural breasts operated on. She admitted in 2017 that it was a "bad decision."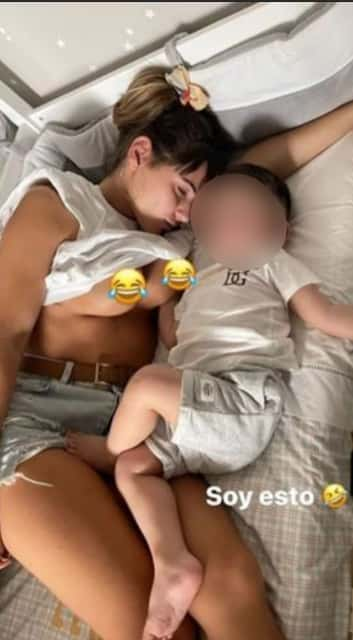 Who is Mina Bonino?
Bonino was born on October 13, 1993, in Argentina. She faces no communication hurdles with Uruguayan midfielder hubby as they both speak Spanish. The two reportedly met via social media. While Bonino had fun chatting with Valverde online, she initially shied away from him. However, the Uruguayan's persistence paid off and she was convinced to give him a chance. Bonino moved to Madrid within two months of making his acquaintance.
Bonino, who has a degree in sports journalism from Deportea, finished her post-graduation in Journalism from the University of Buenos Aires before going on to work as a weather presenter at TyC Sports. Having a background in sports journalism, Bonino voiced her opinions on another program called 'Intrusos,' which was aired on the América channel. Meanwhile, she also dedicated part of her time to Radio La Red.
The stunning WAG had a difficult childhood, in that she suffered from anorexia nervosa and was frequently hospitalized for pancreatitis. Bonino wanted to succeed on TV, and the thought of having a skinny body prompted her to go under the knife and have her breasts enhanced. She has since acknowledged that it wasn't the best idea and has gone back to being her natural self, according to sports entertainment outlet WTFoot.
Bonino is known for her love of soccer. She is an ardent fan of the Club Atlético River Plate, and she's so into her team that she tweeted saying she'd name her next baby Bautista Napoleón if they won the Copa Libertadores. Sadly, her team lost to Palmeiras in the semi-finals in January with an aggregate of 3-2.
The Argentine beauty had her first child with the Uruguayan athlete on February 20, 2020. The couple named him Benicio, and his birth -- albeit natural -- was a difficult one considering Bonino was in labor for 14 hours before little Benny was delivered.
Bonino, known for her charming, social, and strong personality, currently lives in Madrid with her partner. While she does visit Argentina from time to time, Spain has been her home since 2019. According to WTFoot, she likes it in the Mediterranean country and hopes to live there for a while.