Meghan Markle channels her inner 'Kate Middleton' with white suit at Invictus Games Meghan Markle's all-white ensemble from Invictus Games might have been inspired by her sister-in-law's look from her Caribbean tour last month. The Duchess of Sussex stepped out on Friday, April 15, alongside Prince Harry for their first appearance at the Invictus Games in The Hague sporting $4,179 Valentino all-white ensemble.
Weeks earlier, Kate Middleton went with a similar look during her tour of the Caribbean with Prince William. The Duchess of Cambridge stepped out in a white blazer and fitted pants as well as white shoes during a visit to Jamaica on March 23. Playing it safe, Kate added a bright flash of color with an orange blouse and matching handbag during a meeting with the Jamaican Prime Minister. However, Meghan daringly opted not to wear a top underneath at a welcome reception ahead of Invictus Games.
RELATED ARTICLES
Prince Harry and Meghan Markle accused of 'exploiting the Queen' to boost credibility with Netflix
Meghan Markle and Harry SNUB William, meet only Queen and Charles during secret UK visit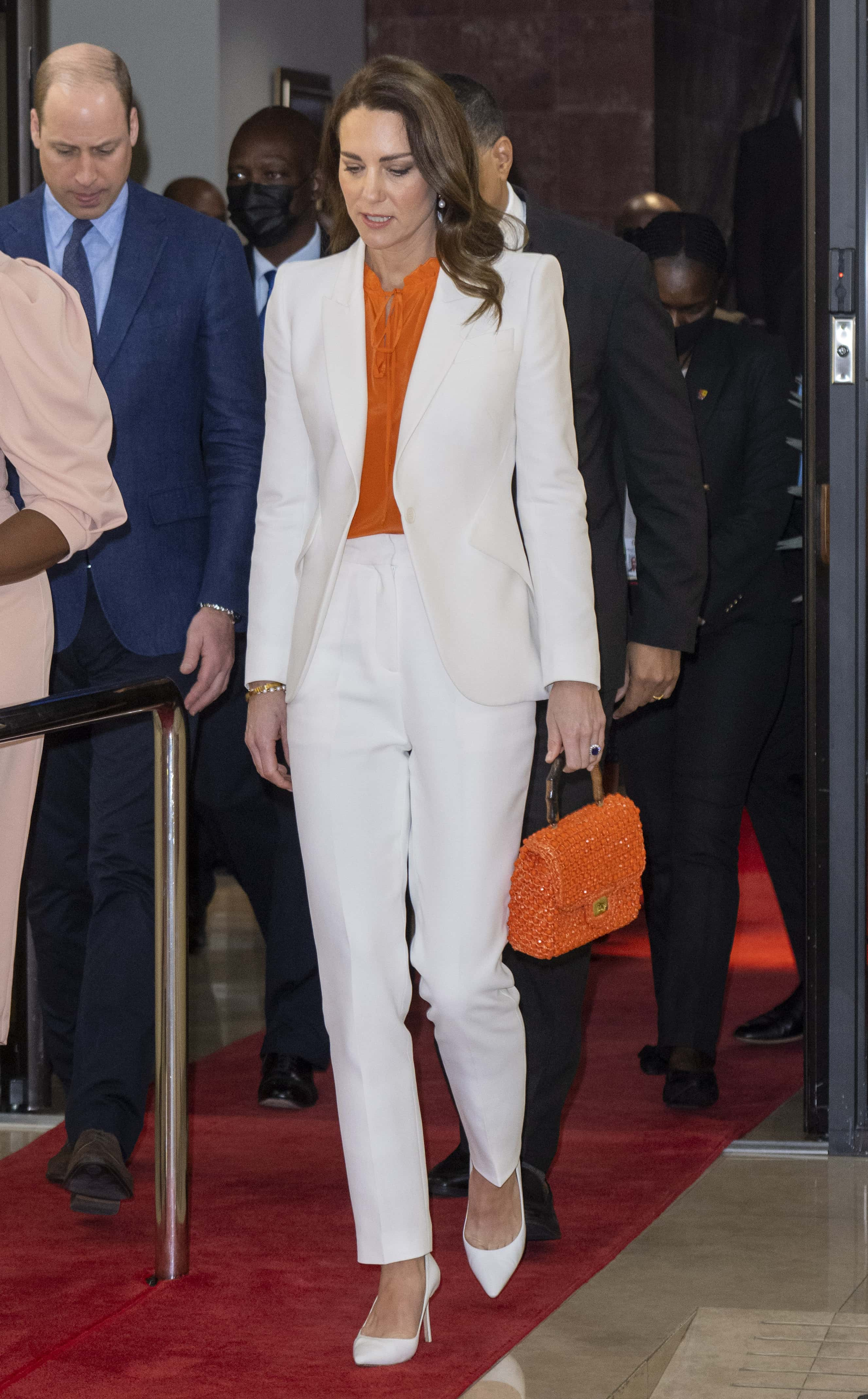 Meghan looked radiant in a double-breasted wool blazer costing $2,742 which she paired with high-waisted pair of trousers costing $1,436. Duchess of Sussex accessorized the white ensemble with a golden 'Love pendant' by designer Sophie Lis, which refers to a French poem about enduring and growing love.
The necklace, first worn by Meghan in 2020, carries the engraving 'Qu'hier' after a diamond-encrusted plus sign, and 'Que Demain' followed by a ruby minus sign. The reference is an ode from the 19th-century French poet Rosemonde Gerard which translates to: "Every day I love you more, more than yesterday less than tomorrow." Meghan completed the look with a pair of towering heels from Aquazzura and diamond earrings, which she first wore to her 2018 nuptials.
The Invictus Games, which run until Friday, April 22, have become somewhat of a tradition for the Duke and Duchess of Sussex. The 2017 Toronto Games marked the couple's first official appearance together. Harry and Meghan announced their engagement two months later in November of that year. The pair also attended the 2018 Sydney Games, five months after tying the knot.
Meghan, 40, and Prince Harry, 37, arrived in the Netherlands after making a stop in the UK where the couple visited Harry's grandmother Queen Elizabeth. It was the couple's first joint visit to the UK since they quit as working royals back in 2020. Harry had been back in the country for his grandfather Prince Philip's funeral in April 2021 and to unveil a statue of his late mother Princess Diana alongside older brother Prince William in July 2021.