Meghan Markle wears four different outfits worth $37,000 in less than 24 hours while in Ireland
Meghan Markle changed into four different outfits in a span of 24 hours during her visit to Ireland thrilling fashion fans Meghan Markle (Source:Getty Images)
Since Meghan Markle and Prince Harry's wedding, the couple has been under heavy public scrutiny, especially Meghan Markle. The Duchess of Sussex has established herself as a fashion icon with eager fans waiting to see what her next outfit will be. Obviously, the fans were thrilled to see Meghan sport four different outfits in a span of 24 hours while on her visit to Ireland earlier this week.
Meghan was seen wearing a grey Roland Mouret dress, an emerald green skirt suit by Givenchy, a black Emilia Wickstead dress, as well as a smartly tailored suit from Givenchy. The four outfits are estimated to have cost about $37,000.
When Meghan arrived in Ireland she was seen sporting the matching green Givenchy suit. The skirt itself is estimated to cost around £1,203 and the cost of the top is unknown. She accessorized the outfit with a Strathberry midi tote estimated at £525 along with a pair of Paul Andrew heels which cost around £473. She also sported a pair of Vanessa Tugendhaft Precious earrings which are believed to be £662. While wearing this outfit, Meghan made a mistake and accidentally forgot to remove the plastic wrapping off her handbag.
Later that day, Meghan changed into an elegant black belted dress which is an Emilia Wickstead piece estimated at £2,000. She sported the smart dress at the British embassy's summer party. She accessorized her outfit with a pair of Birks Citrine Diamond Drop earrings worth £2,629, Aquazzura's Deneuve Bow Pointy Toe Pumps costing £567, as well as a satin Givenchy clutch estimated at £1,505.
When it comes to her third outfit, the Roland Mouret dress, many are of the opinion that Meghan had a huge fashion blunder here. The dress is believed to cost around £1,500 and was teamed up with a £4,918 tote bag from Fendi. However, no matter how nice and sleek the dress is, fans believe that Meghan's choice of bra was off the mark while wearing this outfit and that mistake probably spoilt the outfit a little.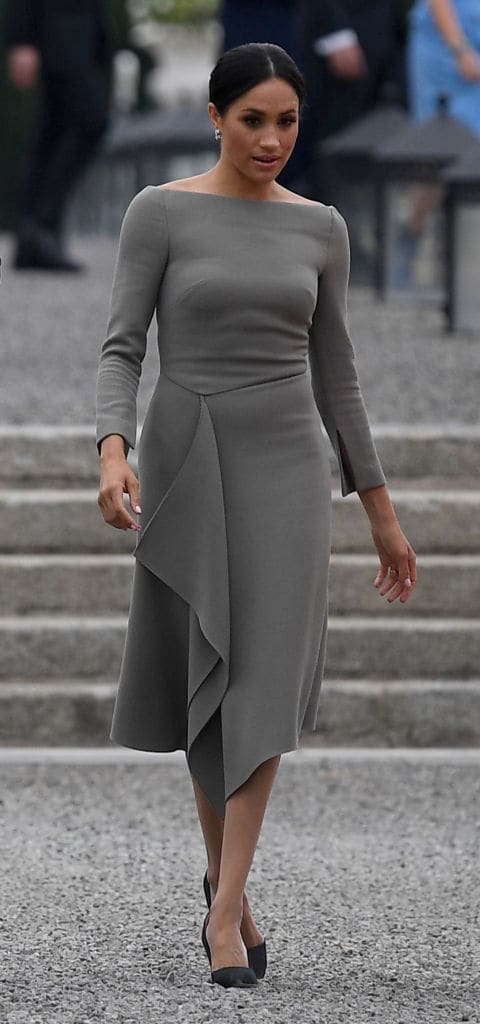 Many royal fans took to Twitter to share that she needed some help when it comes to choosing her undies: "She needs some support in the innerwear department," read a tweet. Meanwhile, others pointed out that her undergarment choice was an epic "fashion fail."
Meghan then switched to a simple, elegant, black suit which she paired up with a white t-shirt and court shoes. She wore a pair of Givenchy's Grain de Poudre Slim Fit Trousers worth £605 and a blazer. The black waist belt that she was seen wearing is estimated to have cost £310 and her GV3 Frame Bag comes in at £1,677. Her shoes were designed by Sarah Flint NYC and cost around £425.
Meghan has been known to not follow royal fashion rules and even though she totally rocked her outfits while in Ireland, she seems to have broken a couple of royal rules. According to an unofficial rule, royal ladies should not be wearing black unless its a somber occasion. Meghan broke this royal rule by sporting the black suit.
Since marrying Prince Harry, Meghan has had to learn many royal rules and royal etiquettes and has done so beautifully. Meghan has also been able to master the art of royal tour quick change. The visit to Dublin is Prince Harry and Meghan Markle's first official tour as a royal couple.
For the garden party, Duchess of Sussex picked a black dress by designer Emilia Wickstead. Emilia had publicly called out Meghan Markle's wedding dress as a rip-off of one of her creations. She claimed the gown created by Givenchy's Clare Waight Keller was identical to one of hers.
"Her dress is identical to one of our dresses. Apparently, a lot of commentators were saying, 'It's an Emilia Wickstead dress.' If you choose a simple design, the fit should be perfect. Her wedding dress was quite loose," the DailyMail had quoted her saying. She also called out Meghan Markle's hairstyle, and commented, 'I was like, 'Hold the wisps [of her hair] back — it's a Royal Wedding for God's sake.'"
After her critical comments, Emilia took to Instagram to make peace and shared, "I am extremely saddened by commentary that has appeared in the press and online over the past few days. Her Royal Highness, the Duchess of Sussex, looked absolutely beautiful on her wedding day and I have the utmost admiration and respect for her. I do not think that her wedding dress was a copy of any of our designs. I have the greatest respect for Clare Waight Keller and the House of Givenchy, a huge source of inspiration to me," she added.
Unfortunately, since Meghan Markle is a "working royal," she has to follow a stricter set of rules as compared to Princess Eugenie who was born into the royal family. One of the things that Eugenie is allowed to do and Meghan can't is to wear dark shades of nail polish.
Eugenie has been seen sporting colors like dark purple and red, unlike Meghan who has to stick to the neutral shades or at most pink. Prior to her engagement to Harry, Meghan would often wear darker shades of nail polish. Meghan was also forced to give up her social media accounts including her extremely successful lifestyle blog The Tig since getting married to Prince Harry.