Makeup-free Natalie Imbruglia, 47, looks half her age as she arrives in Sydney SYDNEY, AUSTRALIA: Natalie Imbruglia, the Australian popstar caught the eyes of many as she went makeup-free when she arrived at Sydney airport. The 47-year-old age-defying beauty gave onlookers a big thumbs-up as she moved through the crowded terminal.
Sporting a pair of tinted sunglasses, a double set of loop earrings on each ear and several beach-style necklaces, she looked effortlessly stylish. The artist was holding a water bottle in one hand and was sporting a military-style khaki jacket over a floral dress. The London-based singer appeared pleased and refreshed after her travel. She added a pair of vintage white lace-up sand shoes to the laid-back ensemble.
READ MORE
Lori Loughlin looks stylish in Chanel blazer while shopping at Erewhon in Calabasas
Kate Middleton: A look at The Duchess of Cambridge's most fashionable looks of 2021
On her right hand, she also donned a set of rings. The popular musician, known for her youthful looks, carried a luxury purse over her right shoulder and a larger brown bag over her left.

Viewers were left delighted by the popstar's unexpected appearance and was left in awe about how she had maintained her youthful good looks as she turned 47 this year. Natalie has previously stated that she credits her young appearance to her "less is more" beauty regimen, which entails consuming lots of water, using SPF sunscreen, and removing her makeup every night. She stated on Kate Waterhouse's blog in 2014 that she prefers to use tinted moisturiser with SPF over foundation.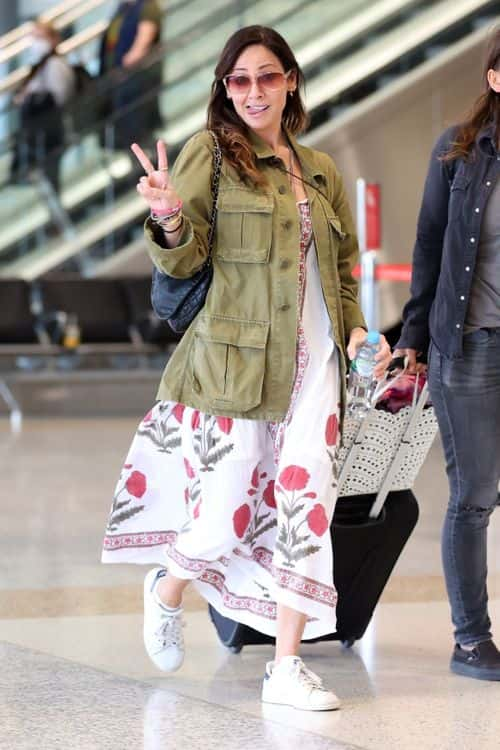 In the Australian soap opera where the singer first found fame, she had played the apprentice builder "Beth" for two years up to 1994. She later returned for the program's last episode. Now she has her own skincare brand called Iluka. She previously told Beauty Heaven: "I know I have my skincare line now, but I think you should drink a lot of water, get plenty of sleep, and exercise. Combined with a really good skin care routine, these are the best things you can do for your skin," DailyMail reported.
At the age of 44, Natalie had her first child, a son named Max, with the use of IVF and a sperm donor in 2019. She admitted to giving other women her personal phone number on the Spinning Plates podcast last year so she could give them the support they needed during their own IVF procedures. "I think what's important on the journey is to have support," she said. "So, if I ever meet even strangers at a dinner party and they're talking about wanting to do IVF, I give them my number and say 'ask me anything' because it would have been really nice to have that." The Australian actress-turned-singer is best known for her 1997 hit single 'Torn'.