Leo turns 48! Inside Leonardo DiCaprio's star-studded birthday party that drew Hollywood crowd
The 'Titanic' actor, who turned 48 on November 11 rang in his birthday in style at a private mansion, with a party that boasted a ton of superstar names BEVERLY HILLS, CALIFORNIA: This week Leonardo DiCaprio turned 48, and almost everyone from Hollywood came to celebrate. At the party, which took place on Friday, November 11, at a private mansion in Beverly Hills, celebrities were seen coming and going all night long. It seems that the party was the total opposite of 'The Great Gatsby,' because most of the celebrities were photographed in casual outfits or sweatshirts.
According to TMZ, DiCaprio also had his guests leave their phones outside before entering the party to prevent photos and videos from the party from being leaked. The star-studded party also included sports legend LeBron James with his wife Savannah and star agent Rich Paul. The guest list also included Sir Mick Jagger, Adrien Brody, Jamie Foxx, Rami Malek, Casey Affleck, Wesley Snipes, Stella Maxwell, Nicky Hilton, Sommer Ray, Jennifer Meyer, Caylee Cowan, and many more. Bradley Cooper was seen at DiCaprio's party with his close friend Kate Hudson, while rumors circulated that the actor is back with his ex Irina Shayk. There were no signs of Gigi Hadid, DiCaprio's rumored girlfriend.
READ MORE
Leonardo DiCaprio, Mark Hamill among celebs rejoicing Luiz Inacio Lula Da Silva win in Brazil prez polls
SHOWGIRL SHOWDOWN: Leonardo DiCaprio was hit with $45M lawsuit after beating up Elizabeth Berkley's BF
The guest list
DiCaprio's best friend, Tobey Maguire, showed up in sweats, New Balance sneakers, a black sweater, and a black hat, accompanied by a mystery woman.
​Los Angeles Lakers star LeBron James arrived with his wife, Savannah. The King looked dapper in gray wool pants and a black turtleneck sweater. Savannah looked chic in a denim jacket, denim pants, and green heels. The two were photographed with James' sports agent Rich Paul, who wore a green Ralph Lauren sweater over a tan turtleneck and paired it with dark blue jeans and brown boots.
Rebel Wilson and her girlfriend, Ramona Agruma made the short trip to Beverly Hills for DiCaprio's party, having previously attended Paris Hilton's party at the famous Santa Monica Pier. Both wore casual and comfortable outfits and matching sneakers.
Bradley Cooper was spotted arriving with close friend, Kate Hudson.
Rami Malek and Lucy Boynton were the next to arrive. Malek wore a black jacket over a striped shirt and black jeans paired with black boots, while Boynton wore a leather jacket with printed pants and carried a white handbag.
Rolling Stones lead, Mick Jagger was the next to roll up, followed by Jamie Foxx, who was accompanied by a mystery woman.
Adrien Brody showed up in a black hoodie and a pair of gray sweatpants.
Other celebrities who attended the celebration included Casey Affleck with his girlfriend Caylee Cowan, Stella Maxwell, who looked stunning in black, Scott Eastwood, Nicky Hilton, Sommer Ray, Jennifer Meyer, and many more.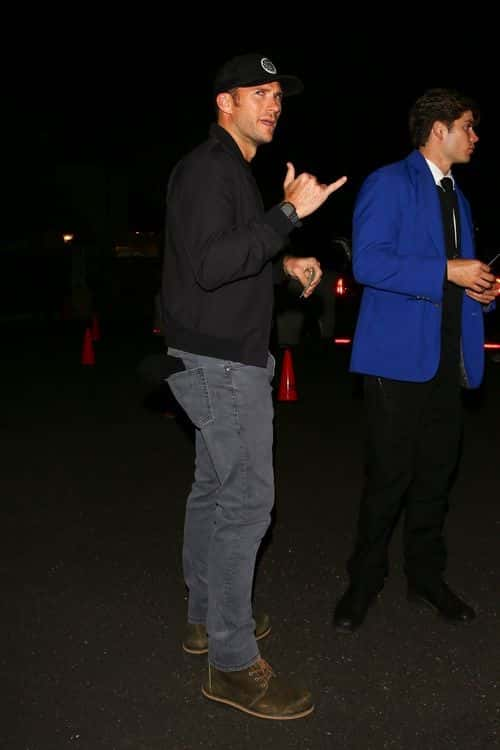 Share this article:
Leo turns 48! Inside Leonardo DiCaprio's star-studded birthday party that drew Hollywood crowd