BABY NUMBER 2! Kit Harington reveals he's 'terrified' as wife Rose Leslie is pregnant with second child LOS ANGELES, CALIFORNIA: Kit Harington, famous for playing the iconic role of John Snow in HBO's sprawling fantasy opus 'Game of Thrones,' recently made an appearance on 'The Tonight Show with Jimmy Fallon' and made a happy announcement. Harington, 36, revealed that he and his wife, another GOT star, Rose "Ygritte" Leslie are expecting their second child together.
The 'GOT' alum was discussing his two-year-old toddler whom the couple welcomed in 2021 when he revealed his wife's second pregnancy. While confirming the news, he also admitted that he was "terrified."
RELATED ARTICLES
Kit Harington looks snazzy in navy blue jumper for his appearance on 'The View' to promote 'Baby Ruby'
From hating George RR Martin to claustrophobia, less known facts about Kit Harington ahead of 'Baby Ruby' release
What did Kit Harington say?
Harington said, "He is about the get the shock of his life, which is that he's about to get a brother or sister." After he broke the news that his wife is pregnant with their second child, Fallon asked him how he was feeling about welcoming another child into their family. "I am terrified," Harington replied. "You know with the first baby, you're like, walking on clouds and dancing through fields and daisies for nine months? Well, the man is anyway," he said. "This time, the reality check comes much shorter and you get practical, like, real quick."
He then added that he and Rose tried to explain to their son that he is going to have a new sibling very soon but he "doesn't quite conceptually understand it just yet." He said, "We are trying to get him ready for it and we point at Rose's belly and we say, 'Mummy's baby, mummy's baby', and he points at his tummy and goes, 'My baby, my baby.'"
When did Kit Harington and Rose Leslie meet?
Kit Harington and Rose Leslie met while filming the second season of Game of Thrones in 2011. While Harington was one of the central characters in the HBO classic, Leslie made several appearances as Ygritte during seasons 2 to 4. Although Ygritte was killed off in 2014, the duo continued their off-screen romance and then tied the knot in 2018.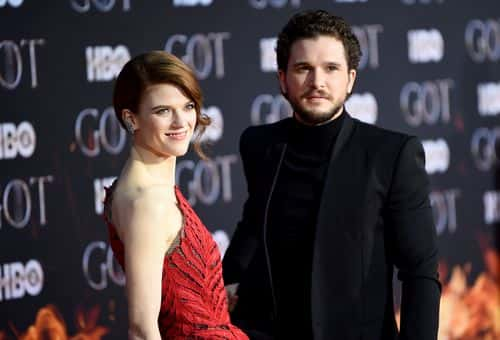 While giving an interview with Vogue Italia, Harington spoke about falling for his costar while filming the television series. "Because the country is beautiful, because the Northern Lights are magical, and because it was there that I fell in love," Harington gushed. "If you're already attracted to someone and then they play your love interest in the show, it becomes very easy to fall in love."
Share this article:
'Baby Ruby' star Kit Harington says he's 'terrified' as wife Rose Leslie is pregnant with 2nd child