Kate Middleton pays tribute to Princess Diana by wearing her Collingwood pearl earrings for Queen's procession
With pearls often worn for mourning periods, Kate Middleton also pinned a diamond and pearl leaf brooch belonging to Queen Elizabeth II on her jacket LONDON, UNITED KINGDOM: In a fitting tribute from one Princess of Wales to another, Catherine Middleton wore her mother-in-law Princess Diana's pearl-drop earrings during the procession of the Queen's coffin from Buckingham Palace to Westminster Abbey. The Collingwood pearl drop earrings, as they are known, were originally gifted to Princess Diana even before her wedding to Prince Charles.
A favorite accessory of the former Princess of Wales, Diana donned it frequently. She often paired them with the timeless Lover's Knot tiara, a styling combination also adopted by her daughter-in-law. More famously, the pearl drop earrings also featured in Princess Diana's iconic 'Revenge Dress'. On Wednesday, September 14, Kate Middleton paired Diana's earrings with a brooch that belonged to the Queen. Pinned to her black jacket, the diamond and pearl leaf brooch featured a trio of pearls at the center of a pave-set leaf.
RELATED ARTICLES
Kate Middleton and Meghan Markle wear black veils as they mourn for the Queen
Prince Harry and Meghan Markle holding hands at Queen's procession divides royal fans
This is not the first time that Prince William's wife, Kate Middleton has donned her mother-in-law's earrings. In 2017, William and Kate Middleton joined Britain's Prime Minister Theresa May in Belgium to attend an event to mark the centenary of the start of the Battle of Passchendaele. On their second day in Ypres, the then Duchess of Cambridge paired her white coat-dress with the earrings from Princess Diana's private collection. Additionally, she also wore the same pearl and diamond leaf brooch that belonged to the Queen.
The Collingwood pearls became a staple of Diana's jewelry, and she frequently wore them on several occasions, before, during, and after her marriage to Prince Charles. As per an article by the Daily Mail, the earrings completed her look during her US tour in 1985 when she paired them with a lacy white gown and the Lovers' Knot tiara for a gala dinner at the British Embassy.
A similar look was adopted by Kate in 2018. She attended a state banquet at Buckingham Palace wearing a blue Alexander McQueen gown with Diana's favorite Lovers' Knot tiara. She completed the look with a matching diamond-and-pearl necklace that once belonged to Queen Alexandra.
Perhaps the most iconic look featuring the Collingwood pearl earrings is also among the most iconic look to ever exist - Princess Diana's 'Revenge Dress'. The 'Queen of people's hearts' wore the earrings with the form-fitting off-shoulder black dress during a Vanity Fair party in 1994. The dress got its name as many assumed she wore it "in revenge" after Prince Charles' public admission of adultery.
As a result, the Collingwood pearls have a long history and were certainly among Princess Diana's favorites. A round diamond stud helps an extra round diamond to suspend from it, following which a bell cap is set with three more rows of small diamonds below which suspends the pearl drop.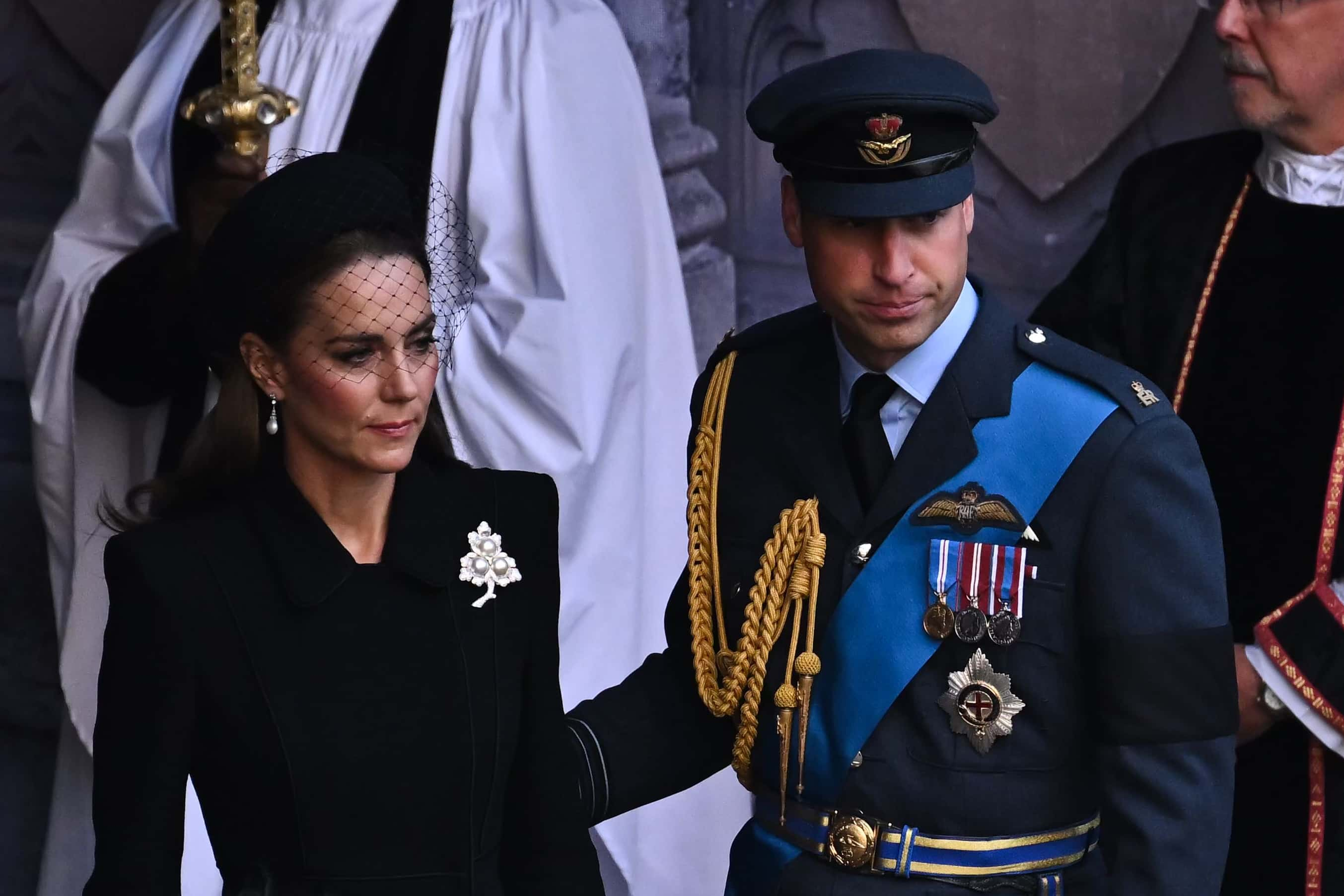 Share this article:
Kate Middleton pays tribute to Princess Diana by wearing her Collingwood pearl earrings for Queen's procession