Kate Hudson and daughter Rani Rose, 4, enjoy day at petting zoo LOS ANGELES, CALIFORNIA: Kate Hudson and her four-year-old daughter Rani Rose enjoyed a fun-filled day of shopping at the Beverly Hills Farmers Market on January 22. The 44-year-old actress, who will record her debut album this year, went grocery shopping with her youngest child, who she shares with her fiance Danny Fujikawa.
Hudson had fun at the petting zoo and fed the lambs while wearing an all-black boho chic ensemble. In a flannel shirt and a black cardigan with white sun embroidery, Kate looked warm and fashionable. Hudson walked through the market with her blonde hair pulled back in a ponytail and her eyes shielded by a pair of expensive black sunglasses.
READ MORE
10 best dressed at Critics Choice Awards 2023: Kate Hudson, Matt Smith and Anya Taylor-Joy steal the show
Who are the fathers of Kate Hudson's children? Actress says she's got 'kids from three different dads'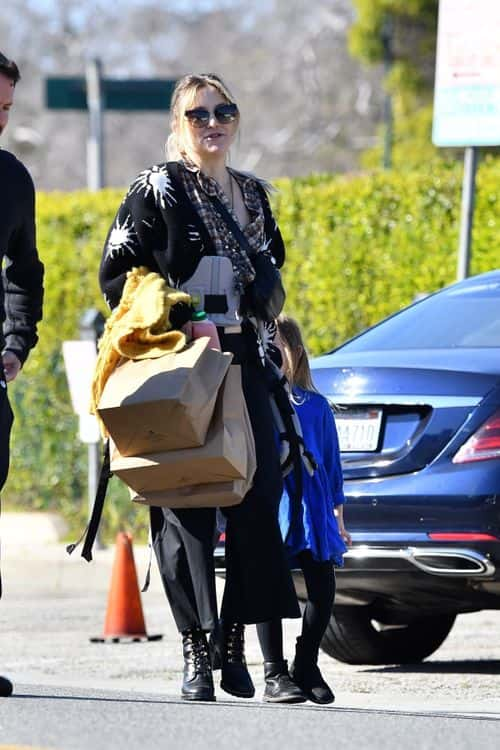 The 'Glass Onion' actress wore minimal makeup on her face but showed off a new manicure as she carried her coffee and strolled next to her daughter. Little Rani wore a canary-colored cardigan, a royal blue sundress, and black tights for their outing.
Hudson accompanied her daughter to the market's petting zoo where they got up close and personal with all the animals while wearing what seemed to be a pack system connected to her torso and hanging down her back. She watched a sheep closely while holding a red Solo cup full of snacks, and a fluffy white chicken came over for a feast.
Hudson had a family farm outside of London when she was dating Muse vocalist Mathew Bellamy, 44, her former fiance. "The kids absolutely love it," she told Red Magazine in 2014. "We have sheep. A vegetable garden, chickens." 'The How to Lose a Guy in 10 Days' star and the British rockstar broke up after four years of dating. The former couple now peacefully co-parent their 11-year-old son, Bingham, as per Daily Mail.
Hudson was married to The Black Crowes singer Chris Robinson, 56. Ryder Robinson, who is 19 and presently enrolled in his second year of college, is the couple's only child. Their marriage, which lasted seven years, began in 2000. "After Chris, I didn't think I'd ever date a musician again," Kate told Red Magazine. "That world is difficult. But it is what is, right? I like people with musicality. I find it attractive."
With her debut album, Hudson is poised to formally enter that difficult world herself. "I've got 26 songs. We're dwindling them down." she said when chatting with E! News on the Critics' Choice Awards red carpet last week. The songstress added, "It's just been a great, creative, completely immersive experience for me and something I had to get out and I'm getting it out!"