Where is Kate Gosselin now? Reality TV star builds new life away from limelight
Kate Gosselin, 46, and mother of 8 has retired from showbiz and obtained her nursing license Kate Gosselin (L) and her children with President and CEO of TLC Angela Shapiro (R) speaking at the Discovery Upfront event at Jazz at Lincoln Center on April 23, 2008 in New York City (Amy Sussman/Getty Images for Discovery)
Former reality TV star Kate Gosselin is starting to settle into her new life away from the spotlight. She has taken up a career as a nurse and obtained her new nursing license from the North Carolina Board of Nursing. Gosselin is currently living in Troutman, North Carolina. On Tuesday, the 46-year-old mother of 8 was seen sporting a Killington Ski Area T-shirt at a gas station.
Kate Gosselin was last seen on television in 2019 on her six-episode spinoff show Kate Plus Date. On the original show, Kate Plus 8 that aired on TLC between 2010 to 2017, Kate commanded $250K per episode for producing and starring on the show. Kate's sextuplets, Aaden, Alexis, Hannah, Joel, Leah, and Collin, are all turning 18 soon and fans are finding it hard to process the fact that they will all be legal adults in just a few days.
READ MORE
Julia Fox nude and sex pics from raw and artistic 'Heartburn/Nausea' erupt on internet
Julia Fox has weird connection with Pete Davidson, and it invoves Barbie!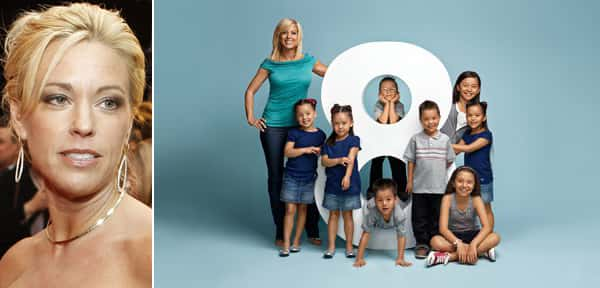 Kate was also recently seen walking her dog in a Tommy Hilfiger hoodie. The reality star who portrayed a rather hot-tempered woman on screen seems to be unlike her on-screen persona in real life. The woman who popularized the 'I want to speak to the manager' haircut was recently spotted flashing a smile while bonding with her very adorable dog. According to sources, one of her daughters has even scored a job at a local fast-food chain. The soon-to-be-18, former child star was seen wearing her uniform as she reported to work.
Kate currently resides in North Carolina and has bought a 3562 square-foot mansion next to the man-made Lake Norman of Catawba for $750K. She revealed that her house came with a small dock, a swimming pool, and a jacuzzi. Kate moved into her new house in March. One of Kate's daughters, Madelyn, posted a Tiktok video on August 7 about how she and her mother went on a back-to-school shopping trip. Madelyn, 21, is a student at Fordham University in New York. Madelyn's twin sister, Cara, lives in New York and is a student of Syracuse University.
Kate's ex-husband, Jon Gosselin, 44, has primary custody of Hannah and Collin. Collin had accused Jon of abusing him in September 2020. As per sources, the Gosselins have resolved to only communicate via their attorneys after they ended their decade long marriage. Kate and the Amazon IT specialist's hit TLC series Jon & Kate Plus 8 aired from 2207 to 2010 spanning over 5 seasons and bagging a good 9.8M viewers for its premiere.
Kate has also appeared in Say Yes To The Dress (2008), The Apprentice (2015), Celebrity Wife Swap (2013). She also competed in Dancing With The Stars (2010) and co-hosted four episodes of The View (2009-2010). Kate has also authored three nonfiction books.
'Kate has been struggling with money because she hasn't worked for a while,' a source told The Sun in 2020. 'She has been living off the money she made in the past but it's been years since her last job.' This explains why the reality star decided to take up nursing as a profession.