Jennifer Aniston once called Angelina Jolie 'uncool' before branding feud over Brad Pitt 'silly, petty s**t' The 'Morning Show' star Jennifer Aniston had once praised Angelina Jolie despite their bad blood over Jolie "stealing" Aniston's' husband Brad Pitt. While the two have reportedly been on unpleasant terms, the former 'Friends' actress had once praised Jolie's acting. She had also said that it was "silly" if the two ended up feuding over Pitt, Mirror reports.
Jolie and Pitt married in 2014 with the former filing for divorce two years later. They share six children together — Maddox, 18; Pax, 15; Zahara, 14; Shiloh, 13, and Vivienne and Knox, both 11. Aniston was previously married to Pitt in 2000 and the two announced their divorce in 2005. In 2005, Pitt had hooked up with Jolie while the two were filming 'Mr and Mrs Smith'.
Aniston had spoken to Entertainment Tonight about Jolie's 2014 film 'Unbroken' where she praised her acting. "I mean, that movie is so beautiful and wonderful, and she did such a gorgeous job," she said at the time. She had also dismissed all rumors that she and Jolie were 'feuding' after her marriage to Pitt ended. When the two women attended the Critics' Choice Awards, many commentators had said that Aniston and Jolie had avoided each other on purpose.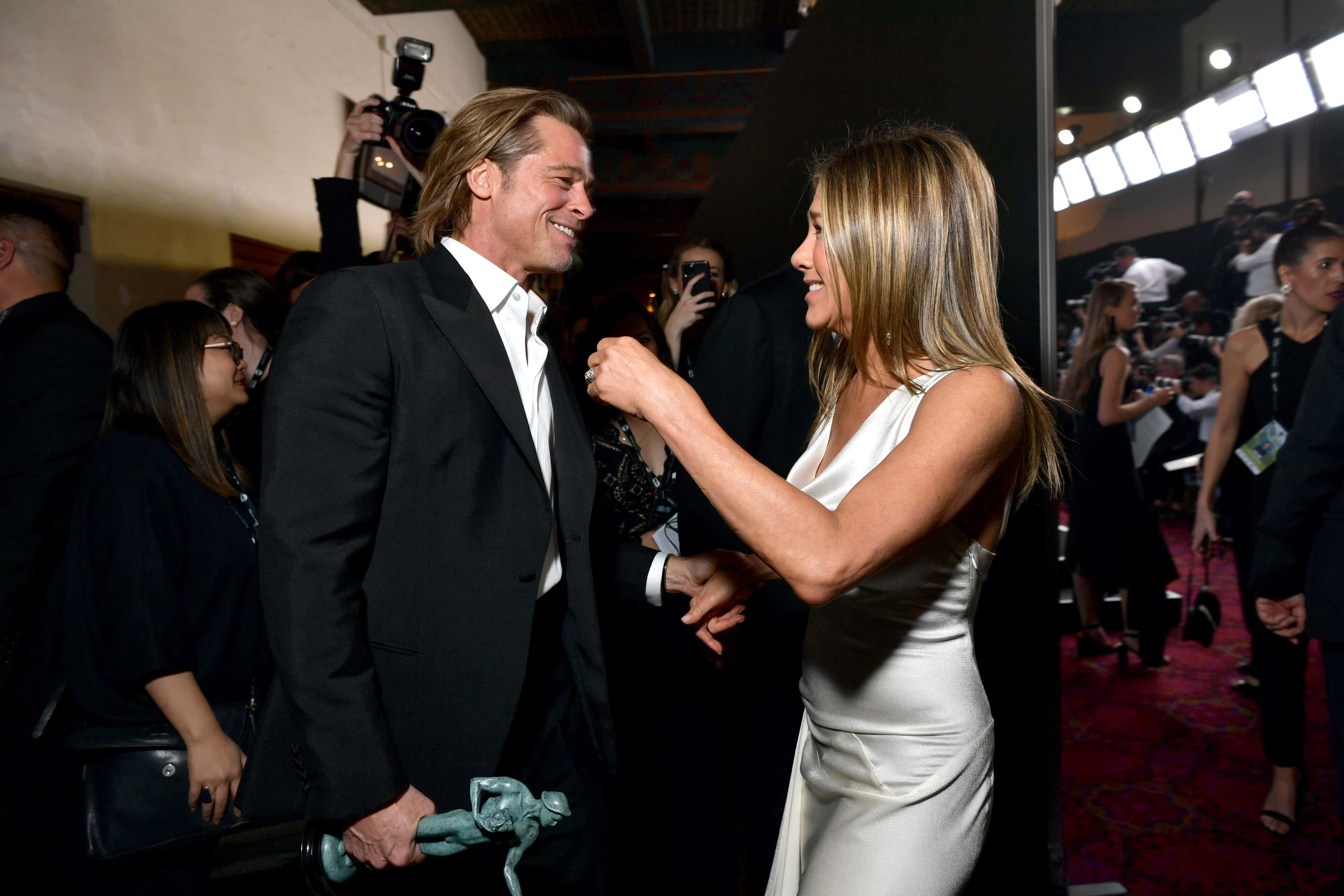 However, Aniston did not indulge any of these rumors and set the record straight. She said, "I think it's time people stop with the petty s*** and just start celebrating great work and stop with the petty kind of silliness." She continued, "I think that's slowly coming to an end, I really do. It's just tiresome and old. It's like an old leather shoe. Let's buy a new pair of shiny shoes." Back in 2008, Aniston had branded Jolie as "uncool" while speaking to Vogue.
She had called her "uncool" in reference to Jolie saying that she fell in love with Pitt while on the sets of the film while he was still married to Aniston. "There was stuff printed there that was definitely from a time when I was unaware that it was happening," Aniston shared. "I felt those details were a little inappropriate to discuss. That stuff about how she couldn't wait to get to work every day? That was really uncool," Aniston had said.
We had earlier reported that a rumored romance brewing between Pitt and Aniston was making Jolie 'furious'. A source told Mirror, "Angelina doesn't care about Jen and Brad's reunion… she already knew that they were friends and isn't going to let it eat at her... She's moving on. She's not going to let it sting." It is believed that Jolie was not at all on board when it was reported that Aniston helped Jolie and Pitt's daughter Shiloh,13, land a small role in the upcoming 'The Goree Girls'. Shiloh is said to co-star with Aniston in the film.
"Angelina has privately demanded that Jen be banned from seeing her kids," an insider told Australian magazine, Woman's Day. Jolie also recently banned Pitt from having their children introduced to his close friend Alia Shawkat.