Queen's 14-yr-old grandson James, Viscount Severn goes viral with footage of him standing vigil LONDON, ENGLAND: James, Viscount Severn who is the youngest grandchild of the former monarch, Queen Elizabeth II portrayed himself as a matured individual as he stood for the vigil that took place in the Westminister hall on Saturday, September 17.
He portrayed the maturity beyond his age and looked sombre as he mourned the death of his grandmother. James, Viscount Severn was joined by the late Queen's all her grandchildren including Prince William, the Prince of Wales, Prince Harry, dressed in the uniform of the Blues and Royals, Princesses Beatrice and Eugenie, Zara Tindall and Peter Phillips, and Lady Louise Windsor.
ALSO READ
Prince Harry WILL get to wear his uniform to a special vigil for the Queen after fans raged at 'injustice'
King Charles's FINAL vigil: Queen's four children don military uniform and hold 15-minute vigil beside coffin
According to DailyMail, the 14-year-old bowed his head as he looked towards the ground during the vigil, which lasted around 10 minutes. The eight grandchildren arrived at Westminster Hall and performed a vigil at the Queen's coffin as a tribute to their beloved grandmother.
Prince Harry was allowed to use military uniform for the vigil that took place on Saturday, September 17. The vigil also saw Prince Williams and Prince Harry once again uniting to mourn the death of their dearest grandmother. Earlier, on Friday, September 16 all the four children of Queen Elizabeth II stood in vigil at the Westminister Hall. King Charles, Princess Anne, Prince Andrew and Prince Edward did their ceremonial vigil of the late Queen where Prince Andrew was also permitted to don the military uniform.
Queen Elizabeth II, the longest reigning monarch in modern history has passed away on September 8, at the age of 96. The late queen was reportedly suffering from ill health and mobility issues died at her Balmoral residence just a few days after meeting UK's new Prime Minister Liz Truss on September 6.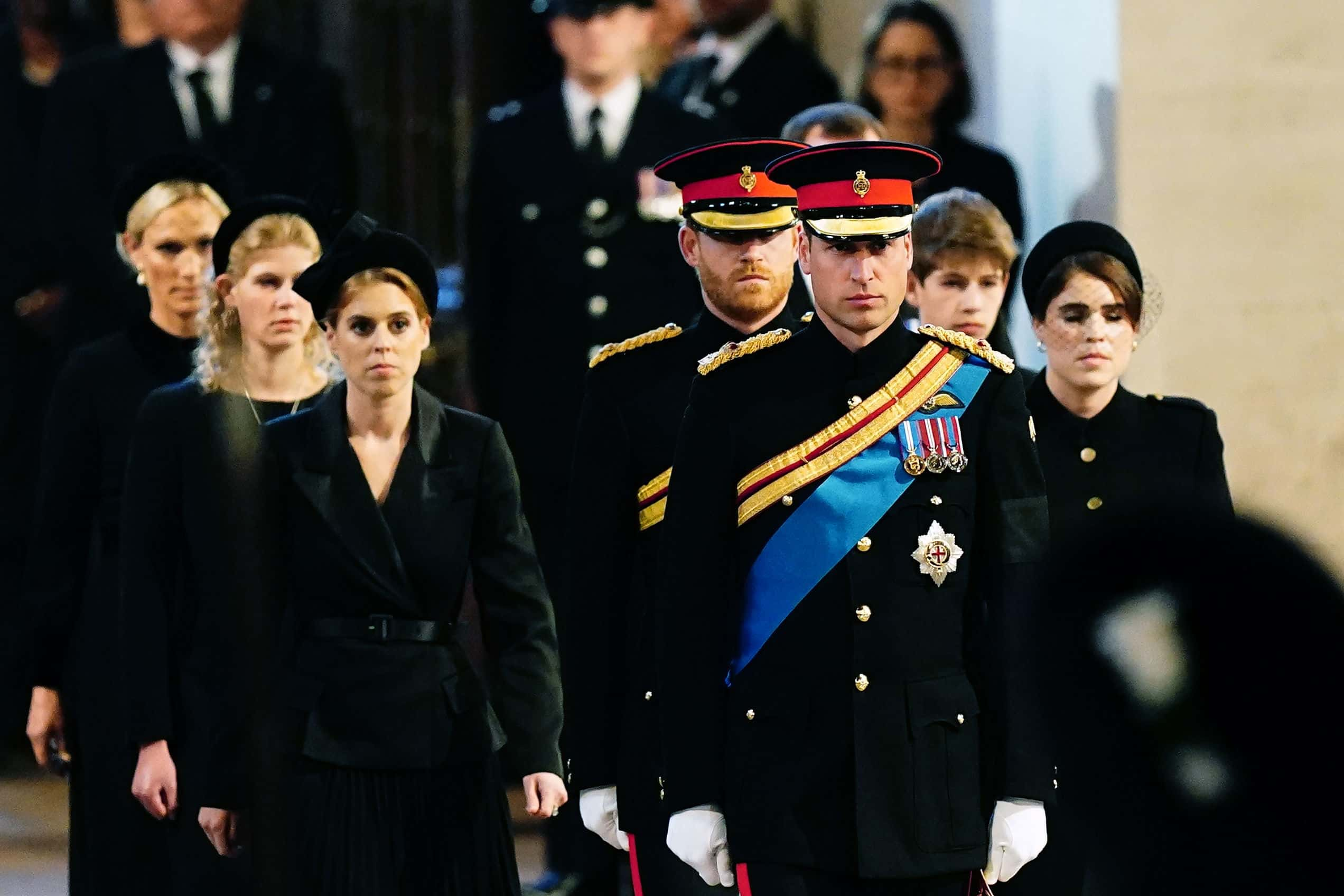 Meanwhile, on Saturday, September 10, Buckingham Palace announced that the Queen will be honored with a state funeral on Monday, September 19 at Westminster Abbey in Central London. This is the first time since the 18th century that a service for a monarch will be held in the abbey.
However, her final resting place is expected to be the King George VI Memorial Chapel in Windsor. Her husband, Philip, was laid to rest in the Royal Vault of St George's Chapel, but he will be transferred to join the Queen. King Charles has asked the public to observe a period of royal mourning lasting a week after his mother's funeral and the doors of Westminster Abbey will open at 8 am on Monday morning to allow a congregation of nearly 2,000 VIPs to take their seats.