ITZY 'Crazy In Love': JYPE announces 6 versions of band's 1st album, fans say 'let's go broke' Having debuted in 2019, ITZY is one of the leading girl groups of the fourth generation of K-pop. They've released hit single after hit single to rival their own labelmates like Twice and Stray Kids. Additionally, they've also won several awards at the likes of Golden Disc Awards and MAMA. And surprisingly, they've done all of this without releasing a full studio album. Well, not anymore.
To date, ITZY has had four mini-albums and two single albums. They've all done well on several charts domestically as well as internationally. In fact, their last EP, 'Guess Who', which has the lead single 'In the Morning' topped Billboard. It came in #1 on Heatseekers Albums chart and #2 on the World Albums chart. It was also certified platinum with more than 331k sales. It also was #3 on iTunes Worldwide Album chart. And now, hopes are high for their first studio album 'Crazy In Love'.

READ MORE
JYPE reveals new girl group members dancing to Cardi B, fans didn't expect them to be so good

GOT7's Mark Tuan sparks solo album rumor with concept photo, Ahgases call him 'God's favorite'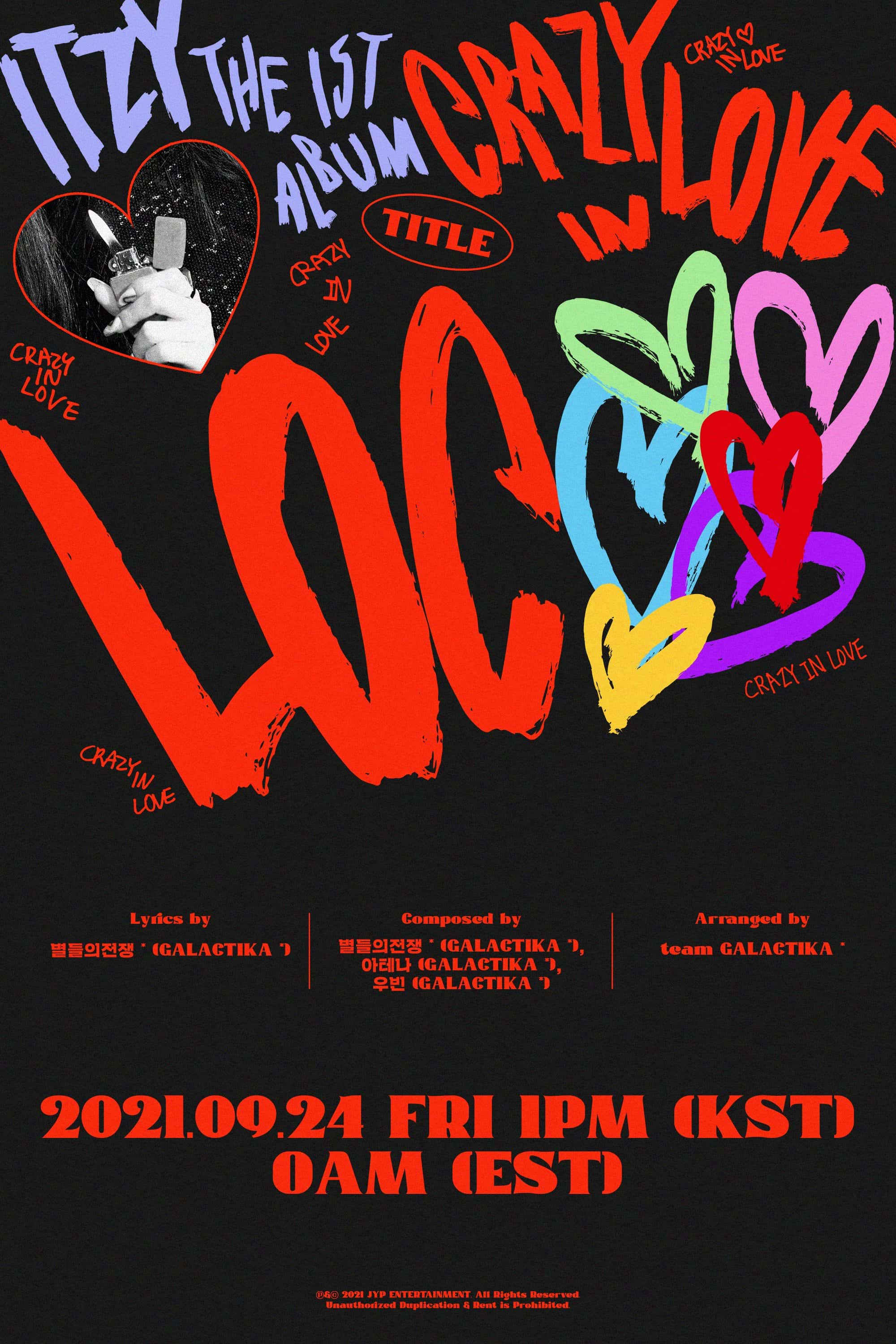 ITZY to drop their first studio album
ITZY's agency JYP Entertainment announced that the 5-member girl group will be releasing their first-ever studio album on September 24 at 1 pm KST (12 am ET). Titled 'Crazy In Love', it has the title track 'Loco'. While we don't know much, Midzys went crazy when ITZY's social media accounts changed their layout to a new logo and header. Turns out that they are the album artwork for 'Crazy In Love'. Additionally, it has been revealed that the title track 'Loco' has been written, composed and arranged by Galactika.
And few hours ago, JYPE announced that the pre-orders had been opened for the album. Fans were ready to splurge when they noticed one tiny detail. It looks like there are 6 versions of the albums. This means that 5 of them are of each individual member, while the 6th version is of the whole group. This means that we might get individual photobooks, photocards, posters and more.
'Let's go'
While other K-pop groups have released individual member versions of their albums, this is the first time an ITZY release is getting such treatment and fans are here for it. They ended up trending "6 Versions" on Twitter as they made up double-take memes of them reacting to the news.
They also joked that they would go broke at this rate, "JYP ran out of money that he decided to release 6 versions of Itzy's album i can't even purchase the the two icy albums." A fan wondered what would happen if a large-member group did this, "ITZY'S NEW ALBUM HAS 6 VERSIONS ?! WHAT IF THEY HAVE INDIVIDUAL ALBUM COVERS THEN 1 WITH GROUP ISTG IF JYPE PULLS THIS CONCEPT WITH TWICE AND SKZ IM JUMPING OFF A BRIDGE Imagine buying 9 albums for twice and 8 albums for skz + the group cover."
Another fan added, ""Hi, someone bought you 6 versions of ITZY's crazy in love album" is the new "i love you"." One fan posted, "6 VERSIONS There's probably 5 separate versions for each member of Itzy. Maybe the 6th version is everyone together? I'm still gonna be broke though." Another fan didn't mind as long as they got the albums, "LETS GOOOOOOO broke."