Tim Allen and Jane Hajduk: After 15 years of marriage couple are as loved-up as ever
On October 7, 2006, near Grand Lake, Colorado, Tim Allen and Jane Hajduk exchanged vows in a small outdoor ceremony BURBANK, CALIFORNIA: On the red carpet for 'The Santa Clauses' in Burbank on November 6, Tim Allen shared a kiss with his wife Jane Hajduk. The couple has been married for more than 15 years as they posed on the red carpet with their daughter, Elizabeth Allen-Dick.

The 69-year-old actor was dressed in a gray jacket over a gray button-down shirt, black slacks, and gray sneakers. He had salt-and-pepper hair that was gelled up, brushed to the right, and was wearing black shoes. Elizabeth, age 13, was pictured on the red carpet with her parents Allen and Jane Hajduk, 56. Hajduk was dressed in a long-sleeved white shirt and a loose-fitting black tie. Her middle-parted golden hair was in gentle curls, and it sat atop her shoulders. In addition to similar leather pants, their daughter was dressed in a light green button-down top. She finished off the casual ensemble with white and red sneakers.

RELATED ARTICLES
Tom Hanks says he can't understand why Tim Allen was dropped from Disney flop 'Lightyear'
Did Disney dump Tim Allen because he supports Donald Trump?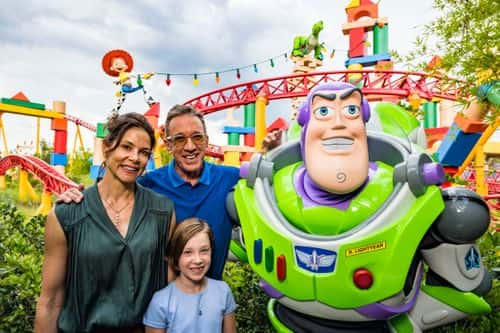 Tim first married his undergraduate sweetheart, Laura Deibel, in 1984. They were together for 15 years before officially separating in 1999. Their divorce was then formalized four years later. At that time, he admitted to The Detroit News that he had "let [his] family slide" because he had been so preoccupied with furthering his career. He shares a daughter with Laura named Katherine who was born in December 1989. After his divorce, Tim started hanging out with Jane. They dated for five years before getting married in 2006. On October 7, 2006, near Grand Lake, Colorado, Tim and Jane exchanged vows in a small outdoor ceremony. According to People magazine, the couple's relatives, including Katherine Allen, Tim's then-teenage daughter, were the only attendees. Elizabeth, the first daughter of Jane and Tim was born three years after their wedding. Along with being husband and wife, the two have co-starred in several of Tim's motion pictures, including the superhero comedy 'Zoom' and 'The Shaggy Dog' from 2006.
Tim revealed in an interview with Closer how he had evolved between his first and second marriages. In particular, he admitted that being forced to reassess his relationships and priorities after undergoing alcohol recovery in 1998. "I'm not the same guy I was the first time [I was married], when I was hiding and doing what people who drink too much do. I was not connecting," he said. "But I've been sober for almost 20 years. I'm much more present." Tim has also acknowledged that he has a great bond with his Last Man Standing character, who has three daughters, while only having two daughters of his own. "His whole vision is through his treasure, his girls."
Share this article:
Tim Allen and Jane Hajduk: After 15 years of marriage couple are as loved-up as ever