Internet hails homeowner for 'genius' method to keep trespassing Karen off his backyard A Redditor won praise for finding an ingenious method to stop a neighbor from walking through their backyard. The user wanted to maintain their privacy but the neighbor, referred to as "Karen," insisted that she was allowed to walk through the backyard as it was technically part of the Home Owners Association's common areas.
The user's neighborhood consists of separate homes with yards that technically are considered HOA's common areas, though they are not used as such and cannot be completely fenced in per the rules. However, a neighbor, known for being difficult, started walking through the yard of the largest home in the neighborhood, causing a disturbance to the homeowner's privacy.
READ MORE
Internet backs dad who taught 12-yr-old son a lesson after he yelled at mom for doing laundry wrong
'Need to keep YOUR peace': Internet backs woman who no longer wants to be her sister's bridesmaid
A unique approach
After a lot of thinking the homeowners took a novel approach. The poster wrote, "We have a dog. A great dane. Do you know what a great dane does a LOT of? And I mean a LOT? Poop. He poops. He poops a LOT. And they are big. Very big. They are elephant-sized poop. And he drops 2-3 a day. He is area trained and never leaves our yard despite the openings, but I also go out and pick up the poop every day. Do you know what Karen hates? Karen hates stepping on poop. Especially elephant-sized poop. About 3 weeks ago I started collecting the elephant-sized poop and tossing it at both entrances to our yard in a grid-like pattern."
The feces were then covered with leaves, making it nearly impossible to see. After a few days, the neighbor was seen scraping feces off her shoes on her walks through the yard. The homeowners continued to add to the grid and scatter leaves to make it difficult for the neighbor to walk through their yard without stepping on feces.
While this solution may seem extreme to some, the homeowners noted that the neighbor's behavior was intrusive and disruptive to their privacy. The HOA rules exist for "ease of landscaper access," but the homeowners own the land on their deed and do not feel obligated to allow neighbors to walk through their yards.
Finally they added, "I haven't seen Karen walk through our yard in several days at this point. I don't think the war is over, but we are certainly winning this battle right now. And yes, I am still improving my poop grid. Every day sees 2-3 additional poop piles introduced into this latticework. And a quick spurt of air with my battery powered leaf blower stirs the leaves up just enough to hide the new recruits. As a note: Our landscapers haven't started cutting yet (still winter), so I am really hoping I can permanently deter Karen's behavior before they start cutting. I don't think I am willing to leave it out there for them to step in every week - that is just plain rude - and I am really not a bad person.The situation is ongoing, but for now, the homeowners appear to have successfully deterred their neighbors from walking through their yards."
'Genius'
Many Reddit users took to the comments section to laud the homeowner, calling the idea "genius" and some suggested using motion activated sprinklers which the poster agreed and wrote, "Why didn't I think of this before?? This is an amazing suggestion!"
A user wrote, "Karen is probably deliberately misinterpreting the bylaws. If your yard has to be accessible for the landscapers and that's why it's an HOA area, then that's all that it means. It doesn't mean everyone gets access to your property. That would be ludicrous."
Another user wrote, "We had people cutting through our yard, way out of their way, including up to our patio door at dinner, so I called the police to see if motion sensor sprinklers were legal on private property. The female police officer was laughing so hard at the thought, and you s they are. She went so far as to ask me to call her when they were installed, so that she could come over and watch them in action. She knew who all of our evil neighbors were snd wanted to see the retribution in action. Go for it. Some of the most evil animals need the most aggressive training. P. S. Keep in mind, that she'll more than likely die alone."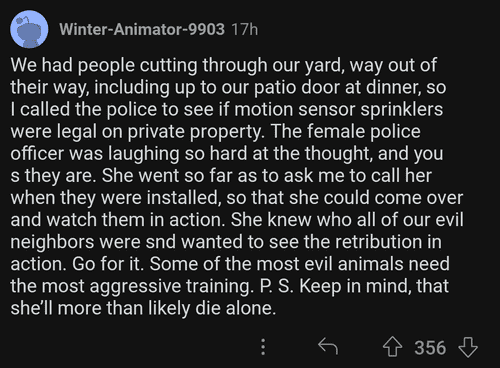 This article contains remarks made on the Internet by individual people and organizations. MEAWW cannot confirm them independently and does not support claims or opinions being made online.