Hinkler twins, Elizabeth and Emily, on being 'each other's biggest support' and volunteering in the LGBTQIA community
Twin sisters Emily and Elizabeth Hinkler, starred in the Awesomeness TV series as siblings - Tessa and Molly – two deadpan, genderqueer, fringe thespians who get in fights YouTube premium brought to us a hilarious, compact, almost romantic comedy of sorts in the form of 'Overthinking With Kat and June' not so long ago. And, within just days of release, two rising stars managed to shine brightly through the series, though they played the role of the lead character's best friends.
Twin sisters Emily Hinkler and Elizabeth Hinkler, starred in the Awesomeness TV series as siblings - Tessa and Molly – two deadpan, genderqueer, fringe thespians who get in fights. Tessa and Molly, who happen to be the titular Kat's best friends, keep busy constantly strategizing brilliant yet failure-prone plans and the characters brilliantly brought out the acting expertise of the Hinkler twins.
They are sharp, tasteful, and have impeccable timing to their comedy, adding to the all-around comic quotient of the new series. But that shouldn't be surprising, because the twins - individually, as well - are no strangers to stealing the show in some of the significant projects of our times.
Speaking to MEAWW about their journey in the industry so far, the Hinkler twins shared their experience and fondest memories on set together, and also about their other critically applauded works. When not busy filming, the sisters volunteer with foster youth, specifically who are LGBTQIA and continue to raise awareness for people with different abilities through community events and workshops. Here are some excerpts of their conversation with us:
What according to you is the most unique aspect of 'Overthinking With Kat and June'?
Elizabeth: What sets the show apart is it's boldly unapologetic. Kat and June get themselves in sticky and awkward situations, exploring and embracing discomfort intimately and humorously.
Emily: And that it was largely made by the power of women. Created, produced, and starring is a line of strong, influential ladies who we admire.
How similar or different are your characters from you in real life? Is your on-screen relationship similar to the bond between you two? Or were there any aspects that were hard to portray or relate to when it came to the show?
Emily: We play Molly and Tessa - who are best friends with Kat and are constantly strategizing brilliant yet failure-prone plans. In real life, we are identical twins and love theater, but as for the similarities between us and Molly and Tessa- that's about where it stops.
Elizabeth: Our off-screen relationship is quite multi-faceted because we not only are siblings but also have a working relationship - both aspects are very special and take unique ways to nurture
them.
Emily: We love each other very much and are always supportive and encouraging one another to be our best selves, so the punching and fighting was a bit of a stretch.
Elizabeth: However, it wasn't difficult to bring our on-camera relationship to this level because we trust each other so much. The physicality was much easier because we had a deeper understanding and communication of our limits. We could also hug it out in the end.
Considering your efforts into giving back to the LGBTQIA community, how do you feel about their representation in Hollywood? Would you call the contemporary scenario momentous, or does the industry still have a long way to go?
Elizabeth: We are really happy that LGBTQIA representation is continuing to blossom in Hollywood with projects such as 'Moonlight' and 'Boy Erased', but we still recognize there is a long way to go. Currently, a lot of LGBTQIA characters generally have a stereotypical story of coming out to their parents, transitioning, or their dominant characteristic is only being gay.
Emily: Being LGBTQIA is one pillar of someone's life that is incredibly important, and those moments should be celebrated on screen, however, there's so much more to a person than just their sexuality or gender identity. Being able to see a person as a complete being with complexities is crucial in fully seeing and accepting others in our community.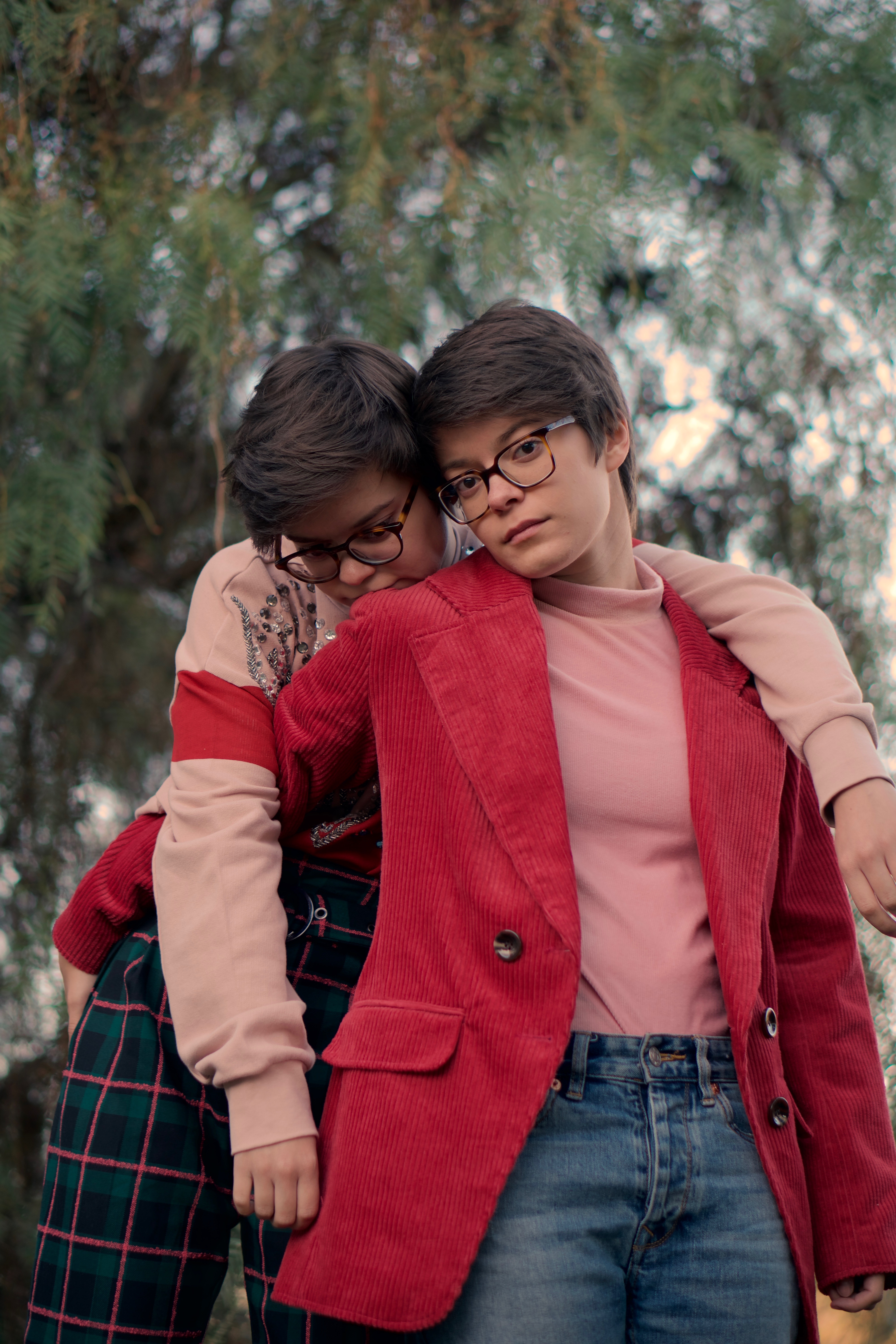 Having worked both with each other and without, which would you say is more comfortable for you two? 
Emily: We both enjoy the unique aspects of working separately and together. It's easier to be seen as individuals when we work separately, and people get to know each of us a little deeper.
Elizabeth: When we both are on set, we usually share the same scenes and don't have a lot of time apart, so we make more of a conscious effort for others to see each of our personalities. Something really special about working together is that we are always each other's biggest support and will do anything we can to help elevate each other's work.
Tell us a little bit about your involvement with Trans Lifeline. How has the journey been so far?
Emily: Trans Lifeline is a national trans-led organization that we discovered through meeting some members at the 'Boy Erased' premiere. Trans Lifeline helps improve the lives of trans people (which includes non-binary and gender non-conforming individuals) through creating a safe space in responding to the critical needs of our community, specifically in fighting the epidemic of trans suicide. 
Elizabeth: As filmmakers, we believe it is part of our job to involve ourselves and experience the people and stories that need to be heard, so we can authentically bring their truth on a larger accessible scale, such as TV and film, to our community. Our goal is to create a loving connection from a fearful world, and a one-on-one connection is part of that story.
You guys have also ventured out with your own production company! How did that happen? Was it always a shared goal between the two of you?
Emily: Our production company is called The Hinklers, where we develop and act in socially conscious projects that encourage changing the climate of our society. Jay and Mark Duplass have been a constant inspiration to us, and one day Jay reached out and encouraged us to create and share the stories we are passionate about. In reading his and Mark's book, "Like Brothers," we realized we didn't need to wait until the "right time" to make the projects we were excited about.
Elizabeth: Since then, we created three short films in three months, and are dedicating ourselves to writing a TV show led by Emily and a feature film led by me. It's been the fastest way to learn what works and what doesn't, and creating these stories remind us of what our core gems are in the process of making a film - truth, courage, connection, compassion, collaboration, and creativity. Even if the scene is not about any of that, we are conscious in filling our set with love so everyone feels valued and supported in our creative family. We find our process helps nourish the authenticity of our films, and most importantly, the family of The Hinklers.
Any upcoming projects you two are working on and would like to share with us?
Emily: We are both in the upcoming feature film, 'Moscow', where we played Russian twins, coming out sometime next year. Our HBO Access pilot, 'Manic', is in the festival circuit as well.
Elizabeth: We will continue to write our own projects, and have a few other collaborations up our sleeves. Stay tuned!